Another tree that's almost done. It's been a 9 year effort to get this tree out of the ground from a New Mexico National forest to where it is today but the effort is not quite done yet. I still have yet to make it's final container but I'm actually liking the temporary one that I got it into today, At least the shape of the container anyway. What do you think? The first picture are pretty much where the tree started but not quite as I had already removed some major branches in the rear of the tree that were just too big and had to be removed. As you can see, it is a major revamp of the tree from beginning to end.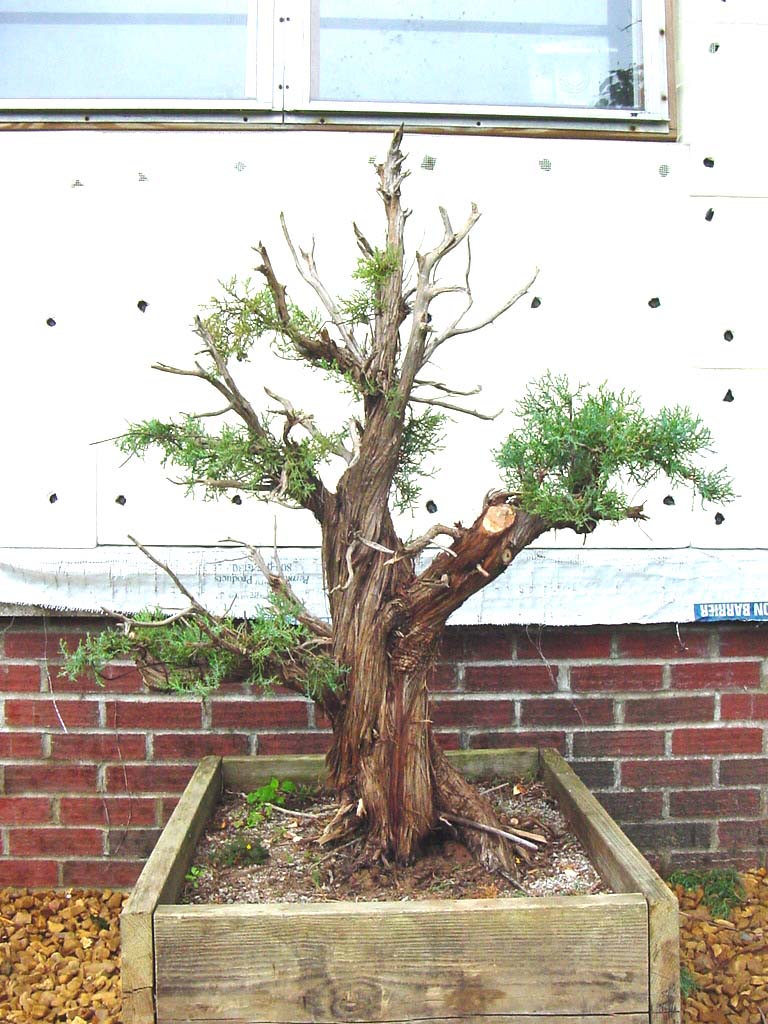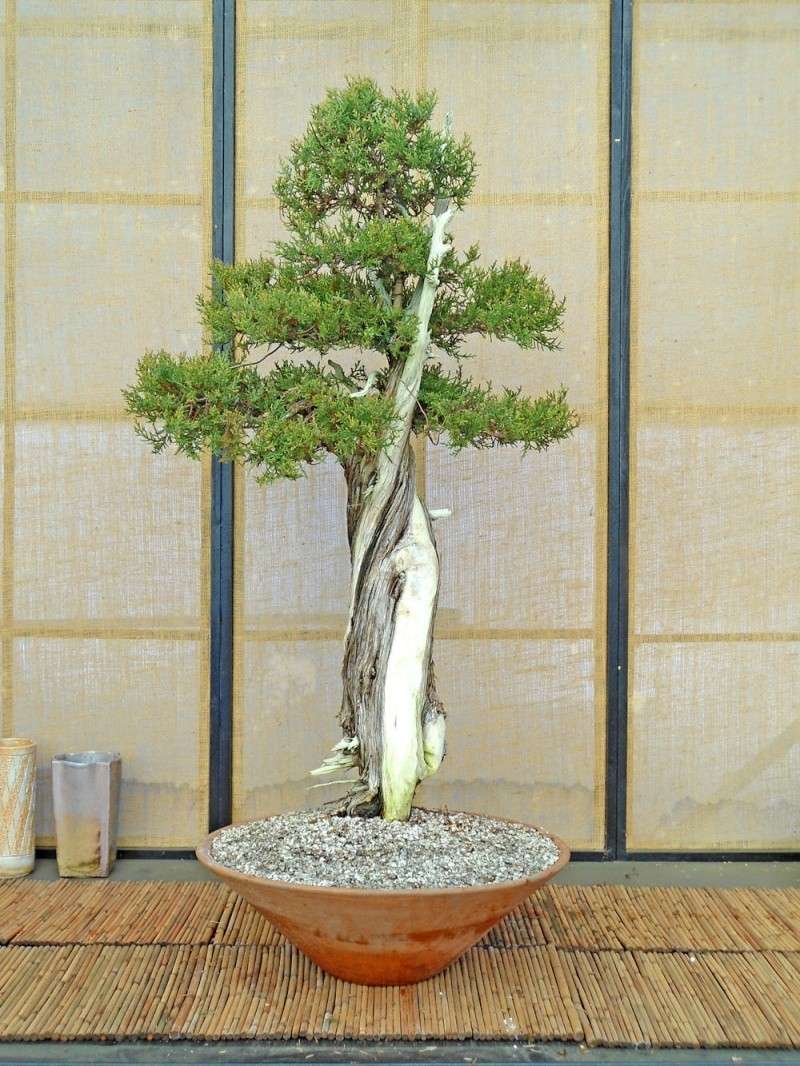 Randy_Davis

Member





Wow. It's quite a tree. I've never seen a J. monosperma bonsai, though I suppose they're fairly common out west. Impressive -- and big. Nice work on the deadwood.

My only issue is that it looks a bit precarious, teetering on the small base. What happened to the base shown in the original?

I think you need a more substantial pot.
_________________
Jim Lewis - lewisjk@windstream.net - Western NC - People, when Columbus discovered this country, it was plumb full of nuts and berries. And I'm right here to tell you the berries are just about all gone. Uncle Dave Macon, old-time country musician

JimLewis

Member





Pretty nice piece of work on an unusually difficult piece of material.

Vance Wood

Member





along the lines of what jim is saying....where did the rest of the trunk base go ? it started off with convincing taper but now has a strange appearance of being pointed at both ends. i'd be looking to get the potting position much lower to bury this bit, either by wiring and coiling or grafting.

at first glance the biggest improvement that could happen really quickly would be to break up the pad lines that just go straight across the tree in level planes - at the moment we have a herring bone pattern where all the foliage is on 4 levels, if the foliage on one side is dropped lower than the opposite side and this pattern follows up the tree we will get 5 or 6 pad levels and the apex.

A pot that doesn't taper in at the bottom too - this makes the narrow tree base look even weaker.

great twisting spiral in the trunk, once the pads are not level this will appear to have even more movement

cheers, wish we could find junipers and dig them up

marcus watts

Member





Randy – Congratulations, you've done a great job with this tree!  I too think it looks a bit unsteady, however that is a trifling compared with your achievement.

To repeat Jim's comment, J. monosperma is not common in bonsai.  It may be that the area in which it occurs is sparsely populated and as a corollary must have few bonsai aficionados.  All that being as it is, I am intrigued by the process you used to collect this tree.  As you are quite well aware, but other may not be, J. monosperma occurs in remarkably dry areas and consequently usually has an expensive and highly dispersed root system.  How did you accommodate that in your collection procedure?

There are many trees in the desert southwest of the US which should prove delightful for bonsai given small leaf (needle/scale) size and drought tolerance.  However, given the rather uniform adaptation to arid environments, most have the same deep and defuse root systems which consequently result in frequent post-collection death.  If you can shed some light on the procedures you used for this tree it could be very enlightening for other interested in collecting arid SW trees.

Just to divulge my interest – I was born and raised in the rural desert southwest.  As a youngster I spent many pleasant days trying to collect and cultivate some of the many local, tiny, and wonderfully caricatured conifers and otherwise.  Most all my efforts failed – the very few that succeeded are cherished!  This is one of the reasons I no longer collect wild trees.  I killed too many through incompetence and ignorance.

However, given or not all that diatribe, you have been successful collecting what is in my experience a very challenging species.  I'm sure we would all be enlighten by your sharing your process if you are willing.

Thanks for the post – great and interesting tree!
David B.
To all, Thanks for the kind comments!!!!!

Jim and Marcus,

Yes, it does look a bit precarious at the base and I suspect that If I had to do it all over again, I'd rethink it a bit more than I did originally. In the process of removing those large roots at the base of the tree which had to be removed to get the final tree into a smaller container and make it "bonsai like" rather than a garden tree I had left the root stubs there for about a year to consider my design options. I had planned on carving them into some sort of deadwood feature but in the process of trying to make that happen I could never get it to look natural. Be that as it may, I'm quite happy to live with it the way that it is. I have considered making the pot deeper and covering up the base but J. monosperma is one of the soft wood junipers and I fear that over time the deadwood would deteriorate even more and the tree would die from bottom rot. Over time the canopy will grow out a bit more and the design will become more complex and nuanced but that will be done over the next decade (someone else's work as I'm sure I won't be around to do it).

David,

I agree with you and Jim that this tree is little used in bonsai due to it's difficulty in collection. I don't think that there are any trees in any of the National public collections in the United States or the world for that matter. In all the years that I've been involved in bonsai I've only seen 4 trees (3 that I have collected and I believe you have one as well). There may be others hiding in personal collections in New Mexico where the tree is native but they are not known to me.

As far as collecting techniques, there are a few pointers to keep in mind as well as some not so obvious ones too. The biggest issue is that they are a deep rooted tree (up-to 140 feet deep) growing in an arid climate so finding just the right place to collect is the most important thing to keep in mind. This particular tree and the others that I have collected came from about a 7,000 ft. elevation in a mountainous area where there is more snow fall during the winter months which provides more natural moisture in the ground and the trees will respond by having more live surface roots. The ground in general at this elevation is rather rocky and in some cases quite rocky and the trees drill roots right through it making it impossible to get the tree out successfully. Looking for arroyo's (water drainage areas) which are more sandy because of erosion is vitally important. This particular tree was in the middle of an arroyo on a mound of sandy soil where the soil around it had eroded away and it was kind of like a termite mound with the tree growing out of the top of it. Taking a larger root ball than one would normally do is also important. The last and not so obvious thing is to look at the color of the foliage. Generally there are 3 kinds of foliage color; yellow, rich yellow green, and a blue green. The foliage color is an indication of tree health. Stay away from the yellow as they are trees under stress and will not survive. Rich yellow green is okay but blue green is the best for collection as the blue indicates that the tree has received good amounts of water and nutrients and is very healthy and will usually respond with dynamic root growth after collection. Color along with physical ground structure should be your guide to which plants are the best to collect.

hope that helps!
R

Randy_Davis

Member






Similar topics
---
Permissions in this forum:
You
cannot
reply to topics in this forum