This large 38 lbs solid black comes from the Eel River
It has naturally river polished smooth as silk skin,
with desirable shape, lots of character, easy to read.
stonener
*me*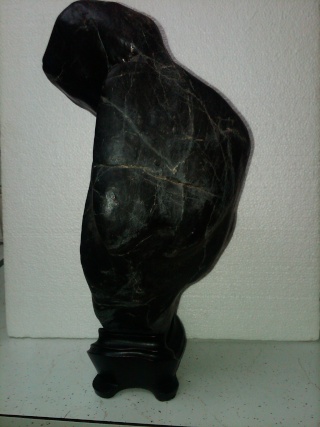 SUGATA-ISHI   18.5 X 8 X 6.5"

Todd Ellis

Member





Thank's Todd! in a word, agree
The good quality's of this suiseki are very easy to see!
What I didn't show was that this stone has three possible fronts,
it has been very useful in many Tokonoma displays over the years.
Once shown in a formal display as my 97 year old Bonsai Sensei,
who collected my dream Yamadori Kengai,  I at 40 did not! for fear of falling to my death.
A California Juniper growing out of a crack in a cliff face at Jawbone Canyon in the Mohave Desert.
Afraid of the 5 story drop, I literally cried in anger over having to leaving it behind,
I sat for a hour looking across the valley at a snow melting waterfall starring past eagles in a mating flight.
after a long hike back it was later that evening I saw my Sensei walking in with that same tree! I asked him but how?.
Being a man of few words he said " I hang on it" that was enough to kill me, like a shot in the heart!
A year later the tree started to take a turn for the worst, it was turning brown and starting to dying back,
I am ashamed to say I was glad about that, because I had felt belittled by him, even if only we two knew.
After all I had clearly marked it with the customarily toilet paper, saying hands off!, it was still on the tree.
But what survived and took hold was enough to remake, what I had not seen! A master piece literati kengai,
shown at Golden State Bonsai Federation's show in Anaheim last year, it was big hit,
none better anywhere!
1st picture me with some collected moss and a large stone in my back pack, hiking back to camp.
2nd picture my Sensei wearing a cap walking into camp, facing me with my dream tree over his shoulder...
stonener
*MORONBU*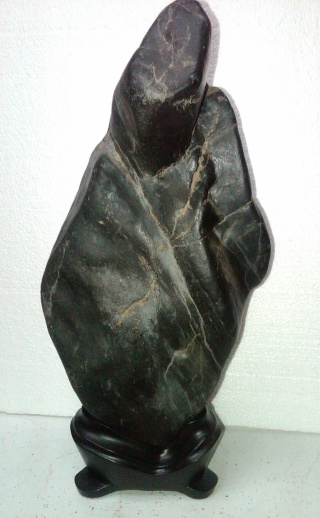 Sensei holding wraped rootball with left hand, tree trunk over left shoulder and down his back
Last edited by stonener on Mon Dec 09, 2013 6:21 am; edited 3 times in total (Reason for editing : -)
Hi Stonener...  Nice to see you a little more bent than your teacher (Harry?).  Your feeling for him is keenly felt... :-)  
For me, your black figure stone recalls a North American black stone from my friend Lynn Boyd, who once was Treasurer of IBC.  Lynn often discounted her influence on others yet several of us recall her as our most perceptive teacher on stone enthusiasm.  Lynn's "Seated Woman"...
Lynn talks about this stone on
the A.I.A.S. (Italian) website (linked HERE)
.

Chris Cochrane

Member





Ya Chris! it was Harry Hirao all right! Mr California Juniper himself... 
I have partially recreated sights seen that day as a Tokonoma display.
Final Crescent Moon Pot acquired during GSBF Convention in Burbank,... 
from Japan through current bonsai Sensei John Wang of Glendale, Ca. 91206
Yosemite Waterfall scroll done, created by Jonathan Maples of Riverton, UT 84065... 
Missed the bronze mating eagle Okimono on eBay, so might use this suiseki?
but got a year till next Toko Kazari Competition to refine items... 
I can see why this stone has made an ever lasting impression on you!...
What a "lovely pair", both the stone and the collector that is.
Now wondering what Dick would say about us referring to stone quality,...
as women's features... 
stonener
*MORONBU*
Last edited by stonener on Mon Dec 09, 2013 10:13 pm; edited 1 time in total (Reason for editing : -)
Hi Chris,

I was so pleased to see again the "'seated woman" stone I collected on the Temperance River of Lake Superior and gifted by me to Lynn. The perfect daiza was carved by Sean Smith , I often wonder where it is now. Lynn was a talented gentlewoman who shared her joy for suiseki and
I hope her collection is being lovingly cared for.

Kind regards,
Norma


Norma

Member





So much of the japanese bonsai mindset has to do with masculine and feminine components, that it almost becomes second nature
to apply and accept it to other japanese hobbies. Especially our stones. Even in my "other" japanese hobby of Koi, those with soft yet imposing features that take the grand championships are female.
I know when I helped maintain japanese gardens as a living, cilmbing around in trees all day, especially kuro matsu made my hands and arms feel like pin cushions. I think that's why I prefered the soft feminine touch of aka matsu.

dick benbow

Member





Hi Norma... So glad to recall this stone was collected by you. Lynn obviously found special meaning from it & shared her thoughts with our friend Luciana Queirolo on the A.I.A.S. website. When she noted attraction to a landscape view stone with a "rose glow" on the A.I.A.S. website, she was likely referring to a sakura-ishi biseki I once carried back to the US from Japan. I stopped at SeaTak (Seattle's airport) where Lynn couldn't stop staring/commenting. It is still in my will to be sent to Lynn if I preceded her... :-( I should have gifted it, immediately, when seeing her enthusiasm.
Sean's daiza complements the stone so well.
I'd arguably say that this is an American viewing stone. If it were appreciated as a Japanese suiseki, we'd look for a spiritually elevated figure. Thinking of the stone, for Lynn, as representing her own seated figure... perhaps I can easily imagine the seated figure as
Benzaiten (linked HERE)
, who is the goddess/patroness of "all things that flow" -- music, art, literature, poetry, discourse, performing arts.

Chris Cochrane

Member






---
Permissions in this forum:
You
cannot
reply to topics in this forum