Hank Miller

Member





I'm enjoying mine.
But I need a mini cascade stand about 3" x 3" for a cascade ivy that goes in the display. Something simple, maybe just a cube.
Iris

bonsaisr

Member





I am not sure about what you would you have in mind. Can you specify the length and width of the top of the cascade stand as well as the heighth of the stand.
Hank

Hank Miller

Member





Sorry I don't have a picture handy. The whole display is on the stand I bought from you last year. The ivy is in a square pot 3" wide x 4" tall. Because of the design of the tree and the design on the pot, it is always displayed catty-corner. I was told to put it on a mini cascade stand, not directly on the display stand. Ideally, this would be 3.25" wide square & 3" to 3.5" tall. Fred Janson has a root stand about the right size, but it is very elaborate and more than I want to pay. Jim Lewis suggested a plain cube. I have one 3.5" wide, but it looks too big. And they said shohin bonsai are less trouble.
Iris

bonsaisr

Member






Hank Miller

Member





That would be perfect.
Iris

bonsaisr

Member





Once again SuperHank rides in from the West to save damsel in distress.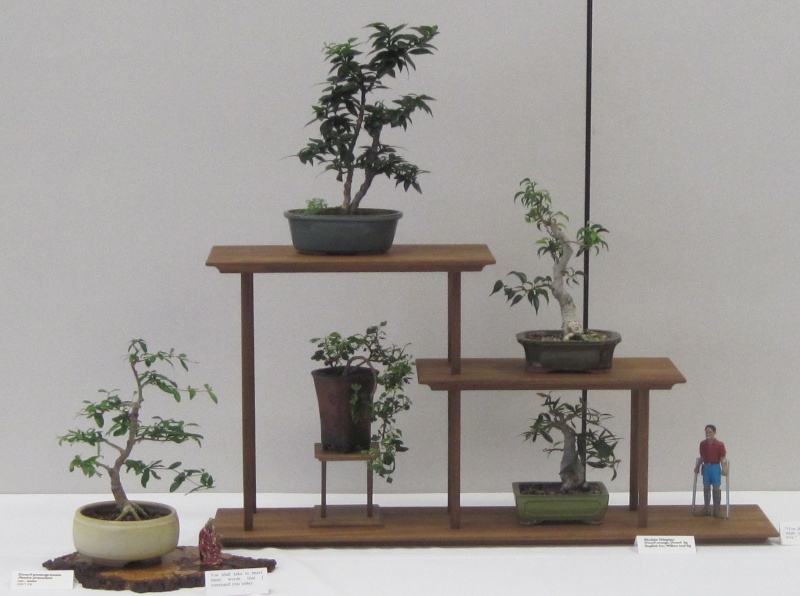 Here is my shohin collection on Hank's shohin stand, with the ivy displayed on its own little cascade stand. I only hope the quality of my trees continues to improve.
The assistant tree is my dwarf pomegranate. I like to use my bamboo grass kusamono with the shohin display. It's allowed for Tu BiShevat because that represents spring.  
 However, this was a 3 day exhibit & I didn't think the grass would tolerate it.
They say the pots in a shohin display are very important. I was advised to put the 'Chinotto" (the one on top) in a shallower pot. After looking high & low, I broke down & ordered a pot from Dale Cochoy.
Click on the picture to get the entire view.
Iris
Last edited by bonsaisr on Tue Jan 21, 2014 3:14 am; edited 1 time in total (Reason for editing : Note about picture.)

bonsaisr

Member






---
Permissions in this forum:
You
cannot
reply to topics in this forum