Hello, does anyone on here have Jack Pine (pinus banksiana) and personally know the correct techniques for bonsai development, such as is it a double or single flush pine, is it treated as black and red pines or white and scots pines? I know they are considered very easy to care for and like to be more dry than damp and will grow in very grainy dry soils. I just bought an uncle fogy variety as a nursery plant and it is the contorted version and it has perfect shape and movement for a semi cascade bonsai and all it appears to need is a bonsai pot and branch development. It really is a cool tree! I would post pics but my stupid blackberry won't let me upload pictures to this particular site. Any advice would be appreciated!

jake4bonsai

Member





Hi yes i have one very contorted growth pattern, branches growing in whorls. Great needle size with  small cones , mines tall and nicely tapered  will become a literati  in time . Treat it as a two needle pine . Cheers Neil
Four years ago for Christmas, my sister in law gave me a "bonsai Kit" with a little book, a pot, a peat block, and 4 Pinus banksiana seeds; all in a box too small for a deck of cards. lol.  All four seeds germinated and I have two jack pine trees that survived.  I wonder how many seeds from those kits actually become bonsai trees. So far, the growth is not really like black or red pine.  Even though it is a two needle pine, the characteristics are more like white pines with very fine needles and small brown buds.  I have seen jack pines with coarse needles and this makes me wonder if these are indeed jack pines.  The seeds were absolutely tiny; smaller than mugo. I did decandle these this year just to see what they would do and they produced these 1 to 1.5 inch needles (down from 4 inches). So in that regard, I suppose they can be treated like a two needle.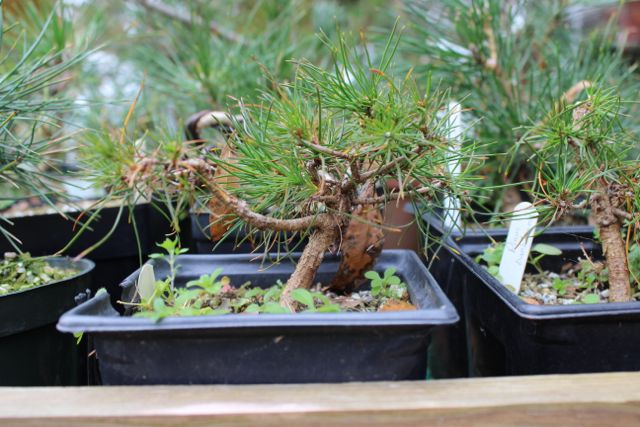 prestontolbert

Member





Have have collected some nice Jacks over the years but only two persists in my collection. I also knew of a few people from the big city clubs that bought "foggies" and tried them as bonsai but none I know of ever worked out. For me , and from what I have gathered from others, jacks don't like root work and this often their demise. One has to be careful and use soil that will last and avoid repotting. In a pot, I suspect they are sensitive to PH degration from alkalized well water and one must be careful to keep them acid. Too much fertilization really makes their needles less nice and there growth ratty. There downfall is their twisty needles and shyness to establish however beautiful collected trees can be had. The Canadians have done the most with the species Years ago I went on a collecting trip with the then Canadian, Jack pine aficionado, Jerry Vlcek (see article Jack Pine: an interview with Jerry Vlcek) . We collected many very cool jacks but sadly 95% of them slowly expired. I Think most of their collected root pads were actually blueberry roots--sigh. Anyway, don't cut away any fibrous roots-- try to sneak in soil here and there--treat them like a single flush.

---
Permissions in this forum:
You
cannot
reply to topics in this forum