It looks like it's in potting soil and needs to be re-potted. Should I wait till spring? Does it need a bigger pot (the pot is 8"x 6" and the spread on the tree is 22". The trunk is about an inch and quarter), and what do I do with those roots? Is that scale on the roots and base of the trunk?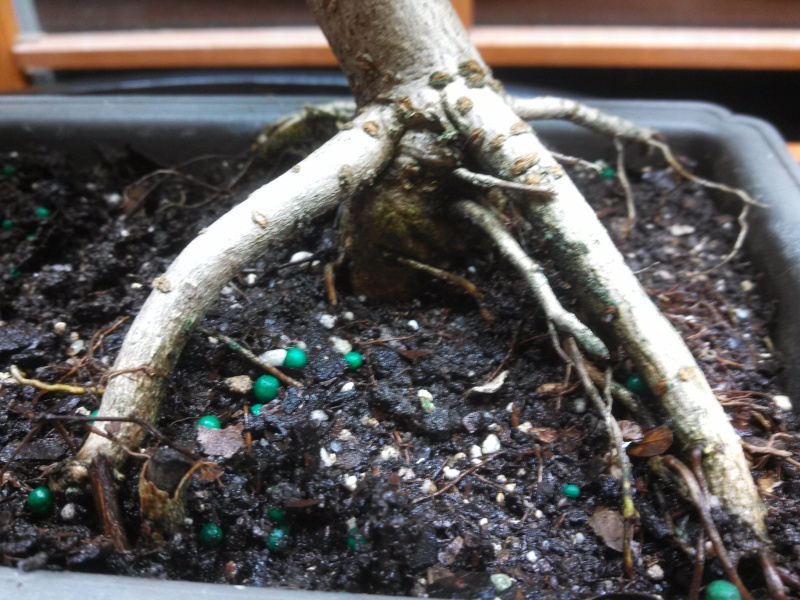 I do like it and hope to learn from it.
Thanks for looking.

LittleJoe

Member





Well, for one thing it appears that tree has been plunked down in some plain old potting soil. Hopefully, the water drains through this soil decently, at least?
I wouldn't touch the tree now, since it needs to be kept indoors until things warm up reliably outside. But, you definitely need to re-pot it into a better draining, more suitable bonsai soil mix. Be careful when you water this tree! With that soil mix, it will be super easy to overwater it.

As for the roots? I would just leave well enough alone for now. You can cut back that big, center root a bit, then plant the tree deeper down into the soil when it's time to re-pot it, and give the base a more balanced, radial root pattern.

Auballagh

Member






Similar topics
---
Permissions in this forum:
You
cannot
reply to topics in this forum