Hey guys,
I'm very new to pottery (started about 3 weeks ago) and decided to try my hand at constructing traditional looking,
rectangular, pots from hand rolled slabs (a post by stonemonkey inspired me).
I feel like my structural proportions are fairly correct, but I'm having tremendous difficulty getting the "finished" look of the pots I see here and elsewhere.  I've looked at rectangular pots by Stonemonkey, Dale Cochoy, Ron Lang, and many others.  I'm amazed at the pristine lines and symmetry of their pots.  The lack of imperfections is startling.
I've tried using a damp finger and wooden fettling knife to smooth the feet, body, and lip edges, but the more I work on the pots, the more imperfections that I seem to create.  Is there any advice about tools or technique for perfecting the edges?                                                    
Here's a 7" long rectangle: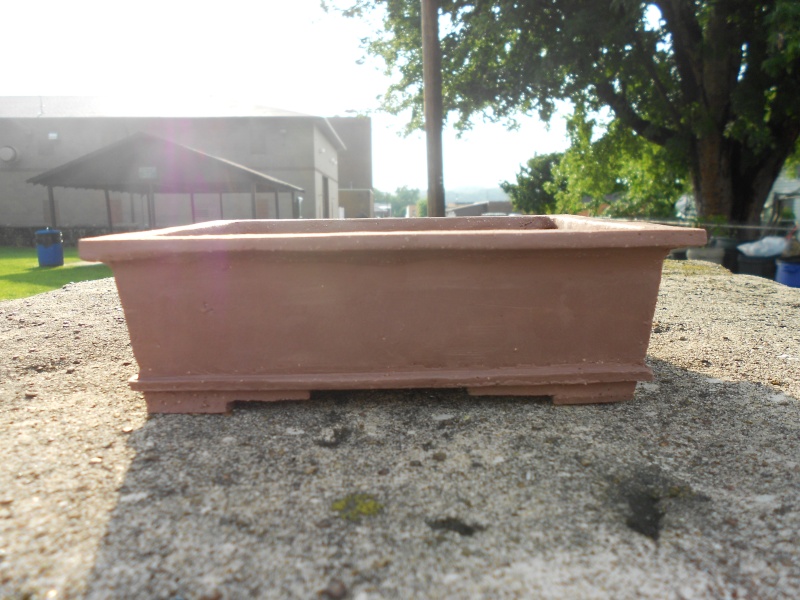 thanks,
casey
Hi,
that looks really good,

im not a potter at all but isn't the final finish put on an un-glazed pot when it is leather hard? i know some of my good tokoname pots are said to be polished when the clay is much dryer until the surface is as smooth and perfect as a glazed pot. i think the type of clay you use makes a big difference too - my friend was using a rough clay blend and all his pots were textured and bitty - he started using the clay mix used on a potters wheel and the texture and finish on the pots improved 1000%

the real potters may share a few clues with you, especially Andy monkey maybe as he doesn't do bonsai pots anymore

keep at it

Marcus

marcus watts

Member





It looks like you have a decent amount of grog in your clay. That could be part of it. Then secondly if you reallt clean up the edges and creases, like the one between the wall and the foot rim and also the foot rim, it would look more finished. Sanding could help well bone dry to make the surface some what smooth and you can also sand when fired but be careful sanding glazed pots. I've only done it once with wet/dry sand paper, somewhere in the 2500-3200 grit range. Hope this helps:)

Jake16

Member





The clay I used is called Bob's Tile and Sculpture Clay (cone 5) and contains lots of large grog. I've since moved to another clay because this tile clay absorbs a bit too much moisture. According to a short article on Chuck Iker's web site, low moisture absorption is a key factor in frost resistance.

It is clear, as you say, I need to somehow clean up those edges. Of particular difficulty is the inside edge where the rim and the wall meet. I don't particularly care if the edges are sharp or rounded, I just want them to be uniform, straight, and symmetrical. I noticed in one of Lindsey Farr's (sp.) videos that a potter building a large rectangle in a slump mold uses a kind of scraping tool for this purpose. The effect is almost like that of a wood router.

Similar topics
---
Permissions in this forum:
You
cannot
reply to topics in this forum