Hi, I'm a beginner bonsai grower and have noticed some strange brown spots on the leaves of my acer. Quite a few leaves have also turned green (a seasonal thing?) and some are also drooping a bit. I water it daily, I'm not really sure how much to water it needs though and the amounts vary It's in a shaded spot in my garden.
Here are some photos (hopefully
 )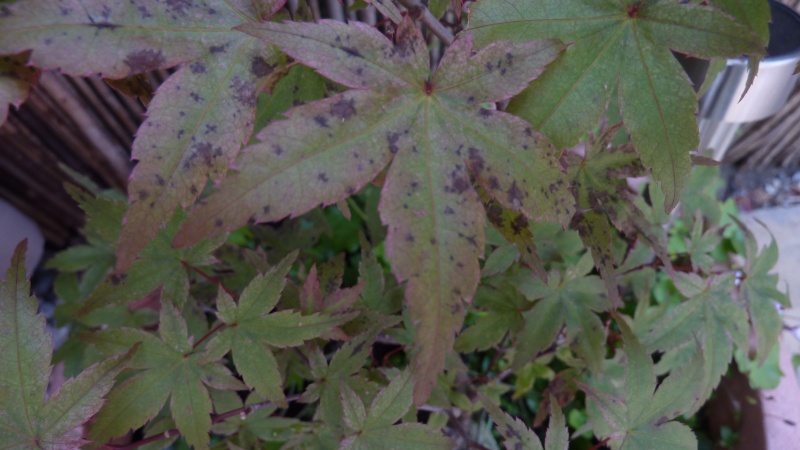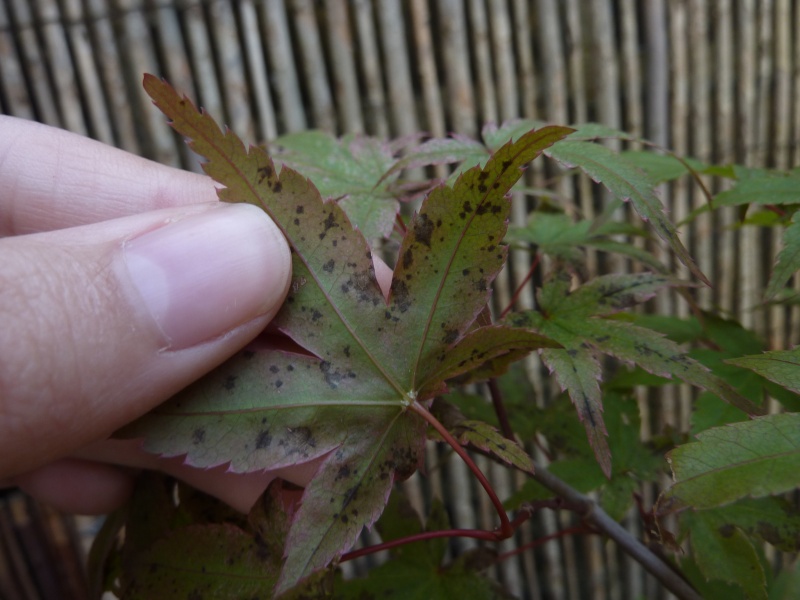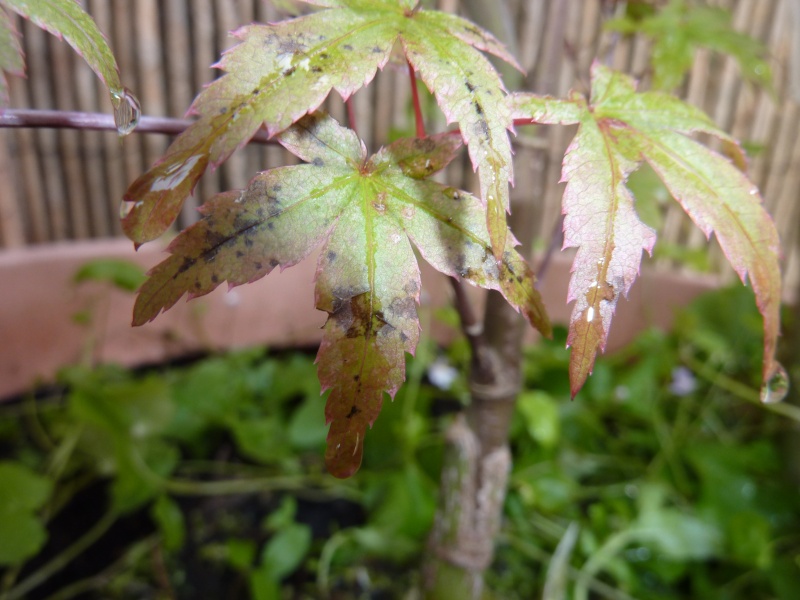 If anyone knows what this could be I would be very grateful
Thanks!
Hello

For some Acer p. the leaves is red in spring and turn greenish in summer - so most likly you have a Acer p. deshojo. BUT i would worry a bit more about the black spots. Got one Deshojo myself.

//Andreas
Hi,
its looking like a deshojo with fungal attack on the leaves - it wont kill the tree, just maker it look rubbish. causes are one of several - over watering, poor air movement, watering in the evening (leaves stay damp as sun gioes down) overly wet soil, weeds, old leaves etc.

now these leaves have damage they will stay like this - if the tree is healthy and strong you can cut them all off and new ones will sprout in 3 or 4 weeks - i do this to my deshojo every 2nd year.

acers need a lot less water than 90% of growers give them - wait to see how long they take to wilt - it takes many weeks in high temperatures but it is a confidence thing, - i now use very shallow pots with my big trees and water once a week maybe

cheers Marcus

marcus watts

Member





Ah, thank you very much! I assume it's a case of over-watering then, so I will cut down on that - didn't realise how little they needed watering. Pretty much all of the leaves are infected, so it may take some courage to cut them all off, but I'll try and pluck up the courage.

Thanks! :]
it does take a heap of confidence the first time to defoliate - you will scrutinise the tree every day praying for new leaves !!! then buds pop all over the place and you breath a sigh of relief - this time of year is fine - i did a very nice old acer last weekend and it will leaf out in a few weeks and hold the new leaves until late october i expect.

keep the leaves dry when watering in the afternoon or evening as they dont like staying wet over night - morning watering is a bit more relaxed tho as the tree will dry off properly. i truely believe over watered acers have leaves more prone to scorch, wind damage and of course fungus - a dry acer had leathery hardened off leaves but always protect from wind while new leaves are opening and hardening

cheers Marcus

marcus watts

Member





I would also give it more sun. Gradually put it out in the sun until you see a little scorching. My trident maple & American red maple get almost full sun. I don't have a Japanese maple, but I wouldn't give it much less. Around here folks grow them in the ground in full sun & we are farther south than you are.
When you defoliate, cut off just the leaf & leave the petiole. The petioles have enough chlorophyll to tide the tree over until it grows new leaves. They will fall off later by themselves.
Iris

bonsaisr

Member





bonsaisr wrote:The petioles have enough chlorophyll to tide the tree over until it grows new leaves.Iris
Good point about defoliation, Iris, but I think the stems/twigs would do much more than the petioles in this regard, even with consideration of light attenuation through the epiderm. The area of green colored bark is vastly larger than the total area of petioles, especially on Japanese maples.  
BTW, we do know that chlorophyll is what makes the green color of the young stems (and the green color of the cambium) don't we, or is that a point of contention?

0soyoung

Member





bonsaisr wrote:I would also give it more sun. Gradually put it out in the sun until you see a little scorching.
Iris
I completely agree. Too many people aren't giving their maples enough sun. I have quite a few Japanese maples and most get full sun from sunrise to sundown with no issues. I have 2 however that are in sun from sunrise to about 10 or so and after 6. Completely shaded in the middle of the day and they're doing great. 1 is a standard green maple with leaves larger than average and the other is a Sango Kaku. Both get massive scorch if left in more sun than that.
Each tree is unique with it's own requirements.
Good luck with it.
Sam

Sam Ogranaja

Member






Similar topics
---
Permissions in this forum:
You
cannot
reply to topics in this forum