I've never seen a nebari (root) stand used on a stone. I'm sure for those who stick strictly to the "rules" it may be a source of raised eyebrows. But I think it causes one to stop and ponder what message is being portrayed here?
Thank-you for sharing.

Yesterday our stone club had it's judging of some 68 stones for acceptance into our april show. 37 were accepted.
One artist had THREE! bronze dobans of varying sizes. Boy did they ever look nice.



dick benbow

Member





Thank's Sunip! for your time and efforts.
You always give us something good to think about,
and even better to discuss with an open mind, appreciated!
As the interest in viewing stones spreads across the world,
so will the way how people choose to express themselves with stones.
After trying to read this stone and wondering what the owner was trying to say.
I think the plant or flower image on the stone has something to do with the root stand choice.
as if the plant/bulb had been pulled out of the ground or maybe seen as aerial roots on an orchid.
I once had a root style daiza made for a Chinese stone I gifted our church pastor.
I was thinking "well rooted in religion" but I seemed to be the only one who knew.
stonener
[quote="stonener"]
I was thinking "well rooted in religion" stonener
Hello Stonener
Funny as for me this sentence is not really a pleonasm but something to think about;
Re-ligare means re-union.
Back to the roots?
Or rooted in the journey back to the roots?
The Chinese daiza from your stone looks to me like waves and the stone as the sea,
are the waves rooted in the sea or the sea rooted in the waves?
Sunip
Hello Dick,
Some humble thoughts on RULES to harmony this morning.
When something grows it follows spontaneously a path of development rooted in the transcendent idea behind it,
-reunion-.
Follow the law or rule means here; find and follow the growing power of your own roots you may not be conscious of fully but still feel the urge to follow.
Go with the flow, only Dao, as the Chinese say, Wabi Sabi will be there spontaniously.
With some guidelines somebody can help you but only if there is some taste of the urge already there otherwise it will be acting in a strange play.
The stone would act like a bulb running endlessly around on his roots in a vicious circle.
Sunip
Sunip thank you again for the opportunity to discuss interesting topics with an open mind.
What I was trying to say about the root stand was that the idea was not so strange to me.
One favorite suiseki saying many use here is "what you see is not what I see"
My stand is of root style design, but if you see large waves that is fine, same theme.
solid, strong, powerful, rock able to stand firm against the tide, still works.
As for the stone, I first saw a cross or a floating angle figure, off center to the right side.
swirling cloud or celestial pattern can be seen off center to the left, like the Milky Way.
because of large heavy stone, a solid supporting foundation is imagined, so then well rooted,
as a pastor who leads a church...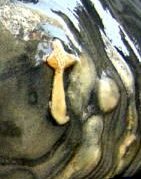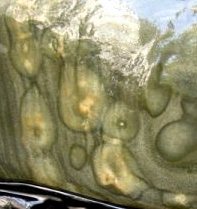 Similar topics
---
Permissions in this forum:
You
cannot
reply to topics in this forum