When I joined a local club in the early '90s there were a lot of old timers that have become the who's who of the local/national bonsai community. Many were personally and directly involved in starting the National Bonsai Foundation, which helps fund the National Arboretum's bonsai museums. Now many have passed, and most of the rest dont participate much any more. Our club membership is still about the same in terms of numbers, but a very small part of the group continue to go to meetings and participate on a regular basis. And a VERY small number of that group actually stepped up and volunteered to lead the club. They have been in place for over 5 years because no one else in the club will get off their butts to take a turn.
Tonight I and two others are to meet and try to come up with a calendar of events for 2013. I am afraid we may stumble a bit with a lack of good ideas for meetings. So, what kinds of things do you really like doing at meetings? Paying for a "bonsai star" to do a demonstration? Hands-on working on your trees? What makes you roll your eyes and not go to meetings? Looking for any and all ideas here, people. I have probably been so close to this forest that I cant see it for the trees! (no pun intended, but in this case it actually works!)

lordy

Member





lordy wrote: . So, what kinds of things do you really like doing at meetings? Paying for a "bonsai star" to do a demonstration? Hands-on working on your trees?
OH LORDY !
Yes those things above and many more !
first it take alot of work and planning, one person can not do it all. You need a team.
Yes Pay for the big star then save by doing fun programs with locals.
This year we did a big bonsai pot swap. Members brought extras and sold to each other. We then had a demo of three potters on how to make a bonsai pot, free and fun
Games !
-We made a panel game during the Olympics- Bonsai questions and different teams win prizes;
-We made a wheel of fortune type wheel, put prizes on it, if you can answer the easy question you get the prize the wheel landed on. prizes ranged from Japanese pots down to soy sauce packet (laughs)
Lots of meet the members type games
Free raffle ticket for everyone in the door, if you win you have to introduce your self and tell a truth and a lie and the audience tries to choose which is which.
This month a big Bonsai styling contest. free or an actual money maker --- Locate some trees, put together some teams- make them commemorative t-shirts,
let the audience score them thru 4 rounds, front, branches, wiring ,finish, give 100$ cash prize to winner, and auction off the trees to the clubs benefit.
Also- Miniature Christmas tree contest
Special raffle for volunteers (free tickets have been given thru the year for volunteerism)
Holiday food (free from the club)
and of course Santa will make an appearance...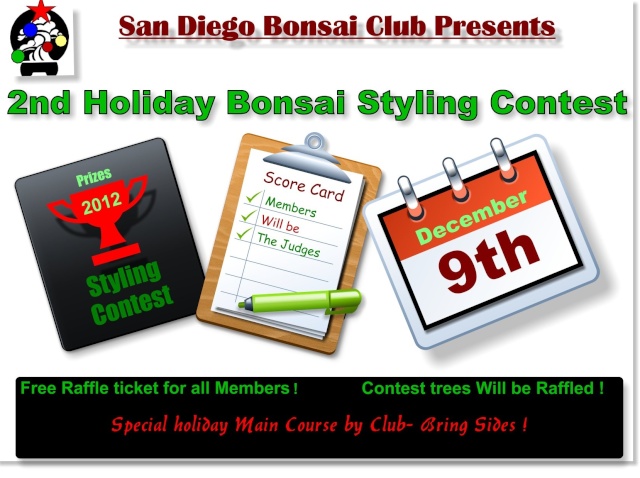 BigDave

Member





Hard to follow that Big Dave
some great ideas for you Lordy.
I am of the sincere belief that in most cases a 'demo' at a club meeting is a waste of time... because for the audience
(unless the 'artist' talks continuously)
cannot see what is happening, in reality its only a performance and NOT a learning experience. A lecture, discussion or talk supported by visuals is far more informative. Ask the participants at Burrs and they will tell you that the evening talks are worth the cost in themselves. We DO NOT DO DEMO's any more.
agree totally with Tony - hands on tree demos are boring for many club members to watch - who wants to sit and watch wiring ?..........for hours ! ...........they also give the impression you can 'do' a tree in a few hours, and the results often look ragged too.

you get the best from a proffessional visitor if they share their experience and pass on a range of help and hints relevant to the audience - you cant get this from watching them wiring and bending a tree.

Our club is quite traditional and has a mix of members roughly 25% serious hobbyists, 50% horticultural members who enjoy bonsai and 25% new members & beginners. It is a good mix with a large requirement for knowledge so the meetings follow themed topics.

2013
jan Winter images
feb potting problems and solutions
mar Petter Warren evening talk
apr Rafts and root connected bonsai
may Azaleas
jun Elms, zelkova, beach & hormbeam
jul Accents and accessories
aug windswept and slanting
sept different and unusual
oct autumn colour
nov AGM

The chairman issues a challenge to all members that is judged at the agm - things like 'edible' bonsai, tree to match club logo etc

cheers



marcus watts

Member





Our club in Florida frequently has a demo and then raffles off the result, kinda like a lottery, you can win some nice trees for a $3 or $5 ticket. Our demos can be hands on with members helping to defoliate (we do that a lot with tropicals) and even wire.
Bring your own tree workshops are a hit, bring in that tree you don't know what to do with and ten people will give you an opinion.
We do bring in international, national and Florida masters on a regular basis. We have a couple of guys that will bring stock for sale, and then help do an initial styling. For most of these workshops our club provides wire, and there are enough of us around with tools to help also.
Some of our demo trees have gone on to be displayed by Disney at Epcot.
We have a lot of other activities for members, but try to hold them in addition to regular club meetings.
We have a Beginner's Class for about 6 Saturdays about every other year. We have a bring your own tree to a members house for work once a month.
We do a bus trip. We rent a tour bus and this year visited two Bonsai nurseries and a bonsai importer (Pots, tools and even plants)
We have a raffle table where members donate items, rooted cuttings, excess plants, supplies, etc.
We have food at meetings. Members take turns, usually two member will bring in snacks and one member will bring drinks.
In the great Southern American tradition, this month, we are having a Christmas party with a "covered dish" meal.


Billy M. Rhodes

Member





For me - there are two things I would like in a club;
1: To come away having felt that I've learned something
2: To get assistance in styling and practicing methods on my own trees that I darent do on my own.
Anything such as raffles, quizzes and games I would rather do without.
PS Tony, although BURRS is not technically a club, it ticked the boxes for me.

Lee Brindley

Member





I think that we need to know how long and how frequent are your meetings? I am involved in a small but very successful and interesting society at Wirral in the U.K.. We meet once a month of an evening from 8 pm till about 10.30. and we realized that this was not enough time for members to do any serious work on thier trees so workshops were ruled out. We have some really good speakers and we have tree critique evenings where members bring a tree along and it is discussed by any and all members.We talk about the styling, horticulture, future design or intentions and what we talk about is relevant to other trees that members own. We hold a monthly all day workshop in a local garden centre and that is the hands on bit. Once or twice a year we invite a guest artist to our workshops and benefit from their knowledge and experience. We pay a small annual fee, a tiny entrance fee at each meeting and the allday workshops are free. To us, it's not about funding a business, it's about progressing our trees and ourselves. And yes we do have a laugh and a sustainable society. Keep it simple, informative and fun!

Regards,
Andy.
As the new V.P. in charge of programs, I have the same dilema. We meet sat, mornings from 9 till noon, in beautifull Boca Raton , FL. We have some very talented local artists, and a BYOT day goes over very well for everyone new and old. They come with a tree that they have gave up on or one that have a problems or one that is nearly "finished" and need that extra push, I am trying to get Dorothy{from this forum} to come and do a teaching session on casaurina. I have found that the local visiting artists are cheaper for the club and much more familiar with our local trees and climate.
Try an ugly tree contest, let an artist try to fix the tree in a set time and the one voted to still be the ugliest will win 5 tickets from the raffle table.
we ahve a raffle table in which all members are incouraged to bring anything bonsai related for the club to sell off tickets for others to take home something nice for cheap
We have a- dutch aution- where all involved brings a wraped gift and puts it on a table and the first person called goes and picks a gift and unwraps it in front on them , the second person does the same,but has the choice of keeping the gift they choose or trading for the other unwrapped gift. So the last person picked gets the choice of the whole room and ipso flapso is the winner.
hope this helps a bit

Phillip Elliott

Member






---
Permissions in this forum:
You
cannot
reply to topics in this forum