Hi IBC!
I would like to share with you the new form of my Chinese elm.
The huge first branch died back after the root supporting it got some problem.
I have to rethink of the design to make the tree useful again....
Then I found in my pile of construction trash, a broken marble from my clients floor.
Me happy again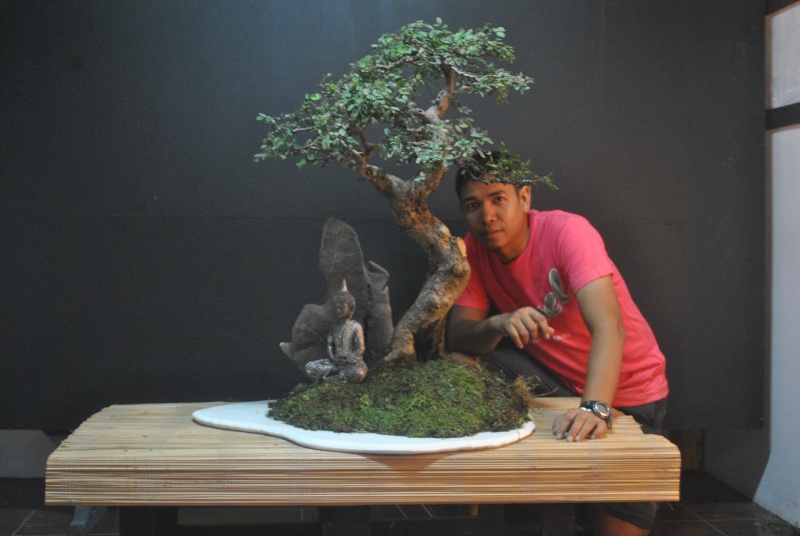 The trash marble provided me with no cost at all and the tree,,,well, it was different from its previous life, but looks ok now too.
...And ofcourse the composition will work too without the rock and Buddha..
regards,
jun
Very nice Jun
Your slab plantings are really inspiring.
Thanks for posting.

Regards
Brett

Brett Simon

Member





Very nice solution to this old tree. I like how the marble looks after you applied your magic!
Todd

Todd Ellis

Member





Your work is incredible, it looks amazing!

How did you cut the marble?

Marco Giai-Coletti

Member





Really love the tree , love the marble slab.

But on a personal taste thing

If it was mine .... but I'd throw away the budda and the rock, they do nothing for me.

But hey ho ... thats just my taste, great tree tho

Rubarb

Member





JUN,,You saved the day !! The tree looks really good now.. save all the elms ! take care john
Brett and Todd,
Thanks for the kind words!
regards,
jun
Marco,
Thanks!
I used angle grinder to cut the marble, and used stone polisher tips mounted on a drill.
it took about an hour to do the whole slab. I am making another another one, I'll post it here later.
regards,
jun
Rubard,
Thanks!
The stone and Buddha is for added spice, It can work without it. It is not fixed on the slab,,,works like two composition in one. Because I got bored easily hehehe.
regards,
jun
John,
Thanks!
My elms were weak this year. I think It was due to the changing and erratic weather pattern. They should not be losing leaves this time of year, but I got to defoliate the trees due to the crispy looking leaves.
This climate change really is affecting the trees here,,,Mango trees are fruiting during this season, they should be fruiting only during summer season (Feb to April).
regards,
jun

Similar topics
---
Permissions in this forum:
You
cannot
reply to topics in this forum