Obviously still a loooong way to go, but the little fellow is allready going (chest)NUTS...
I thought it was a simple and funny way to show the height of this teenage tree
its only the second year in trainingpot, after I lifted the 'thing-with-a-few-sticks' that had been fieldgrown for 2 years. Before that it was kept in a pot, but way too early.
I just wanted to hurry to get a picture of the fall colour, but unfortunately there were only few leaves left.
The 'rootwork' is rather nice in my opinion, it has a fault on the back but it can be corrected.
Some branches in the top are not ideally placed, they were the result of the fieldgrown period. That needs to be adressed next year, this year i didnt mind that because i wanted to keep the vigour in the tree before i started pruning back hard again and just let it adapt to its pot, get rootbound...
Picture 1 is of today, other pictures somewhere this year.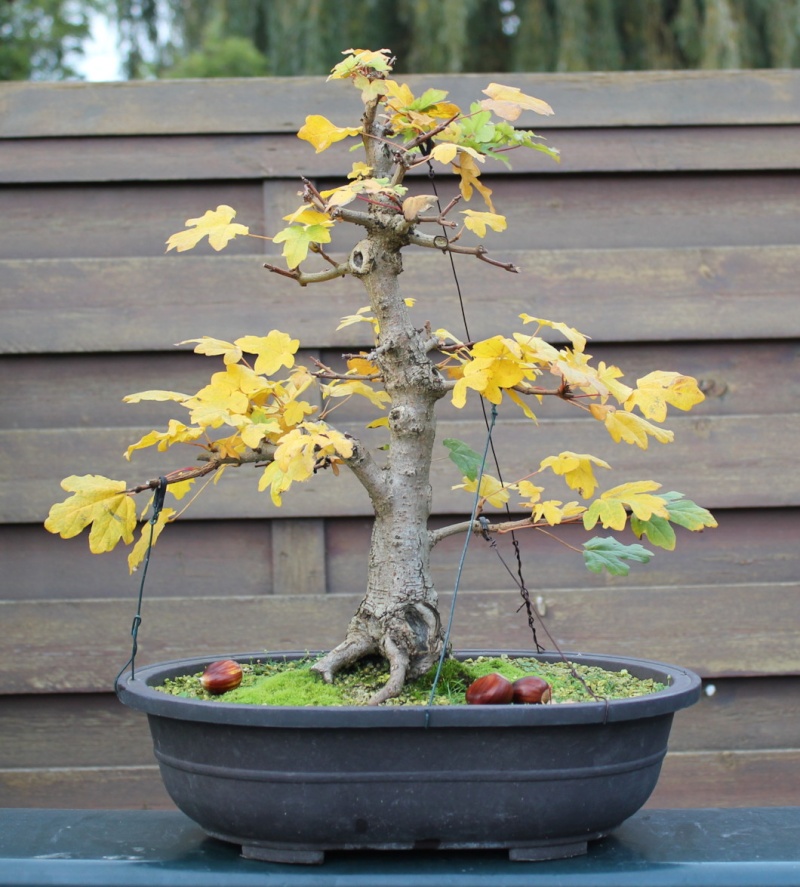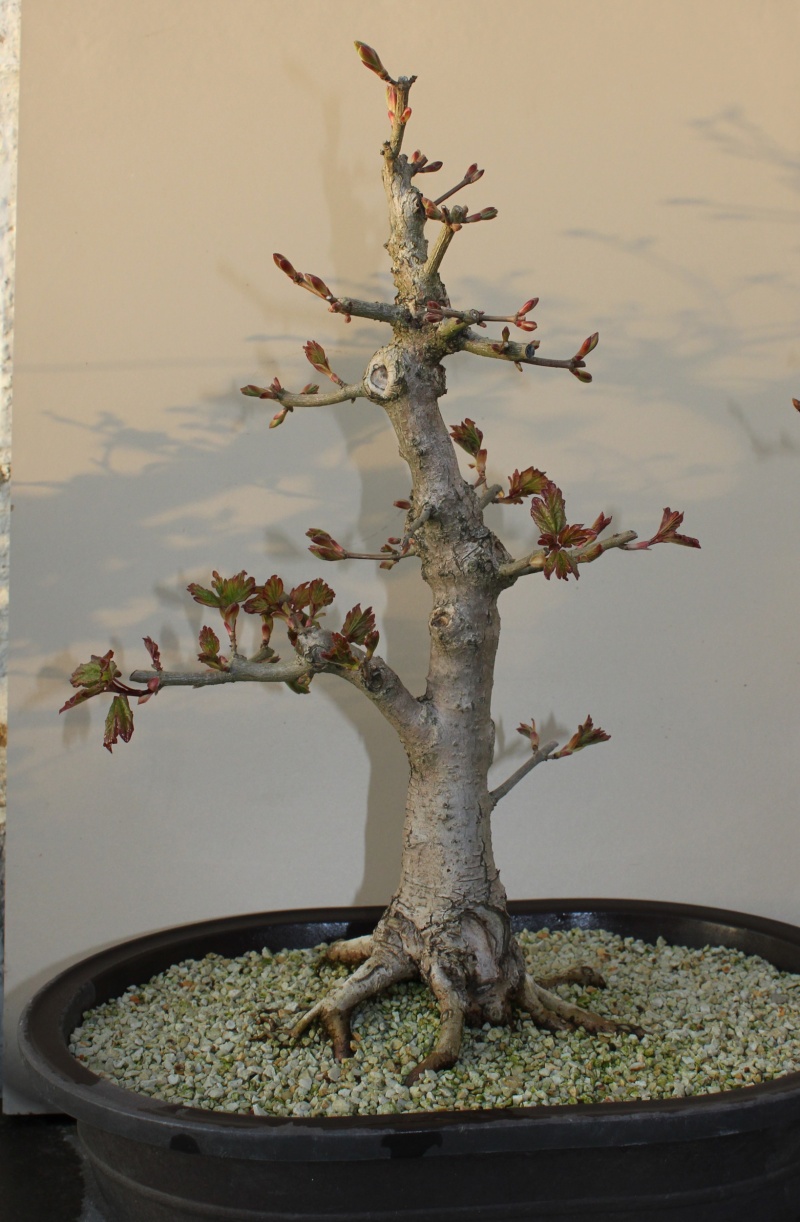 Lovely rootwork, and that spring shot is divine!
Looking good. Love that bright yellow.

MikeG

Member





Nice,
What is this tree growing in??

I really like your tree..especially the picture with the leaves just comming out.. good job. take care john
@JudyB @Mgallex @Moyogijohn, thanks for the comments

@Crust: well its the substrate i've been using for practically all my trees which are in pot, its a 100% pure natural vulcanic mineral called 'zeolite'. And to be more specificic its Clinoptilolite, one of these natural zeolites, and it comes 95% pure, 100% is impossibel but its still called 100% natural zeolite offcourse.

It has been in this substrate 2 years now, i've used it pure. In 2013 i will repot, and use approx 80 to 90% zeolite and add approx 10% cocopeat. I use DCM's 'cocosol', it hasnt got the really rough bark bits but mostly the cocofibres. I will use it because in summer this little fellow can be thursty, and even though my substrate does really well on warm days, it can use a small amount of cocosol for extra buffering. Its nothing to do with the fact that i want to add more organics. Cocosol hardly breaks down, its mostly used for its water absorbing/buffering capacities without making the substrate/soil a swamp. This cocosol has been prefertilised too, but again thats not the reason why i want to use it.
Nice nebari and I like trunk taper. Good work Yves

yamasuri

Member





Yves, this is a beautiful acer.

Where do you get this substrate? Any chance to get it online?

Thanks

Marcin
gope wrote:Yves, this is a beautiful acer.

Where do you get this substrate? Any chance to get it online?

Thanks

Marcin
@Marcin,
Thanks for the really nice reply on my still immature tree, it inspires me to give it a good future.
About the zeolite substrate, unfortunately the manufacturer (after I contacted him about posting an article on my blog) kindly asked me NOT to mention the company name nor the brand name of his product. The reason is that it is NOT sold (licensed) as a substrate so I cannot post or talk about substrate while mentioning his name or the products name. It is currently marketed by this manufacterer (wholesaler who imports the stuff himself) as one of these: catlitter / soil covering for birds cages / filter for ponds. Offcourse if you google, this same zeolite (clinoptilolite) is used/marketed for many other purposes too, I know its used in the car industry (catalysator), as an absorbing medium for oils or chemicals, as food additive for cattle (yes!), as a soil conditioner/improving additive in agriculture or horticulture (but not marketed as such by the manufacturer I use)...etc.
depending on the country you're in, I guess you can find it online if you use a search engine... In belgium, you quickly find 1 of several if you search "zeoliet" or "zeoliet korrels". English that would be 'zeolite' or 'zeolite clinoptilolite' or 'natural zeolite'.
I get it in bags of 25kg, for less than the price of a big bag of 'normal (not hardened) akadama; so thats way cheaper and the charactaristics are way better too (a thorough search on internet will prove that).
GOOD LUCK !
Please forgive me, but I want to keep my word.
Fair enough Yves, thanks for all the information!

Regards

Marcin

Similar topics
---
Permissions in this forum:
You
cannot
reply to topics in this forum