I'm trying to get my understanding around how i might recognize The year of the snake for 2013. I could look for a scroll or a bronze image of one to use. western thought finds the new year on january first each year, eastern practice finds the dates varying, and this new year begins on February 10th on their calendar.
Would i be out of line mixing western dates in my display, could i display on both dates. How long would a display of this type be exhbited? A day? A week? Who else has acknowledged in their display one of the 12 animal signs? can it be used thru out the year for any reason.
Appreciate getting some other points of view and maybe some input on what is actually correct.

dick benbow

Member





Hi Dick
I dont understand your words "Would i be out of line mixing western dates in my display, could i display on both dates".
Could you explain a little better?.
In the year of the snake would I start to display from/on the oriental newyears date...and the rest of the year if I wanted this. It is normal to display the year like this in asia.
What could be wrong in a display like this, is that the western viewers dont understand the snake, as the symbol it is, and think you want a regular snake, in your display, wich is ok....If I used a snake, would I make sure it was in scale ( very small).
Kind regards Yvonne...show us your display when it is ready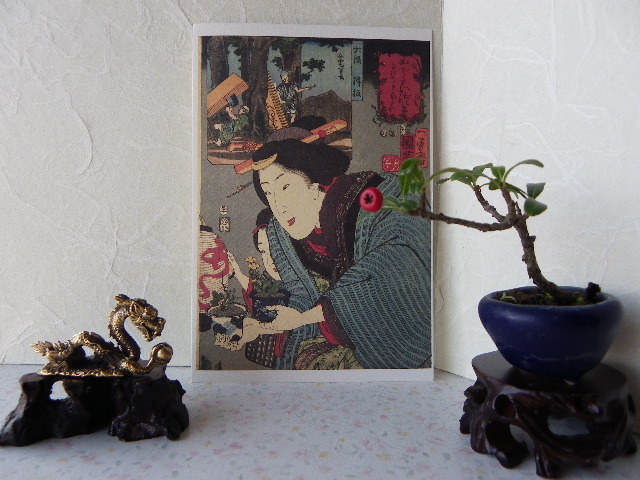 This year's dragon display might be helpful for your new years display.I asked the photo owner if I could use it for an good example and she kindly enough to allow me using.Please be careful this is just a private display for fun not like competition one though you don't have to be ruled by yourself.
Here in Japan number of people celebrating a new year as the lunar calendar have been reducing many of us use western calendar.It depends on the area where you live and if you would display with snake for 2013, it would be better finish by the first seven days of the new year… it called the pine-decoration season "matsu-no-uchi".
I am not sure about the rest of asia how they celebrate their new year.The asian IBC member might tell us that.Hope you understand my poor engllsh explanation.
show us your display when it is ready
I also have an interest your display.Good luck and look forward to seeing of yours
Your english is good, and so very appreciated. Thank-you for responding to my inquirery! With details like you have furnished it really helps me to get an idea as to when to start the display and for how long. I appreciate your attaching a picture. Please thank the owner for me for giving permission to use it.

dick benbow

Member





Hm. This got me thinking. The Jewish New Year is the next one coming up, this year September 17. How will I arrange a bonsai display? The symbols are the same every year, an apple, honey, a ram's horn trumpet, a round challah (ceremonial bread), or perhaps a pomegranate. MIT Hillel (Jewish students' organization) used to have a Jewish New Year Card called "Two Apples & Honey," showing honey pouring over an apple & a Macintosh. Modern Jewish decor often includes a harvest theme.
I can start with my crabapple bonsai. Where do I go from there without too much kitsch?
The gyrations of Oriental New Year and Jewish holidays are easy to understand if you remember that they follow the lunar calendar. If I remember correctly, Tet is the second new moon after the winter solstice.
Iris

Definition of KITSCH
: something that appeals to popular or lowbrow taste and is often of poor quality
Last edited by bonsaisr on Sat Jul 28, 2012 3:45 pm; edited 1 time in total (Reason for editing : Definition added)

bonsaisr

Member





Interesting all the different opportunities to share something meaningful to us with our friends. Thank you for sharing your thoughts iris...When the time comes I'd love to see a picture...

dick benbow

Member





Sorry I didn't get around to this sooner. Not a professional quality display. The nearest thing I have to a tokonoma is the living room desk. In place of the painting that usually hangs there, I used an etching of the Holy Ark by Saul Raskin.
The saikei depicts the source of a river. The theme is Tashlich. On the first day of Rosh Hashana, we go to a body of flowing water with crumbs in our pockets. We throw the crumbs in the water to symbolize getting rid of our sins. You can't see the detail, but the figurine is throwing crumbs for the birds.
The trees are serissa and Hemigraphis repanda. The accent plant is Viola verecunda var. yakushimana.
I have a very nice stand from Jim's Woodworks that I use for this saikei in public displays, but it is at the BOTTOM of the pile in the closet.
PS I have since wired up a leader on the middle tree so it will be taller than the other one.
Iris

bonsaisr

Member





I think what is exceptional with personal home displays as opposed to a public place, is that the owner who makes the display can explain what things mean. great conversation for questions and building relationships. thanks Iris for sharing

dick benbow

Member






Similar topics
---
Permissions in this forum:
You
cannot
reply to topics in this forum