Every now and then the local stores (Wal-Mart, Lowes, Menards, Kroger) have office plants for sale. They come in 1 gallon pots and stand around 5 feet tall. I have become extremely fond of picking up Ficus benjamina like this and working to create a bonsai banyan tree.
I forgot to get photos of the plants as I got them so I will use different plants at varying stages of the process.
First I cut the bush back to between 12 and 18 inches. The pot is pruned back to allow for watering to expose the roots so they will harden off.
The goal is to allow the canopy to develop as well as the roots.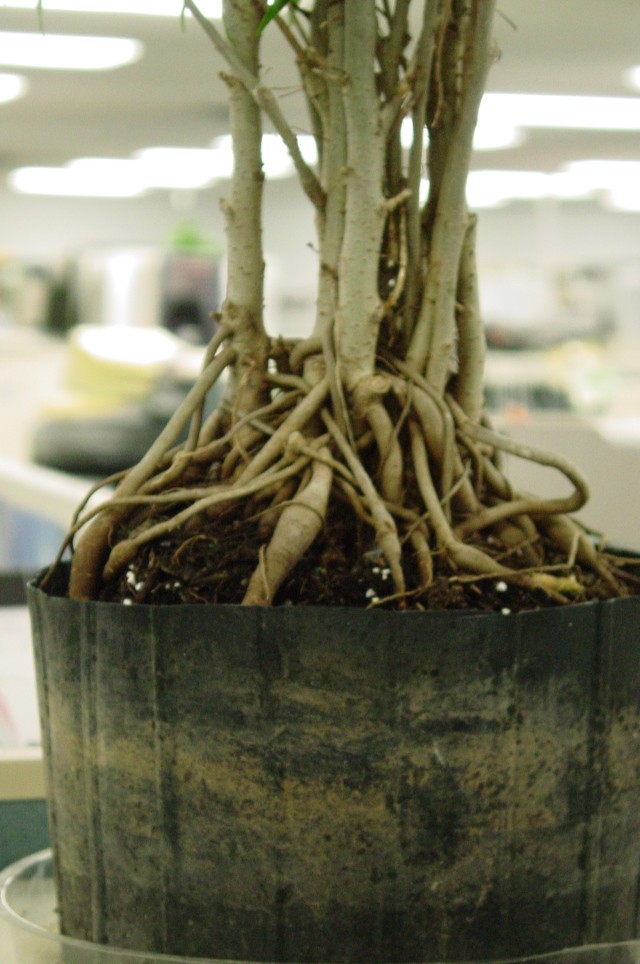 Ihave completed 2 (one I traded for another tree). The next two photos are of the whole tree and a close-up of the nebari.
I hope to at some point in HISTORY get parts of the trunk to fuse together.
forbey

Jay Gaydosh

Member





that would look good pretty in banyan style
Jay,
Nice result. Good way to transform this common material.
Jerry

Jerry Meislik

Member





Jay,

In every "ugly duckling" there is a Swan !!


Ed
The before and after are very inspiring! You have a great eye for the diamond in the rough. Thanks for posting!

KimchiMonger

Member





Thanks all for the kind comments regarding my Ficus experiments. The tree in the final photo has sat on the same ledge in the office atrium for 5 or 6 years now. So for this last Christmas, I gave it to the head of security, since he has been baby sitting it for me since it was placed there.

KimchiMonger,

I'm heading to DFW tomorrow for the weekend. I understand it has been 100 + degrees lately. Any chance for a break in the temps over the weekend?

Jay

Jay Gaydosh

Member





Gave it to head of security as he's looked after it all that time....

Wow...Great creation and gift for sure. Far better than well done.

As for DFW weather this weekend, we're looking at 100 degrees Sat and Sun. We won't be in town for that but Oklahoma is not looking any cooler either!

KimchiMonger

Member





Your experiment turned out pretty well, but in the future I would prune the tops to different heights. The thickest trunk should be the tallest.
Also, if you put it out in the sun for the summer, you will be surprised at how much the leaves reduce. Even an office tree deserves a summer vacation.
Iris

bonsaisr

Member





Thanks, Iris.

That was the 1st one, I'm learning to modify as I go along.

Not sure what to do with my Ficus this year. They are all in the office window and doing OK. I was waiting for the nights to get above 50 degrees. Once it got there the days went straight to hot, then we had a cold rainy stretch and we're back to hot again. (Seems like we skip Spring and Fall and go straight from Winter to Summer and back to Winter.

Not sure how to transition them from office warm to very hot without killing them off.

Jay

Jay Gaydosh

Member





You are being overly fussy. F. benjamina is extremely tolerant. I saw them growing in Israel from Mediterranean heat to below freezing (which I don't recommend). I put my Ficus out as soon as temperatures go to mid 40s. The fact that it goes to 80s very shortly doesn't bother them.
Iris

bonsaisr

Member






---
Permissions in this forum:
You
cannot
reply to topics in this forum