Hello,
I got this plant from a nursery here in my country Malaysia; it is not a native tree here. The nursery owner say it was imported from oversea a few year ago, but he forgot from where n the name of the plant too. I never see anything like this elsewhere in Malaysia.
The plant looks like a type of pine. The needles of the three are about half to an inch long, most of the needle cluster have five needles, especially the younger cluster. No cluster had more than five needles.
I think the tree is struggling to survive here. I hope someone can help me to identify the tree so I can read up and hope to make the best out of it.
https://i.servimg.com/u/f47/16/97/40/33/jwp210.jpg

I]

[/url]

Chiang Cheng Kooi

Member





Yes. It appears to be a pine. It also appears to be in very sad shape with clusters of needles at the ends of long, bare stems. Your climate isn't likely to be very healthy for pines.

JimLewis

Member





Jim, Thanks for your interest, after much research I think this pine could be either Chinese white pine (pinus armandii) or Taiwanese white pine (pinus morrisonicola).

Chiang Cheng Kooi

Member






Chiang Cheng Kooi

Member





It had been about two and a half years; I have been keeping this pinus morrisonicola a type of five needles pine or white pine from Taiwan. Before this, it is kept in a local nursery for another two and a half years. So it has been in Tropical Malaysia for more than five years.
The first year that I kept, after I wire it, only new needles sprout out, and only one small candle. However last month some candle came out. I have no idea what to do with these candles yet.
I suppose pinus morrisonico;a is one a few white pine that can survive in tropical climate for about five years giving hope for those who wants to keep white pine bonsai in the tropical.
The trunk had thicken from pencil thin to half an inch, I use black lave, burn soil n pine bark of equal portion. Exposure to the tropical sun is from 8.00am to 12.30pm. It is actually place on a balcony/window.

Chiang Cheng Kooi

Member





Interesting. Do you run the aircon at home, or is it growing at normal room temperature? We've seen the northern growers with their lights and misters and such for tropical plants. Maybe we in the tropics need refrigerated grow rooms?

bingregory

Member





Bingregory,
no i do not keep the tree in air con cool room. like i stated in my previous post, i grow them on my balcony and do not expose them to direct sun after 12.30pm. no exposere to the tropical rain too, pine likes dryier condition, My black pine shohin also grow under similar condition, been growing black pine for more than 3 years, the grow them from young nursery seedling.
i think Pinus morrisonicola had evolved to grow in a higher tempreture climax in Taiwan, how ever even Taiwan the thrive on the higher alltitude region.

Chiang Cheng Kooi

Member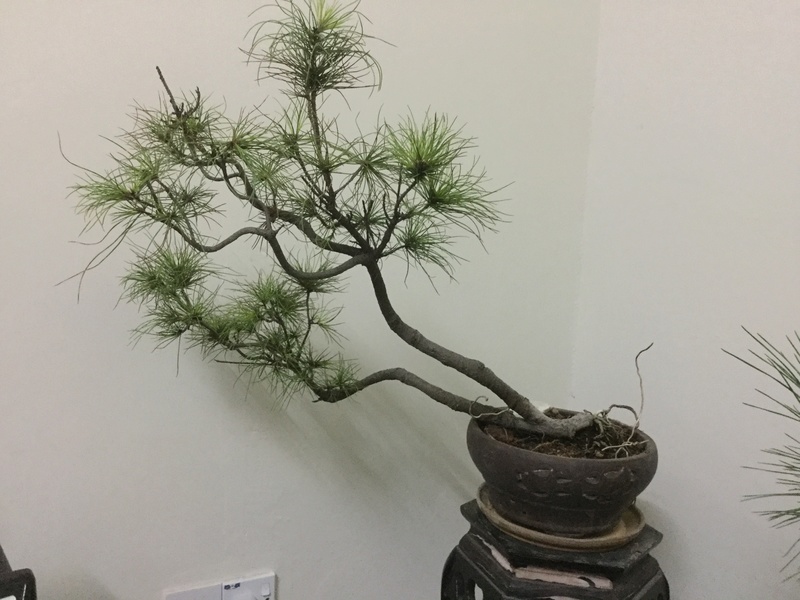 This Taiwan five needle pine (white pine) still manage to survive in tropical Malaysia, however not much development had happen, only the trunk thicken. The needle are very scorch easily if expose direct to the mid afternoon sun in Tropical Malaysia, the tree is shaded from the sun from 12.00pm till 4.00pm. It is not doing well, but still manage to survive.

Chiang Cheng Kooi

Member






---
Permissions in this forum:
You
cannot
reply to topics in this forum