Yet another tree has been stolen:- a Korean Hornbeam stolen overnight at the Bath & West garden show, Somerset.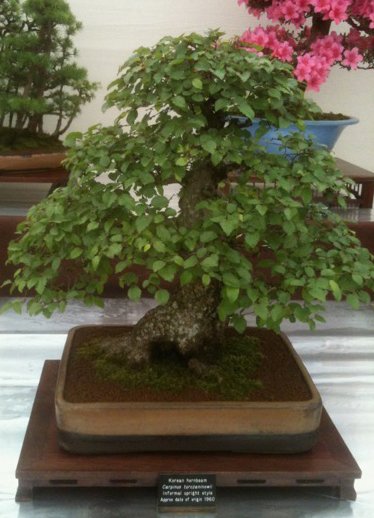 Please do get in touch if you believe you have any knowledge of its whereabouts, or indeed if you hear anything that may assist us to recover this tree, and return it to the owner.
Either contact the Police or email -
contact@swindon-bonsai.co.uk
Paul

Paul B [Swindon]

Member





Are people doing this because they want to sell the trees? Because they want masterpiece trees themselves and simply cant afford them? Why is this happening more often these last few weeks? Argh!!!!

drgonzo

Member





Thanks Paul for the Alert about the Stolen Tree

I was going to start a New Topic about Club Members Trees in members gardens without naming who they where or where they live but I am thinking maybe that's not a good idea with so many trees being Stolen

Thanks again for the info

take care keep up the Fantastic work at Swindon

Jim thelad

The Lad

Member





Thanks Jim,

I think that it is only right that we are a bit more careful, there are too many light fingered individuals out there.

All it does is deter enthusiasts from displaying all the hard work that they put into their trees and encouraging others to take up the art.




Paul B [Swindon]

Member





Sad, sad, sad. Of topic, but still same issue. Locally 4 photographers from the same newspaper had thief's visiting them privately in the night stealing all their expensive equipment. Like with bonsai it seems organized. But were does these bonsai go to? They have to be kept out of sight for years to avoid being recognized? Or they are sold by shops who are not aware were the bonsai comes from?
Hopefully everybody are awake and on their marks observing any of these trees anywhere, so thief's will not benefit from their steeling. A tragedy personally for those who looses their bonsai's dear to them.

Regards
Morten
Petty and other thievery always go up suddenly when economies go bad -- but that doesn't explain the bonsai thefts. That's a pretty specialized market and one that -- I would think -- would be difficult to make much money from (even for a "free" tree).
_________________
Jim Lewis - lewisjk@windstream.net - Western NC - People, when Columbus discovered this country, it was plumb full of nuts and berries. And I'm right here to tell you the berries are just about all gone. Uncle Dave Macon, old-time country musician

JimLewis

Member






---
Permissions in this forum:
You
cannot
reply to topics in this forum