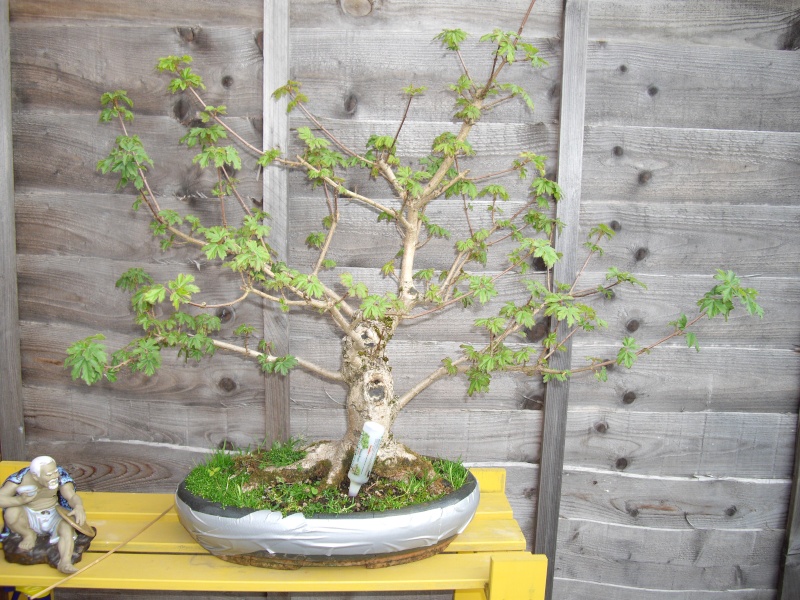 I need some advice on this Maple I recently bought. You can see it hasn't really come into leaf.
It has had a tough winter and the pot it is in is cracked and being held together with duct tape.
I have real trouble pushing a wooden skewer into the pot which tells me the roots are rammed in this pot.
Can i still repot this tree this late in June?
Please advise on the best course of action to save this tree.
Can someone also tell me whay type of Maple it is?
Thanks
Kev,

your maple looks like an English Field maple (Acer campestre) to me. They are tough trees and can take a slip potting at this time of the year into a larger container. Don't do to much in the way of root work other than to loosen up the ones at the edges of the root ball so they will grow into the new soil medium. It will take a month or so for the tree to settle into the new pot and begin to grow more vigorusly.

Randy

Randy_Davis

Member





Randy is spot on with ID and advice. Get it into a slightly larger pot, or into the earth and keep well watered. It will do fine. They are very vigorous trees.

_________________
"It is not the strongest of the species that survives, nor the most intelligent. It is the one that is the most adaptable to change." - Charles Darwin.

Kev Bailey

Admin






---
Permissions in this forum:
You
cannot
reply to topics in this forum