Hi Guys,
I am looking for a bit of guidance on styling my "odd" Chinese Elm. This tree was a well meant gift from a family member as they saw it going cheap in a DIY store!! Although indoor when I got it it has been outside full time for at least 4 years with little frost protection. The tree stands at 15" high with a nebari width of 4". All the dead wood is natural as the frost got at it a few years ago, killed off the crown and formed its own shari. After many attempts to re-style this tree, after its little accident, I think I've plumped for 2 options unless someone out there has a better idea.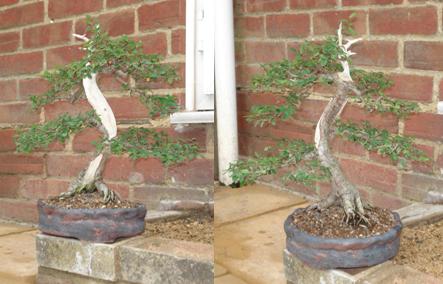 Option 1
Remove all the branches on the right (as indicated) and make them small jins leaving the foliage on the left as 2 separate floating pads. The main problem with this option is that the trunk flattens as it twists giving it less of a 3D aspect.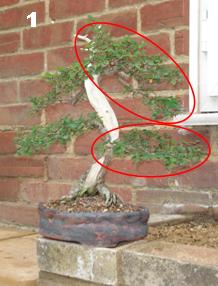 Option 2
Remove the top of the tree and the lower branche on the right (as indicated) and jin the remaining branch to give the image of a windswept tree. This
WAS
my preferred option but option 1 is sort of growing on me!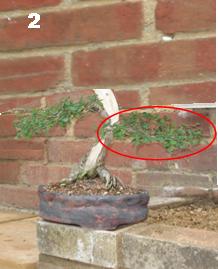 The main problem with both options is that it is quite unnatural for the species but the tree seems unwilling to fire out any new branches anywhere else on the trunk.
I know that this is never gunna make a fantastic tree but I'm hoping to improve it so that it no longer languishes at the end of my garden only receiving the odd haircut to make it look sort of loved


bonsai monkey

Member





Wow, never seen any frost damage like that on a Chinese elm, that sucks, must be pretty frosty.
If it were mine I would repot into something larger and let it regain its vigor for now, regrow the apex and let the pads fill out a bit more.
Maybe also think about applying some kind of wood hardener for the exposed wood to avoid rot.
Good luck,
Elias
Frankly I'd do nothing so drastic as either of your options. I think I would plant it a bit deeper in the pot, though, to get rid of what look like see-through roots.
_________________
Jim Lewis - lewisjk@windstream.net - Western NC - People, when Columbus discovered this country, it was plumb full of nuts and berries. And I'm right here to tell you the berries are just about all gone. Uncle Dave Macon, old-time country musician

JimLewis

Member





I'm with these guys, Monks matey. I had a conversation with Steve T the other week about everything being styled to look like a juniper or a pine. Aint it funny how nature did it for you!

I'd let it grow so it begins to look more like an elm again - as Elias says, let it develop bigger pads and a new apex and maybe that way the flattened bit of deadwood might get concealed more. Wanna part share in the (very large) tin of Ronseal Wet Rot Wood Hardener I bought? It was the only size they do. It's nearly as bad as my "lifetime supply" of Lime Sulphur!
We await its new life it interest.
Keep climbing that tree


fiona

Member





Thanx for the advise Guys

The power tools have been put away and last night was an evening of Wine, Wire & Song as I attempted to take on board you suggestions. I used the advice from a mad Italian (in between peesing birds off and waterfalls running the wrong way) about
"trees that do-a not 'ave too-a many a branches, sub divide them into smaller pads to-a give a-the impression of more foliage"
(OK my Italian accent needs some work!) so I put this into practice to try and give the tree more of an Elm like silhouette. After a stern talking too I think the tree got the message and I'm now hoping that it will take on board the need for a new apex as so far all previous attempts have failed.
I'll post some pics when the Elm has suitably recovered from its
Shiraz session
and starts to look more like an Elm (not a Pine or Juniper Fi!!) and I will lower the tree in its pot Jim now that I've had a chance to treat the deadwood at ground level.
Still climbing!!
Okk, Okk,
Simon

bonsai monkey

Member






---
Permissions in this forum:
You
cannot
reply to topics in this forum