What's up, everybody? I have a Chinese Elm that I got from a recent workshop. I'd like to attempt a thread graft but the tree itself is a standard CE. The material I have to use for the graft is a root cutting of a Drake Elm (Which is still a Chinese Elm, right?). Does anybody think this would be a problem? Or should it take? As always, any advice is greatly appreciated. Oh yeah, I've been hoping a bud would swell in the general area I'd like a branch but no luck. It also appears as though the previous owner was waiting on the same thing, there's a clump of branches an inch or two too low.


Gentleman G.

Member





The standard procedure for thread grafting is to use a long stringy branch on the same tree. Otherwise you really should use the same cultivar, which is genetically the same tree.
Yes, 'Drake' is a cultivar of Chinese elm, but it is not identical to your tree. It is a lacebark variety, so if you graft it onto your tree, the bark on that branch will always look different, more so as the tree ages.
Since your tree is not a named cultivar, your best bet is to encourage a long branch that you can graft with. Otherwise, plant the tree in a large pot, feed like mad, and prune all the upper branches very short. It is usually easy to get Chinese elm to back bud on the trunk.
Iris

bonsaisr

Member





Ahhhhhh, I see. Thank you for your explanation. Good thing I didn't have the right size drill bit handy or it might already be done

I figured that there may be a difference in the barks, wasn't sure if the large plant would eventually take over though. I've heard of people grafting different types of apple trees together to have different fruits on the same tree. In most of the stories I read, the original/strongest plant ended up taking over the other branches after several years. It's not that I'm in a big hurry to get a branch there, I just don't think I'll be lucky enough to get a bud there. For the most part the tree is styled close to the way I'd like, it's on the way at least. It's a typical S shaped Chinese Elm with weeping style branches. I'd like to clean up the apex (It has what is apparently called a "birds nest", at least by some of my local club members), and get a branch on the lower right side (on the outside of the first curve). I'd also like to change the pot, but the gentlemen that did the workshop said it was recently replanted. I'll just let some shoots grow with the thread graft in mind while hoping it will bud there. As I mentioned before there are some branches on the lower right, just a little too low. If I don't remove them, are they likely to cause inverse taper?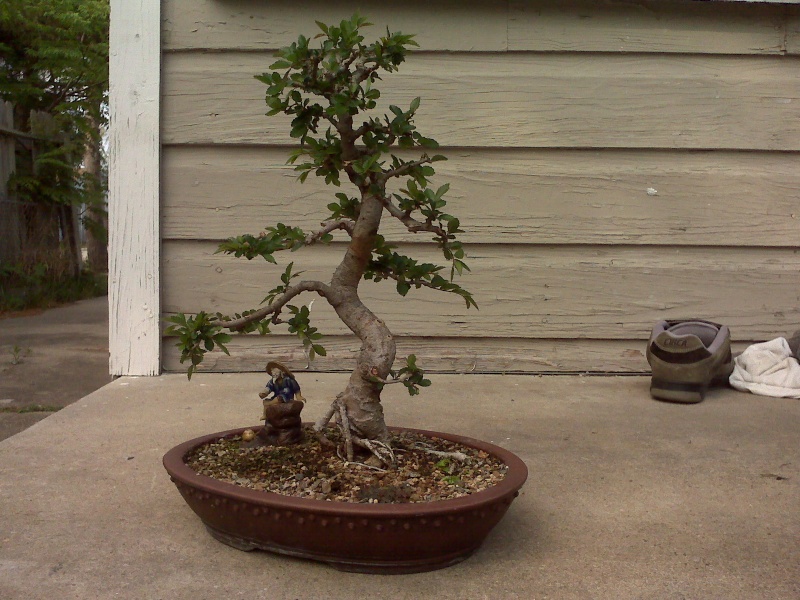 It looks much better in person. I'm no photographer, that's for sure. I think that in a few years I'll have a pretty cool tree. Don't be too hard on it


Gentleman G.

Member





See that little branch down near the bottom? That's your ticket. I presume what you want is a branch coming off that first bend. Keep all the upper branches kind of short for now. Encourage that lowest branch to grow. When it is long enough you will cut a little groove in the trunk to guide that branch up to where you want it to grow out. Koreshoff, Meislik, and possibly other authors explain this in more detail. If the experts here think it won't work, please say so.
Iris

bonsaisr

Member






---
Permissions in this forum:
You
cannot
reply to topics in this forum