Anyone tried thread grafting a taxus before?

I have one that absolutely will not back bud. Tried for five years. I'm done trying to get it to back bud. Instead, I thought I'd try grafting shoots where I want them. And then I thought . . .. can you thread graft them?

I have many long shoots to try.

I thought maybe I could pull off some of the needles, wrap the remaining ones tightly with grafting tape or cellophane to make the shoot thin enough to slide the shoot through the drilled hole, then unwrap it and let it grow til it fuses.

Anyone think that would work?

I know I can't pull off all the needles or the shoot is going to die. That's also why I won't cut it back beyond the lowest point of growth to try and force it to back bud farther down.

Thoughts?
I'm curious about this too. I collected a big one last year and have left it to recover until I make it back home to Ky. I will certainly need to reduce it dramatically but was worried about dieback/killing the whole thing. I might be looking to do this sort of proceedure next year. Thanks for the post and I will be waiting with you for some vets' responses.

Levi

Member





I have 6 landscape plants that were perhaps 5 or 6 feet tall several years ago. I cut them shorter revealing an internal network of branches with only foliage on the outside as you would expect. Within a year the foliage began to regenerate down below the top cut, and now the top has again filled in. The point is that with basically just allowing sunlight into the shrub it began to refoliate where before it remained shaded by the outer shell of foliage. Perhaps yours could use more light down inside to hopefully generate growth?


lordy

Member





Thanks,

The internal branch structure is wide open to sunlight and has been for five years. The foilage is only located on the out tips of the branching and has never budded on the interior and that's despite being very healthy and cut back hard each year for five years.

The tree is probably at least 6p years old and large.
I've always wondered what would happen if you nicked the bark and put some rooting hormone in it. Would a bud emerge?

lordy

Member





I've even nicked the bark in multiple places and brushed it with a steel brush to try and encourage budding. Didn't work.

I doubt rooting hormone would have any effect.
Hello Michael

Can we see a photo of your taxus please?

Kind regards
Martin

Klaudia & Martin

Member





Here's a pic of one side. The other side presents a suitable front as well. That said don't be mislead by the low growth. That's all from small trunks at the base. They are not part of the primary trunks. I was however intending on taking their shoots and using them for the inarch grafts. Also all trunks are joined at the base. It makes a pretty interesting base because they are fused without any noticeable separation.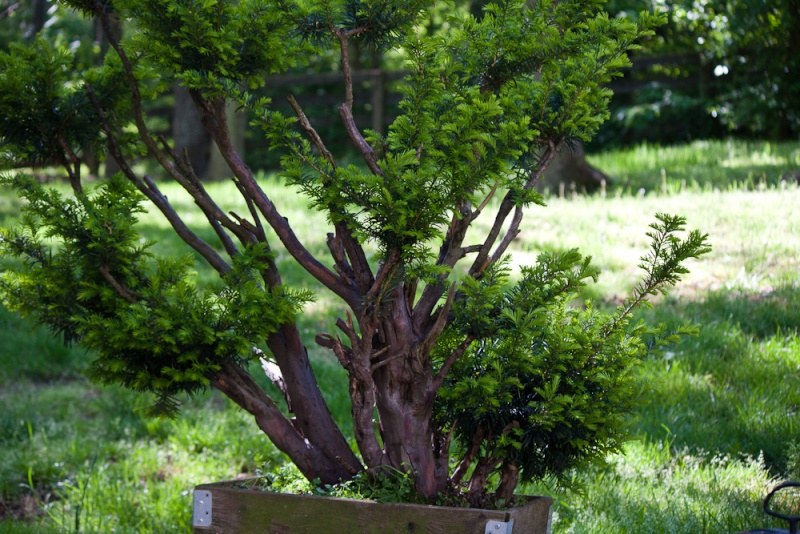 Hello Michael

To me your tree looks healhty but the former (first) cutback was not drastic enough. Your tree is now "preferring" to promote top-growth.

Well ...... what is your vision for the future?

Personally I would cut back again to half..... or less ....

Kind regards
Martin

Klaudia & Martin

Member






---
Permissions in this forum:
You
cannot
reply to topics in this forum