My mate Cris is a qualified tree surgeon and bonsai nut. He helped me finish the removal of a problematic Garrya ellyptica tree, too close to my house and the boundary wall seen here. He reminded me that I shouldn't remove the whole of the stump, but leave the base in the ground as a display stand. A perfectly level chop was achieved and we topped it off with a piece of rough sandstone slab and a wannabe bonsai Berberis (in a Dan Barton pot). Since the photo was taken I've started tidying up the area that will be an important part of the welcome to my garden.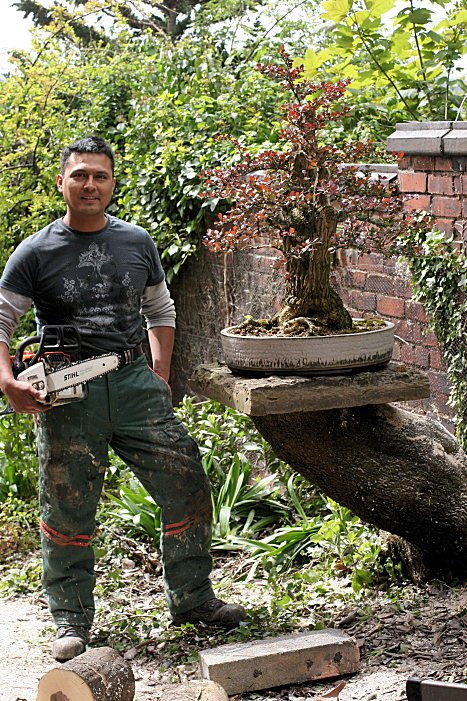 Wondering now about a moongate..... Cliche'd but appropriate for the age of the property. The Victorians were mad keen on Japanese embellishments.

_________________
"It is not the strongest of the species that survives, nor the most intelligent. It is the one that is the most adaptable to change." - Charles Darwin.

Kev Bailey

Admin





Good job. I like what you've done with that.

Smithy

Member





Neat idea with the tree stump. By the way, that berberis is quite impressive...as is the pot. Thanks for the picture.

Dave
My mate Cris is a qualified tree surgeon
... and an intelligent one too. STIHL
Nicely done, talk about recycling


Rick Moquin

Member





Nice job. I have done similar with Live Oak logs and stumps - alas they only seem to last about 4 to 5 years before they rot at the base.
The Berberis looks like it is coming along. Nice.

Rob Kempinski

Member





Rob Kempinski wrote: The Berberis looks like it is coming along. Nice.
Sod the Berberis! Can I have Chris, please?

fiona

Member






---
Permissions in this forum:
You
cannot
reply to topics in this forum