Hello everyone, I just purchased my first house and was getting ready to clear out all the old trees in my backyard when someone from the tropical fruit forum mentioned that I had some nice old Bougainvilleas. I didn't even know what a Bougainvillea was. Well anyways, that person said I should consider turning my huge gigantic Bougs into a Bonsai. I didn't really like Bougs untill I googled "Bonsai Bougainvillea" and saw some awesome large specimens with large thick trunks. I am completely new to Bonsai and would greatly appreciate any tips on how I might be able to turn my in ground, huge gigantic Bougainvilleas into Bonsais.
The trunk on my larger Boug is about 8-10 inches thick and I guess the tree is about 10-15 years old. The branches are spread out everywhere and I have no idea where to start. I was wondering how much of the root can I cut without killing the tree. When I googled Bonsai Bougainvilleas, I noticed that the pots the bonsai Bougs were grown in were very very shallow. My trees are super huge and I'm afraid I will kill the tree if I trim off too much of the roots.
What are some beginners mistakes that I should try to avoid. I don't want to ruin my old trees by cutting branches or roots that I should not have touched. Sorry about all the questions, any advice would be greatly appreciated.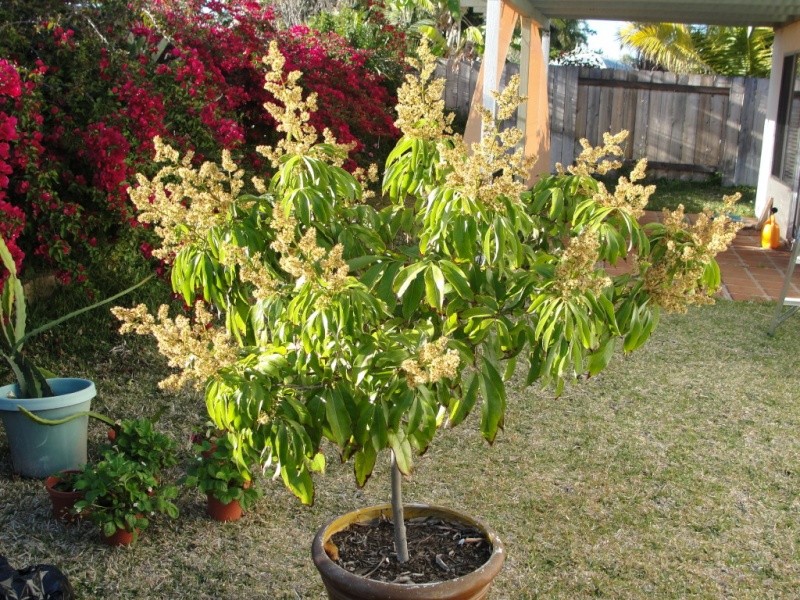 Thanks in advance

The pic in the front is a Lychee tree but it is the Bougs in the background that I am trying to Bonsai

Last edited by simon_grow on Wed Sep 29, 2010 12:51 am; edited 1 time in total
Simon,
Bougainvillea are very resilient. You could actually create a completely new root system from a very large cutting, although for a beginner this may not be your best bet. You can also cut the branches way back, even to a stump with no greenery and it will regrow from the old wood. They are actually quite easy to work with and particularly if they are in an area where they are outdoors year round. Some folks with more experience will surely add advice. But you should read through this thread for more info.
http://ibonsaiclub.forumotion.com/bonsai-f1/bougainvillea-styling-advice-t3608.htm#35888
Good Luck,
Todd

DreadyKGB

Member





Hmm, how to apply information from a tropical zone [ Caribbean ] to yours.
Ahh, simple, talk to Hawaiian77 - Tim
Until.
Khaimraj

Khaimraj Seepersad

Member





Howzit Simon,
I am green with envy my friend!!



From the looks of it you probably have something really nice somewhere in there. Here are some examples of my bougies that I got about a year ago that I pruned hard the branches and roots;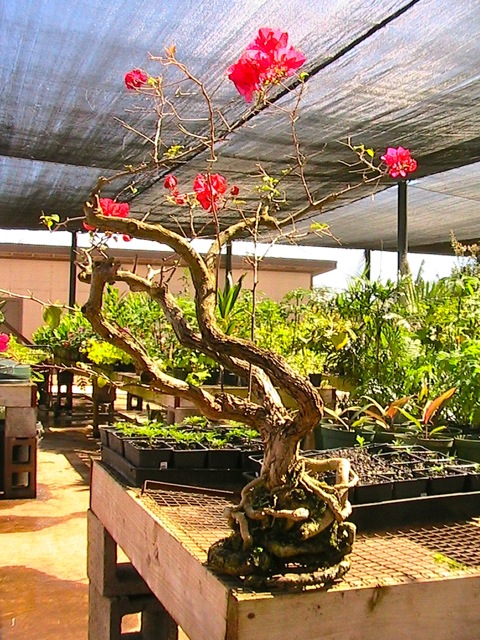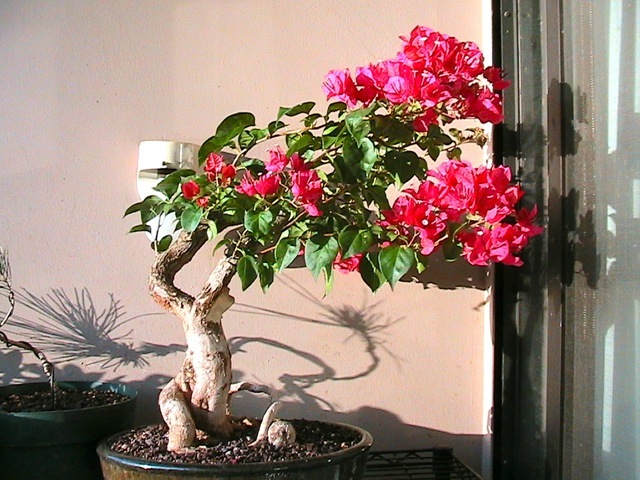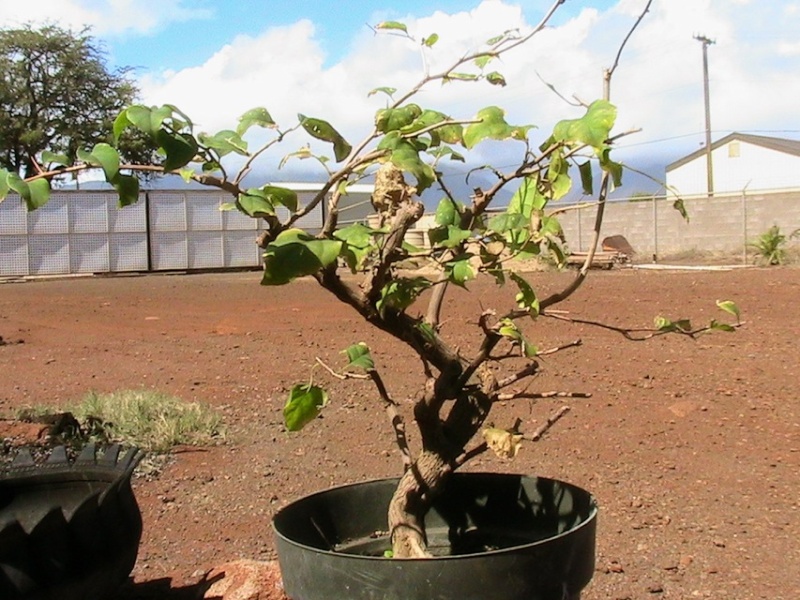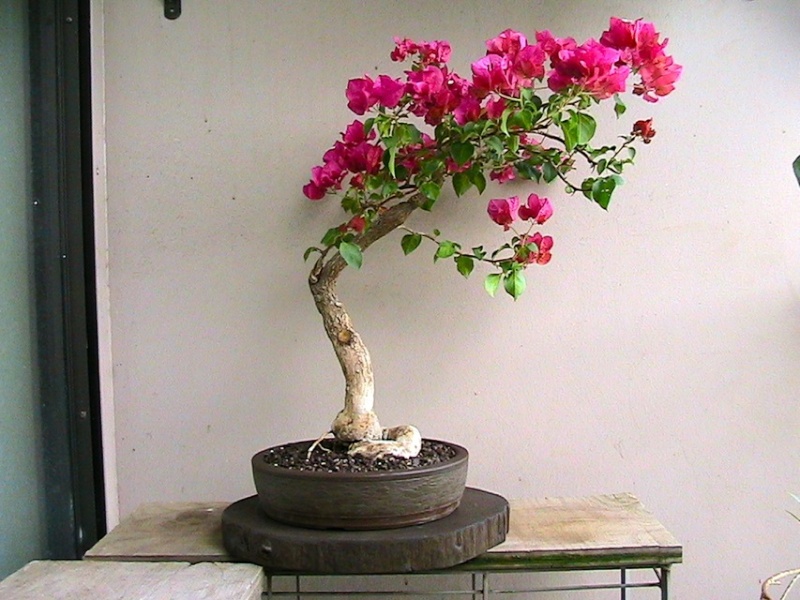 As Todd said it's very resilient so don't be afraid. As far as bonsai soil find something that has very good drainage. I would wait before you put it in a bonsai pot. It would be best to have it in a grow box or a large garden pot and let it recover and when you start to have new growth then start to style it as you please. In a few years then start to looking for a bonsai pot. I hope this helps. Good luck and keep us posted.
A Hui Hou,
-Tim

Last edited by Hawaiian77 on Wed Sep 29, 2010 9:07 am; edited 1 time in total

Hawaiian77

Member





That was weird, I just suggested Tim and he appeared.
Khaimraj

Khaimraj Seepersad

Member





Khaimraj Seepersad wrote:That was weird, I just suggested Tim and he appeared.
Khaimraj
Howzit Khaimra,
I was just about to send my post after you sent yours. Now that was cool!!
A Hui Hou,
-Tim


Hawaiian77

Member





Thanks for the advice everyone, I'll let everyone know how it goes

I'm glad to hear that Bougs can take some abuse because I was not going to be gentle with chopping off all its limbs. These Bougs were destined for the trash heap but hopefully I can transform them into somthing worthy of a poster. I just checked the base of one of the bougs and it looks actually closer to 6-7 inches thick.
Those are some great Bonsai Bougs you have there, that gives me some hope that I can transform mine into a nice bonsai specimen


---
Permissions in this forum:
You
cannot
reply to topics in this forum