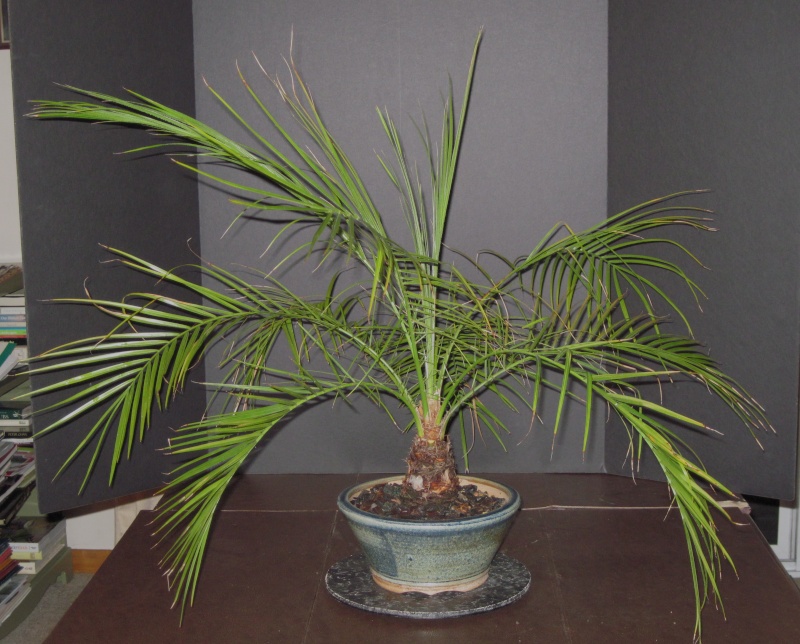 This tree has been the subject of discussion here & there. It is a pygmy date palm, Phoenix roebelenii. I have had it since 1992, when the trunk was 3 inches (7.5 cm) tall. It is now 5 inches tall (not counting the fronds).
The old BCI newsgroup decided it is a bonsai. Bill Valavanis ruled that it is a bonsai, but nontraditional. The president of our club says it is not a bonsai, but they let me show it anyway. They also let me show it in the BSUNY (Rochester) and Mohawk Hudson (Albany) shows.
The standard height of pygmy date palm is about 10-12 feet (around 4 meters). In the Northeast, it is very common in shopping malls. A standard date palm (Phoenix dactylifera), which I am trying to evoke, may be almost ten times that size. The fronds on my date palm are out of proportion, but they are half the size of a standard tree.
I once had a beautiful custom made pot, but of course it broke. This pot is by Nick Lenz. It was bought for another tree, so it is too small and the wrong color. I hesitate to spend a lot of money on another pot, considering what I paid for the tree.

The conventional wisdom is that you can't bonsai a palm tree, since it has nothing on top you can prune. I keep it small by very severely pruning the roots every year. It climbs up out of the soil & sometimes the roots have to be sawed.
The tree is not hard to grow. I keep it in the guest room for the winter, originally to keep it from being chewed by the cat. It goes outdoors for the summer, gradually into full sun. It is in a coarse mix for good drainage. Feeding is standard. It is susceptible to spider mites, but responds to a systemic insecticide.
Iris

bonsaisr

Member





I think you could get 3 dozen answers, all different, if it works for you... it works for me! I have had several opportunities to buy palms at local nurseries, but it has never caught my interest. At the same time, I'm bonsai-ing chrysanthemums, germaniums and dwarf Korean Lilacs (and I want to try my hand a grapes), so who am I to say what is or isn't bonsai?
Looks like a healthy little plant! I find it very interesting that you have had success at getting the fronds to reduce.
Jay

Jay Gaydosh

Member





Well , I am torn on that , but leaning towards a 'no' . The reasoning is that ( for me ) there are no branches . I admire that you can dwarf the leaves , I have a Sago Palm in a pot , and I don't call it a bonsai .... just a palm in a pot . It is intriguing nonetheless .
On a side note, one of my favorite Chinese restaurants has a beautiful bonsai Jade by their register... It was a SCUD (like in the missile). As you walked in it was stunning, as you got closer you quickly discover...
IT'S PLASTIC!
I was so embarrassed for them!

Jay

Jay Gaydosh

Member





Ironically , my favourite Chinese restaurant in town has a smacking Dwarf Jade ( not a Portulacaria ) in the window that would make a great indoor Bonsai .... I have lusted after it for years

. Its real though ( not a rubber , rubber tree ) .....

---
Permissions in this forum:
You
cannot
reply to topics in this forum