Hi Guys
As Privet is fast becoming the new Black I was delighted to pick up this ex Lee Kennedy yamadori from my friendly neighbourhood Monkey Man

. Although most of the growth is at the apex and a bit one sided I feel in love with this tree because of its power and movement. I know that I'm a self confessed Shohin man I'm now getting a few slight larger pieces as these take a bit more time and effort but then it stops me getting inpatient and rushing my Shohin trees.
OK, so the question is this, where do you think I should go with this tree? I have a few thoughts of my own but would be grateful for some additional input.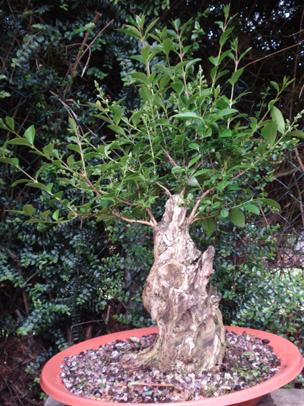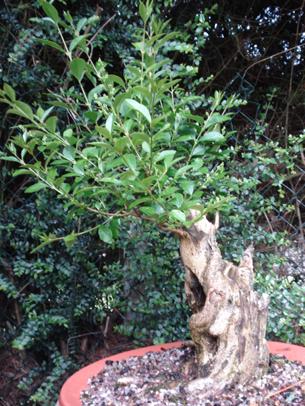 Thanks in advance,
Okk, Okk,
Simon

bonsai monkey

Member





Wow, what a trunk!

I know it's not of much help to say that, but wow! the movement is really beautiful.

Don't know where you are going with this one, but I'd cut back most of the branches and let a few selected ones grow freely to thicken.

AlainK

Member





You will find with the privet that, in a large one, getting any bulk on the branches is a bit of a problem.
I'd worked 13 years on this one to get the rather skinny size on these branches.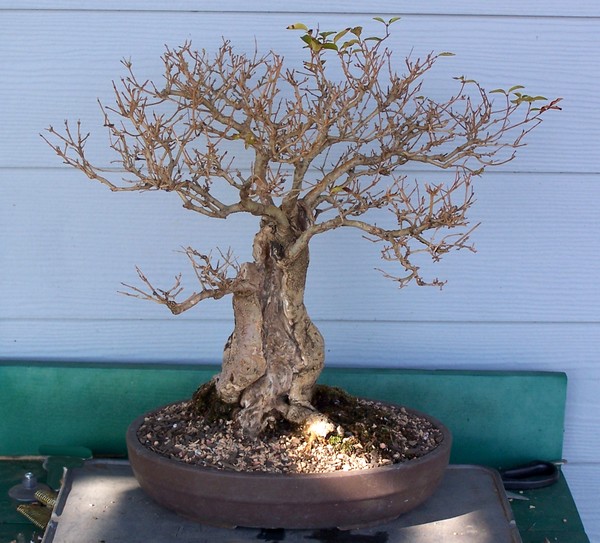 Alas, this tree is about gone now. The wood in the trunk rotted so badly there's only the ghost of the trunk and one side of the branches is gone.
_________________
Jim Lewis - lewisjk@windstream.net - Western NC - People, when Columbus discovered this country, it was plumb full of nuts and berries. And I'm right here to tell you the berries are just about all gone. Uncle Dave Macon, old-time country musician

JimLewis

Member





Alain
Thanks for your post. I will be looking to thin out the heavier branches and re-grow the structure best part of from scratch.
Jim
I'm sorry to hear about your Privet as it looked like a great tree

Thanks for posting your tree as it gives me some hints on branch structure for mine.
Regards,
Simon

bonsai monkey

Member





A very (very) classical view:

AlainK

Member





I like lains idea with this one. Bulking branches on Privet is quite east but you need to get some wire on now, before the branches get too stiff. Don't wory about ramification at this stage, just position branches and let it grow. With good feeding you will easily get 2 feet of growth and 5mm of thickness in branching. Cut back in the Spring and repeat. Beautiful trunk and huge potential.


---
Permissions in this forum:
You
cannot
reply to topics in this forum