Hi all,
My Hawthorn is currently looking great (apoligies for the cluttered background), and it has lots of flowers ready to go which is fantastic!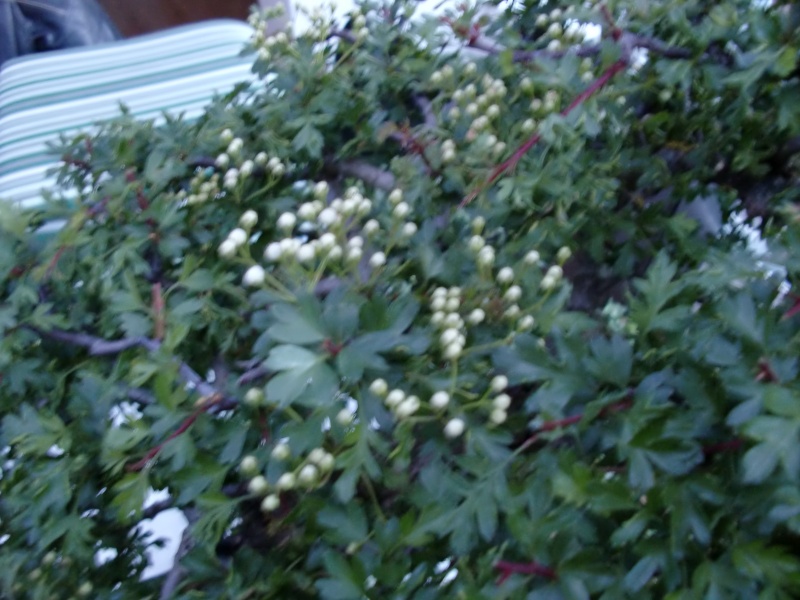 However, everything is fine until you look at the leaf close up. The leaf has had this problem for the last two years, I think it is some sort of peach leaf curl from next doors plum tree. I systematicaly treated for it all through last year and over winter with 'Diathane' but this doesn't seem to have worked. None of my other trees are affected and it does not appear to affecting the Hawthorns general health. I would say about 1/4 to 1/3 of the leaves are affected. Any thoughts / comments would be much appreciated, I have decided this year to go throughand cut out anyt of the affected leaves: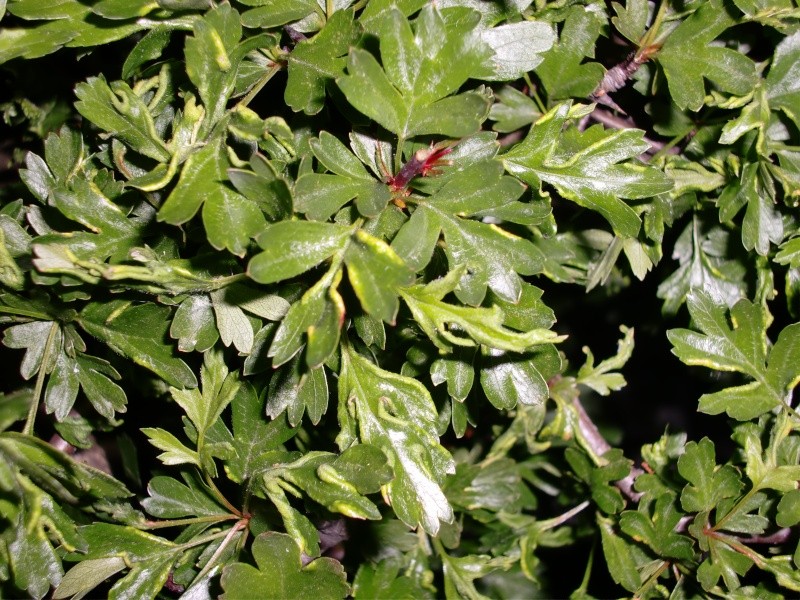 Jonny
Hello Jonny. Have you tried either a weak solution of lime sulphur, 1 part ls, 30 water, or a copper based fungicide. I have had this problem in the past and cleared it up.
Thats great thanks Will, I'll give the LS a shot as I think the Diathane was copper based but I'll check. Good to know that others have had this problem as any one I've sopken to hasn't seen it before!

Jonny.
As with any fungal infection, another key to control is taking off the affected leaves, and not letting any of them sit in the pot. So if you haven't removed them all, I would consider that as part of your plan as well.
Hawthorns as bonsai is not as common where I live in the states... and it seems to me that the two I've seen on this site recently have extremely pointed tops... is that a styling preference for them overseas? I have this urge to soften the points of those triangles.

Beautiful tree though... I enjoyed seeing it very much.
Kindest regards,
Victrinia

Victrinia Ridgeway

Member





_________________
Jim Lewis - lewisjk@windstream.net - Western NC - People, when Columbus discovered this country, it was plumb full of nuts and berries. And I'm right here to tell you the berries are just about all gone. Uncle Dave Macon, old-time country musician

JimLewis

Member





There is no curative, only preventative treatment. The leaf curl Fungus is airborn and without early treatment will effect Hawthorns, peaches, etc
I recently spoke to someone with the same problem on a Hawthorn and he took it to specialist nurseryman who told him it can be caused through not having enough root for the amount of foliage. Hope this helps.

Ian.
Ian Warhurst wrote:I recently spoke to someone with the same problem on a Hawthorn and he took it to specialist nurseryman who told him it can be caused through not having enough root for the amount of foliage. Hope this helps.

Ian.
Not sure he's right on this one Ian. I think this is like a Peach leaf curl. An airborn fungus that troubles certain trees. Some of my Hawthorns have only one or two branches with this problem. If it was a root problem, I'm sure it would be across the whole tree.
Ian Warhurst wrote:I recently spoke to someone with the same problem on a Hawthorn and he took it to specialist nurseryman who told him it can be caused through not having enough root for the amount of foliage. Hope this helps.

Ian.
A Bonsai specialist nursery man???? Surely not.
Mike

Mike Jones

Member





I had a bad stint of fungal issues last season here in Australia although it was some what different to this it was also on my hawthorn. I had seen this leaf curl I experienced in previous years. Mainly in my ground growing area and it had caused me little trouble except frustration. Last year I had decided to yank everything out of the ground for a make over which left me with much to much to care for in pots.
I soon ran into big problems as luck would have it the weather gave us our worst season for fungus in 20 years. I tried various fungicides and pesticides as I was still unsure what I was up against but nothing was helping.
Another person having the trouble was lucky enough to be able to get a pathology test and confirmed it to be a fungus but did not get the name of it. They did get the recommendation to treat with Bravo active ingredient chlorothalonil. This works as a protectant stopping the spores from spreading.
This stuff worked a treat and each flush of new growth was better than the last until they where perfectly normal. The big down side is it is pretty toxic stuff.
One thing that I found most interesting was how removing leaves sent the tree backwards even with the bravo. I lost a number of trees from defoliating them. Even trees that had put out enough growth to suggest that it had stored energy to grow new ones.
Other observations of this fungus was that if a tree was able to put on enough growth it would in words grow past the fungus and return to full health. Yet removing the growth would again allow the fungus to get the upper hand.
The only conclusion I can gather from this is that the tree needs massive amounts of energy to fight the fungus. Not just stored energy but the energy it is producing in real time. The more leaves the tree had the better able it was to fight the fungus.
I am sure that removing some damaged leaves from a tree such as this will not be detrimental but I am not sure I will ever follow advice to defoliate a tree that is struck with disease agian. As they say only defoliate a healthy tree. Why do we ignore that in these instances?
It is interesting the mention above of only certain branches being affected I too found this with some trees. I could cut all the damaged growth of that branch yet it would grow back with the fungus. Yet not spread to the rest of the tree. Also it seems from my research that once a tree has something like this it will be with the tree forever!
Nice and cold here now so it is time to take the upper hand with winter disease remedies and lots of cleaning.
Although I don't like how toxic it is I plan to use the bravo as a preventative spray in early spring but I am also considering a diluted milk spray. I have heard that it may work by helping the beneficial fungi settle in on the leaves so there is no space left for the bad fungus. Another opinion is that it works much the same as bravo stopping the spores from being able to get airborne.
Here is the stuff that I found great but too toxic for my liking
http://www.syngenta.com.au/Start.aspx?PageID=10101&ProductID=47752&menuId=2053
Hi everyone,

Thanks for the replies on this. I've been through the tree and cut out any affected leaves and I've decided to systematically keep treating the tree with a coppoer based fungicide / dilute LS and hopefully it will keep it under control and may cure the problem.

I'm not conviced that it is related to lack of root as its always had a lot of root when I've repotted it in the past and certainly enough to suport the foliage mass.

Victrinia, firstly thanks for the compliment, secondly I dont think there are any hard and fast rules regardig creating a pointed apex or a rounded apex on hawthorn, geuss it depends on the individual tree. I've had to completeley rebuild the apex on this tree after a styling decision that I didn't like. I think eventually I may round it off but for the time being its part of the rebuilding process.

Jonny.

---
Permissions in this forum:
You
cannot
reply to topics in this forum