I have a problem with my Ashe Juniper I need some help with.
The leaves are turning brownish. There are other leaves unaffected.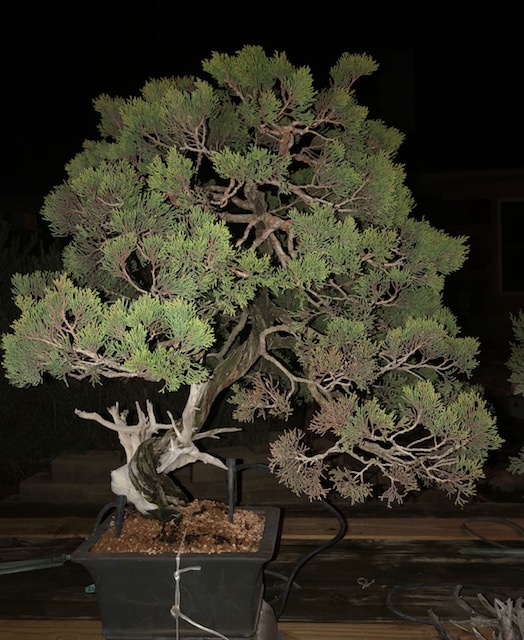 The first picture shows the discolored area on the lower right side of the tree.
The second shows a close up of the discoloring and the third shows natural coloring.
I've had the collected tree 20 years and is potted up using Akadama, lava and pumice equally.
The juniper has done well for many years but over the past couple months the color changed a bit...I fertilize once a week with organics from March to October and water 3-times a day (I live in HOT South TEXAS). I've change to watering just twice a day. I suspect a fungus as I've fought diplodia on a couple others for 6 months...
Do you have any thoughts about a possible cause or remedy?
Yesterday I changed to watering schedule to once per day
My first thought is fungus, treat with the appropriate fungicide.
Augustine: that brings up actually two questions; is it really a fungus? and if it is, what is the appropriate fungicide?
I've had issues with Diplodia on a couple other juniper and have been fighting it for many months. The fungus appears as rust colored tips which causes them to die off and then branch dies and if left untreated, your juniper turns toes up dead! I've been trimming off the rust colored tips and spraying one week with one fungicide the the next with the other one. I also treat my bench with with the same procedure in case the Diplodia is is present on the bench.
The issue I posted appears not to be the same but I treat this juniper with the same treatment. Nothing seems to change...
Here's what I've been using;
Listening to a radio chat show today I learned that there are about 2 - 3 million types of fungus, that plant fungus types are often unknown and untreatable.
It does look like a fungus to me. I'd remove all the dead or dying parts and burn them. I'd quarantine this tree. I'd treat it with every type of fungicide I have. I'd do everything I can to keep it safe - temperature, humidity etc monitored as much as possible.
If it pulls through, good. But that one seems to be in the red zone to me?

BrendanR: Thanks you for your input
OUCH! 'Red zone' sounds terminable. I will wait to take all of the discolored material off the tree for a few weeks until we have a weather change. If it spreads, I may rethink and gather my cutters...
Update...
I contacted Colin Lewis about the problem and here's his suggestion;
Many junipers become purple when cold dormant, but that's not going to happen where you live.  My hope would be some vascular damage that affects the lower branches on that one side is responsible, and a redesign would solve the problem. But I see there are smaller outbreaks within otherwise healthy branches, which does indicate fungal issues.
First, I would cut out all dead and dying branches - right out, leaving tiny jins at best, and sterilizing the blades after each cut (Zerotol or alcohol and fire!). The two go-to fungicides that I use are Daconil and Mancozeb. I also use a product called Zerotol which is anti-bacterial as well as a fungicide. This should also be watered into the soil to combat pseudomonas.  It's only available in commercial quantities - like 2.5 gallons, so it's not cheap but well worth it.  
I thought about it for a day then took my trusty cutters and removed the first small branch. I noticed that that small branch was not strong and was sort of spongy which indicated to me it was already dead or at least dying. I kept going and removed a larger branch, sterilizing the blades with alcohol and fire. I noticed the fungus - a dusty substance - was on my gloves. After finishing all the removal, I piled the limbs and greenery and burned them. Here's a picture of the work;
I ordered the Zerotol today as I've already tried Daconil and Mancozeb with no effect on my problem. You are right-a little pricy. I am making corn water tea - to generate the Trachyderma, an organic fungicide - suggested by a local horticulturalist for use until your expensive stuff shows up.
Fingers crossed.
Read Graham Potter's blog about this problem - the news is good:


Over recent years there is a significant problem concerning the health of junipers that, by and large, has gone entirely unnoticed here. Thankfully it's easily controlled once spotted and just getting on top of this seemingly insignificant fungal problem will significantly help junipers growing in Blightly. In fact this fungi is detrimental to all genus cupressus species.

If you have seen this on your junipers please read on….



Whilst this may look like a simple case of scorch caused by summer heat or freezing winter winds it is in fact Phomopsis Tip Blight: This disease is caused by the fungus Phomopsis juniperovora and begins by infecting the tips of branches smaller than the diameter of a pencil, in particular new spring growth.

The new, immature growth becomes infected while the darker green, mature foliage remains resistant to infection. Infected twigs first become pale, then turn reddish-brown and finally become brown after death. Scraping away the bark will reveal a sharp line between discolored, dead wood and healthy wood. Watch for disease development during the spring or summer flush of new growth when warm, wet conditions are present.

Phomopsis blight is a common fungal disease and begins infecting young leaves at the tips of shoots. Small yellow spots appear first, and as the infection spreads, the leaves die, with the shoots fading to a light green and then reddish-brown and eventually dying back with an ash-gray color. Only new growth is killed, with dieback occurring in spring. Black fruiting bodies can form three to four weeks after infection.


Black fruiting bodies on dead foliage.

Repeated infections occur when temperatures are between 70 to 80 degrees, during periods of high humidity and when foliage is wet. Continuously wet foliage is needed for infection to occur. Areas with heavy shade and poor drainage allow for moist, slow-drying conditions ideal for the disease to thrive. Left untreated we have seen junipers die from this infection as the tree is progressively weakened over a few years. Thankfully we have found treatment to be very easy and also very effective.

For several years now we have been treating pomopsis as a matter of routine. So far we have not seen any evidence of the fungus in European sabina junipers but it has been observed in all other common bonsai juniper varieties including Japanese cultivars, garden varieties and cypress forms. We have had 100% success treating pomopsis using Rose Clear Ultra. Spraying at the recommended strength we thoroughly soak junipers from above and beneath with a fine mist, allowing the product to dry on the foliage. This is done one in May, June and July, one month apart and has proven 100% successful in eradicating existing infections and preventing reinfection. A very simple spring time task and something easily accomplished. However ignore this seemingly insignificant fungal infection at your peril.
There is no need to go out and set your junipers on fire
Thanks BrendanR for your addition to this topic.
VERY useful information.

---
Permissions in this forum:
You
cannot
reply to topics in this forum