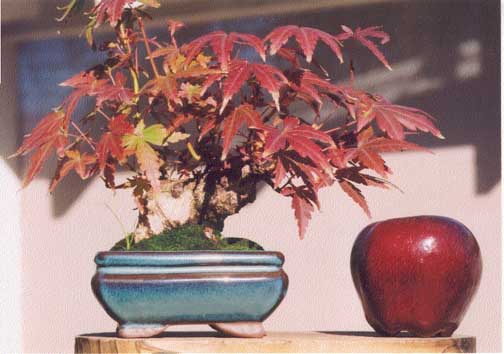 I posted this photo here on the IBC of a Japanese maple I acquired in March 2002. The date of this image is September or October 2003. I received the tree bare-root and put it in this cheap Korean pot. I was living in Tucson AZ at the time, and it was my first maple for bonsai. I did little in the way of training back then; I was just learning to keep it alive in a pot in the Sonoran desert. I kept it under shade cloth through the growing season which was helpful in keeping the leaves from scorching. The moss on the surface also helped as did daily watering through the growing season. The first hurdle of maple bonsai in the desert was crossed.
I re-potted it every March and successively removed some ugly roots to try to correct the nebari. I also began to defoliate the tree after the leaves stopped growing--usually late May/June for Tucson. I even started to select some branches and wire them. This little tree arrived to me as very raw material, merely a stump with the sacrifice branches sawed off and lots of little twigs sprouting up all over the place. I like to do cuttings and have found these little twigs to be excellent for that purpose because of their short internodes. They also tend to come out in multiples, sometimes 2-3 twigs arising from one spot off the stump. I have several multiple trunk cuttings coming along as a result of this tendency.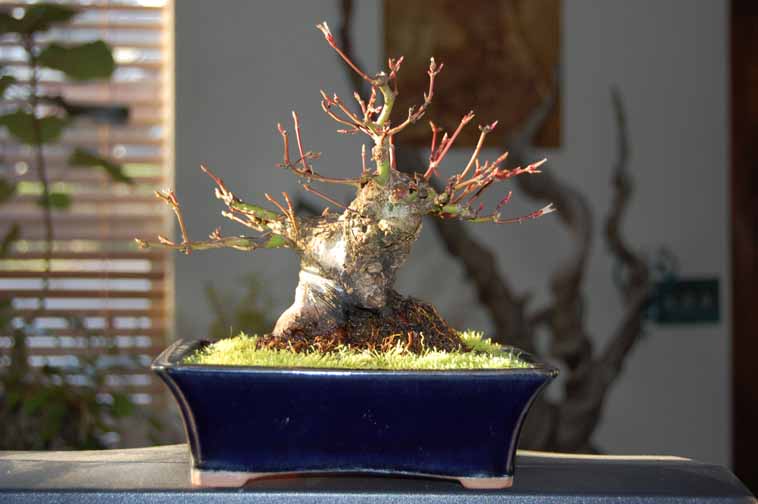 Fast forward four years to 2007, now living in Oregon. This image was taken in March just after re-potting and just before the buds opened up. I've moved it to a larger pot and changed the planted angle so the right side of the tree is tilted up and the left side brought down. It also got a fairly drastic pruning, so there were lots of cuttings that year

The trunk has some nice wrinkles and the whitish color maples get as they age.
That a sweet little shohin you've got there. If it were mine I would let the leader grow for a couple of years, to improve the taper.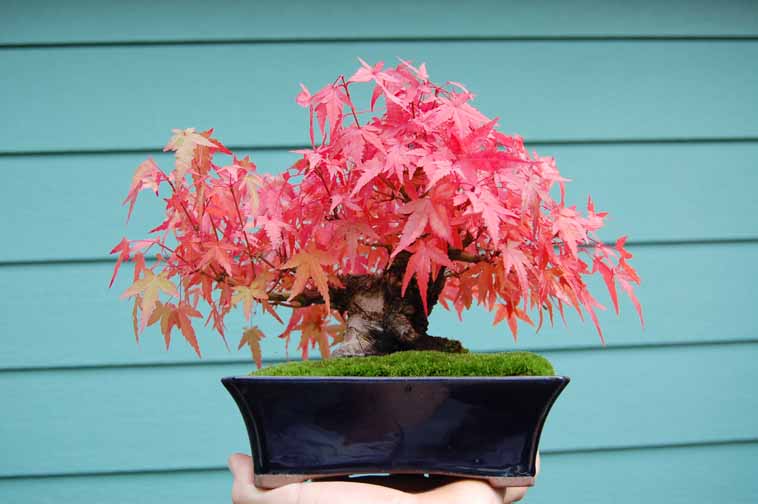 That brings us to this fall, a little past peak color. It's been two years since the last photo and six since the first image. That's my hand in the photo to give an idea of the scale here. The tree was defoliated around Mother's day this time and could have been defoliated a second time late June if I had an important show to put it in

Seriously though, it is a strong little tree and has to be defoliated at least once a year and pruned after that defoliation to prevent ugly swellings in the branches. Plus, the defoliation helps to increase the ramification of the twigs.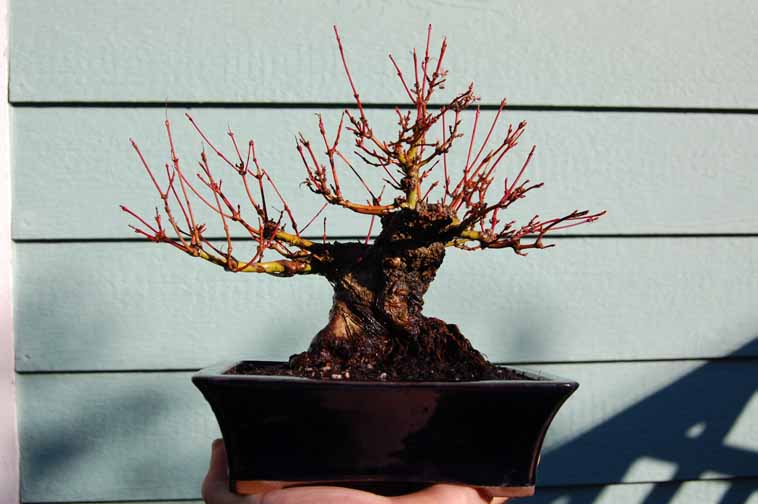 This last shot was taken just days after the peak color. I took the opportunity to remove the moss and clean it off the trunk as well. I also did some very minor pruning of the finer twigs. I save major pruning for spring when I re-pot as it's also a good time to make cuttings. Waiting for spring also gives me lots of time to really study the tree before making any cuts. I wasn't able to re-pot this spring because of a move and there was a ploethora of roots just below the moss I removed. I don't like to miss a re-pot for this tree but sometimes life gets in the way

This is indeed a lovely little Shohin, Greg and nice to see its progress over time. If you happen to find yourself in the UK at the end of February, do bring it along to the British Shohin Association show.

The only thing I'd comment on is that IMHO the pot doesn't do it full justice. I think the trunk would be better emphasised in a much shallower pot, and my own preference would be for an oval shape. But as I say, just my opinion based on my own maples.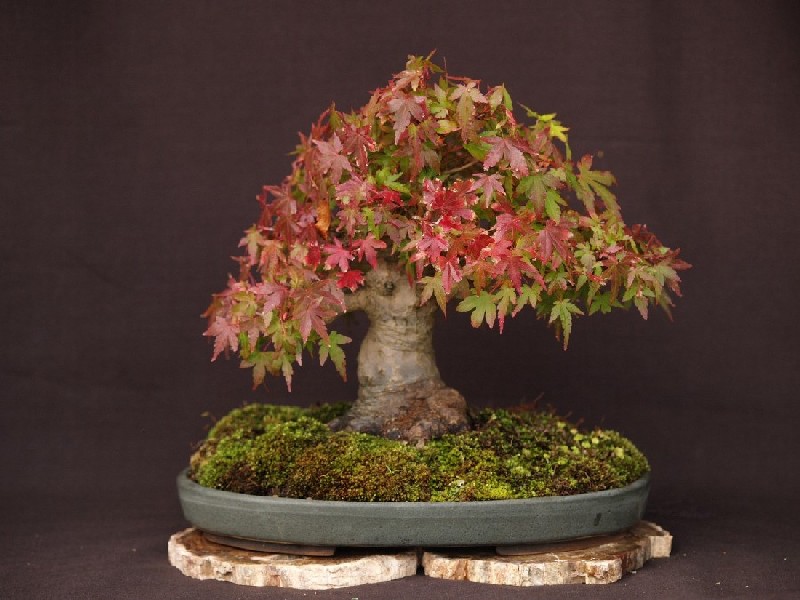 _________________
"Espouse elucidation"
_____________________________________
my website

fiona

Member





will baddeley wrote:That a sweet little shohin you've got there. If it were mine I would let the leader grow for a couple of years, to improve the taper.
You raise a good point, Will, the only thing that worries me about that is the internode length and the time it would take to bring things back into balance. Something I might entertain is to let it run a bit at a time henceforth and see what happens. Thanks for the input!
Fiona--a change of pot and suggestions about that are always welcome here. The pot it's currently in just happened to be the right size and somewhat the right color. The trunk suggests to me something a bit on the masculine side; maybe a shallower, softer rectangle?
The tree is coming along nicely...Fiona's suggestion is good too. If you think something more masculine is called for, here's another idea...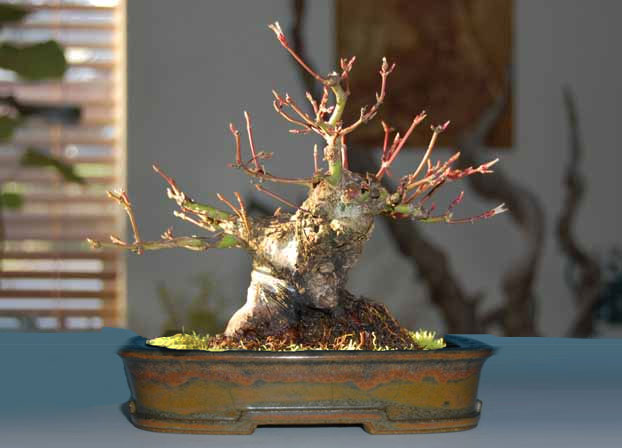 _________________
"Eschew obfuscation"

John Quinn

Member





I would have to agree with Fiona on the pot. Masculine does not always mean a rectangle. This tree would look great in a shallow oval, especially something in a cream color with a decent patina. Thats a great trunk you have there, a good pot will make the difference.

Neil

---
Permissions in this forum:
You
cannot
reply to topics in this forum