I have recently acquired several collected spruce trees:This is a new species to me.

I understand that pines gains their strength for the roots: cut the foliage of a healthy/strong tree back hard and it will back bud. And junipers...cut the foliage back too hard on a strong tree and it will start to decline in energy over time.

In which category would you say that spruce fall?

Thanks in advance

Phil
Last edited by Phil S on Thu Jan 14, 2016 1:54 pm; edited 1 time in total (Reason for editing : Spelling)

Phil S

Member





From one east coaster to another, I hear they aren't too fond of root disturbance. I would put them with the pines.
Well, pines and spruce are both in the Pinacea(Pine) family.

appalachianOwl

Member





A spruces strength is in its roots. I transplanted hundreds working for a landscape nursery. They can take some root disturbance. But like pines you should only insult spruces once per year.
M. Frary wrote: A spruces strength is in its roots. I transplanted hundreds working for a landscape nursery. They can take some root disturbance. But like pines you should only insult spruces once per year.
I agree but a word of caution:  You seem to come from the position of having learned one thing for this, and another for that, mostly because; that is what you are being told here and elsewhere.  In general your information is correct but that may not always be correct. Not all Pines can or should be treated the same way as well as Junipers.

Vance Wood

Member





I think Phil got this information from a Ryan Neil lecture on Pines. He talks about single flush vs. multiple flush pines and how to approach them regarding development vs. ramifying them. He also mentions quickly that junipers get their strength from their foliage vs. Pines relying more on their roots. I've watched the video many times

Ryan has another video where he styles a spruce that has been in a container for what it looks like, several years and shows some interesting techniques on it. In that video he mentions them responding like pines. Where if its rough material that will have its first styling, the grower should let the new needles grow out, collect some sun before they harden and then cut them back leaving some of the new season's growth. Then it should back bud.
Walter Pall has a lot of experience and a lot of spruce in his collection and he mentions that with them, everything takes about twice as long. Yamadori will sit for 3 years before it receives it's first wiring and almost 13-15 years before it's ready to be exhibited.
I assume that spruce have sensitive roots. I have only collected two and failed, It may have been because I read that they prefer autumn collection over spring but If I do find another one, I will grab it as it is opening it's new needles.

Thomas Urban

Member





Thanks guys. some great information!
I've seen Ryan's lectures too Thomas... really good information. I collected my three spruces this fall... I'll have to really baby them, if spring is actually the best time.  I read that fall is best after the buds have hardened but root production is in progress.
There are a few more waiting to be collected, maybe they should stay there until I see how my fall collected trees respond.. Got them in a light unheated garage and I am misting them regularly. In spring I will get them outside, out of the wind and good levels of shade...depending on the day obviously. I got 90 percent of the roots (including fine feeders)s on collection. Didn't seem like a lot of roots..but the foliage is tiny due to the low level of nutrients the ground in which they were growing. Will update with pictures as I go along in people are interested. I can't get akadama/ lava or pumice in Nova Scotia, so I have them in 80 recent oil dry (diatomaceous earth) and rough peat.. The surface is covered in live sphagnum moss.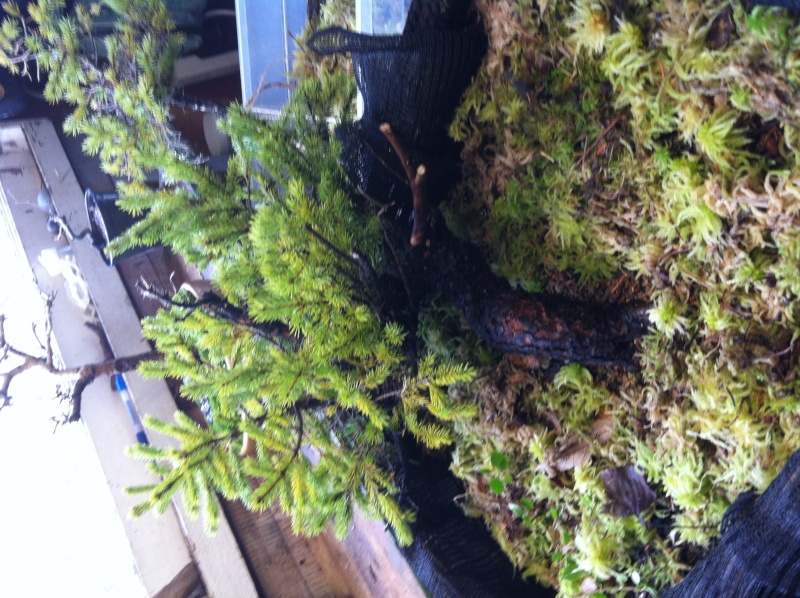 " />
[img]
[/img]
Last edited by Phil S on Mon Jan 18, 2016 1:39 pm; edited 1 time in total (Reason for editing : pictures)

Phil S

Member






Phil S

Member





Strength from the roots, strength from the needles, is a "ism" that can cause more trouble than help.

Techniques for deciduous trees, like repotting and pruning at the same time are bad for conifers in general, and actually bad for some deciduous species too.

In conifers, roots need the hormones from the terminal buds of branches to signal the roots to grow. Epicormic, needle buds and terminal buds for branches and needles in conifers need the hormone signals from the roots to grow. Both are equally important for the long term survival of the tree. One is not more important than the other.

Generally for pines, spruce and other evergreen conifers, it is best you try to avoid radically reducing both terminal branch buds and roots at the same time. This is the reason when you repot a pine or a spruce, it is best to give the tree at least one or more 12 month period of unrestricted growth after repotting to allow roots to redevelop. Similarly this is why you do major styling, and then let the tree recover for a 12 month period or more before repotting.

I say 12 month period, because it is important to realize pruning and styling for example in August of 2014 and then repotting in April of 2015 is not giving the tree a year to recover.

Now collecting a tree is a problem. You are certain to be radically reducing the roots. You will likely have to reduce the foliage considerably also. It is not avoidable. When you do the collecting be sure to keep as many terminal buds on branches as possible, or practical as you collect. Then give the tree several years to recover before styling further.

If you have multiple years to collect the tree. The cutting the roots around the outside of the diameter largest soil ball you can collect is a good idea, leave it recover 12 months, then prune back foliage, leave it recover another 12 months, then collect the tree. But often we do not have the luxury of this amount of time. At some point you just have to wing it, and accept that not all will make it. The more traumatized a tree is when collected the better your after care will need to be, and recovery can be extended, 5 years for some ponderosa pines to recover from collecting is not uncommon.



Leo Schordje

Member





Thanks for the new insights Leo.

Phil S

Member






---
Permissions in this forum:
You
cannot
reply to topics in this forum