Hi Folks,
Here is my new Amur maple (I posted it in leaf a couple of months ago), the first is the current back, the second the front and the last shows the hollowed trunk. Most of you agreed that its needs a shallower pot, any ideas of shape and colour or in the design of the tree?
Cheers Gman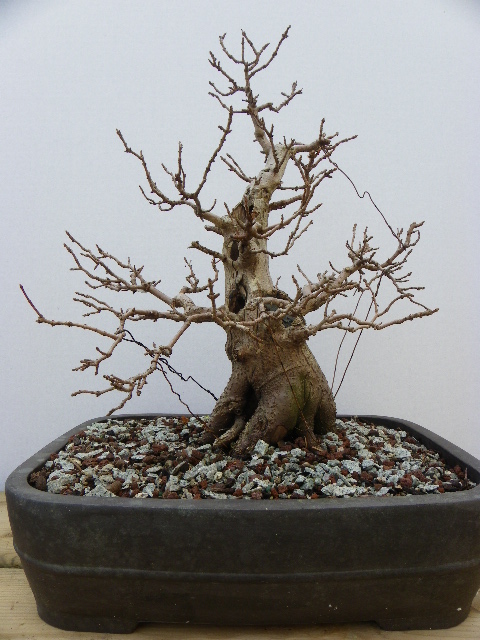 gman

Member





I personaly like what you are refering to as the rear as the front. To me that pic shows the tree bowing tward the viewer. Also mabye think of removing one of the two lower branches eventually, they seem to form a bar.This is based on the pics provided not actual look ot the tree.As for the pot mabye a shallow blue green rectangle . just my 2C.
Hey Seth,
The hollowed photo seems a little spooky so I've been told, but I was thinking about taking off the branch that hides the lower hollow.
G

gman

Member





Nice looking tree. Dense ramification is tough with this species, is it not? The soil mix looks exceedingly coarse.
The way the hollows on the trunk line up I'd call this one "Harmonic Convergence."


Rob Kempinski

Member





Thanks Rob,
I'm going to ask the previous owner about his soil mix (tonight at out monthly meeting) as there isn't much "organic" in the mix .....mostly granite and lava. Then again.... maybe that's how he's been able to maintain the ramification?
From the records that came with the tree it's due for a repot this coming spring and many folks have recommended a shallower pot (maybe oval) so I'll see what I can find.
Cheers G.

gman

Member





beautiful little tree G. love its character.


anttal63

Member






---
Permissions in this forum:
You
cannot
reply to topics in this forum