I have recently discovered a scale infestation on my American Hornbeam (
pictures below
), most of which (
I hope
) I have scraped off over the past few days. I plan to remain vigilant and continue to fend them off by hand, but in the case that I begin to lose this battle I want to be prepared. That being said,
does anyone have a systemic insecticide (or other pesticide) that they recommend as safe for American Hornbeams and also effective on scale?
If not,
what are some other strategies that I could use in fending off these camouflaged critters?
I am fine with scraping, but they are so well hidden that I doubt I'll be able to find and eradicate them all by hand! I am somewhat new to bonsai, this is my first Hornbeam, and I have never dealt with scale on bark before, thus any advice from a more experienced practitioner would be greatly appreciated! Thanks in advance for any insight offered!
Scale insects found on tree (my apologies for the blurriness)
Marks left on bark after removing a group of scale insects.

Are these markings permanent?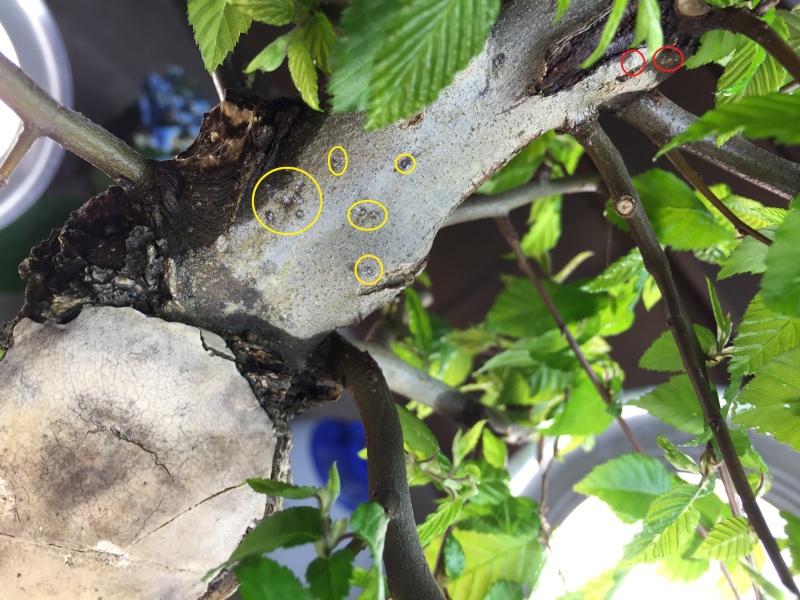 Scale shell under the microscope (first photo is the underside, second photo is the topside)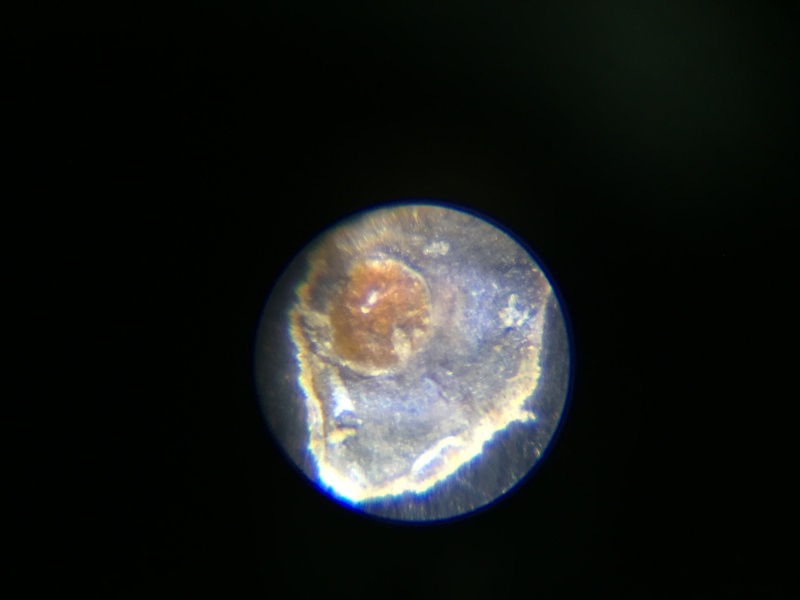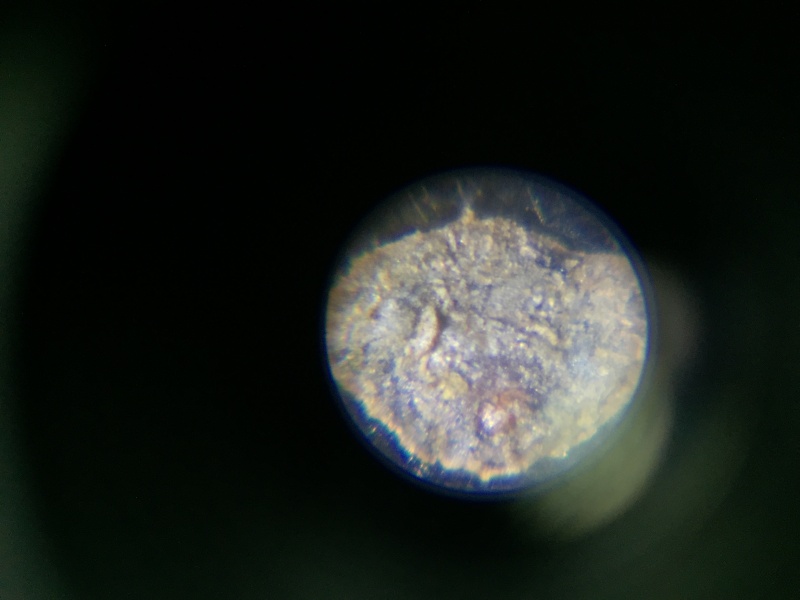 Contents found beneath one of the scale shells.

Is this the insect itself or some kind of metabolic product left behind?
Are there any scale connoisseurs out there who would be able to id the specific species of scale based on these photos?
Though I am located in central Alabama, the tree was shipped to me from west-central Florida about 3 weeks ago (
thus the species may be endemic to Florida and not Alabama
).
Also, while inspecting the tree for pests I found 2 other insect types that I am unfamiliar with.
Would anybody be able to identify these?
(
videos below
)
I'm sorry that I couldn't get closer in the videos, but the camera's focusing abilities wouldn't allow it. Following the link to YouTube and watching in full screen mode may help
I found a total of 7 of the tiny black insects, all hanging out on the main trunk at canopy height (
same area as the scale infestation
). Four of these black insects were hanging out in old pruning scars,
perhaps that is a hallmark of a certain species that would help in identification
.
I only found 1 of the other type of insect, which was a small, green, winged insect that hopped (like a flea) from leaf to leaf as I tried to catch it. I never observed it actually using its wings. It was slightly injured when I finally did catch it, thus the speed at which it is moving in the video is not representative of how quickly it would typically move.
Could these 2 types of additional insects that I found actually be scale insects in variable stages of life?
I know that scale go through a 'crawler' stage, thus I am wondering if these tiny black insects are actually scale crawlers. I also know that some species of scale produce adult males with wings, thus I am wondering if this small winged insect that I found is actually an adult male scale insect.
Any opinions on this would be greatly appreciated!

ZeBonsai Kers

Member





"Safer" brand insecticidal soap should do the trick... eradicated a severe infestation for me a few years ago.

due to the life cycles of the scale, you need to do 3 apps about 7-10 days apart.

there are also lots of home-made insecticidal soap recipes out there on the old googles, along with lots of topics on scale with-in this forum.

_________________
AAC Original Milwaukee Wi. Chapter - North America
aka beer city snake
http://wiscobonsai.com/

Kevin S - Wisco Bonsai

Member





Thanks Kevin. I ended up spraying the tree once with BT 3 weeks ago, and also with a neem oil/pyrethrin mix once per week for the last 3 weeks. Tree is outside and seems to be doing well, no more leaves have been eaten, however I can't see the trunk well enough to inspect for scale due so many leaves. We'll see what it's done to the scale population in a few weeks when I thin out the canopy.

ZeBonsai Kers

Member





I've done this before, but here are a few points to remember . . .
1. Scale doesn't kill bonsai.
2. It doesn't matter (except from an academic POV) what species you have; they all do the same thing, suck juices from the plant and weaken it so OTHER critters can attack and do the real damage.
3. If something is eating the plant's leaves, it's not the scale.
4. Adult scale is hard to kill. As Kevin says, it will take several applications. Poisons (neem, pyrethrins, etc.) seldom work on adult scale. Use on juveniles.
4.a. Soaps and horticultural oil sprays do much the same thing -- suffocate (and in soap's case dessicate) the insects. Both have to be applied DIRECTLY to the insect.
4.b. READ the label on the product you use. Most oil sprays should never be applied in warm/hot/sunny weather; I'm sure you've seen what happens when you dip sliced potatoes in hot oil. There are some oil sprays that are labeled for warm weather; whether they work on scale, I do not know.
5. Though it is tedious, manual removal and killing is best.
6. An insect rule of thumb: If the insect is slow moving it may be able to damage bonsai. If it is fast moving, it is beneficial -- or harmless. This "rule" is not 100%, but it is at least 90% accurate. MOST insects will not harm your trees.
7.
And most important
. . . one or two insects on your tree is OK; If you have dozens, take action -- but try to ID the bug first. You do NOT want to kill the good bugs. Check:
http://www.insectidentification.org/
(That is for North America; I bet there are pages for other areas of the world.) If you use a poison spray, use it late in the day -- near sunset. You will kill fewer pollinators.
_________________
Jim Lewis - lewisjk@windstream.net - Western NC - People, when Columbus discovered this country, it was plumb full of nuts and berries. And I'm right here to tell you the berries are just about all gone. Uncle Dave Macon, old-time country musician

JimLewis

Member






---
Permissions in this forum:
You
cannot
reply to topics in this forum