Another hornbeam getting it's first pot. This one from Erin pottery, Thanks Vic love it

The branches look a little messy at the moment and I am not sure why? Maybe take the pic at a lower angle? Maybe as the ramification gets finer it will settle down (copper wire maybe?). I had some issues sorting out the apex/crown. Although it now has a path/plan it still has some way to go before it settles into itself I think. Well that is my hope anyway fingers crossed over the next few years.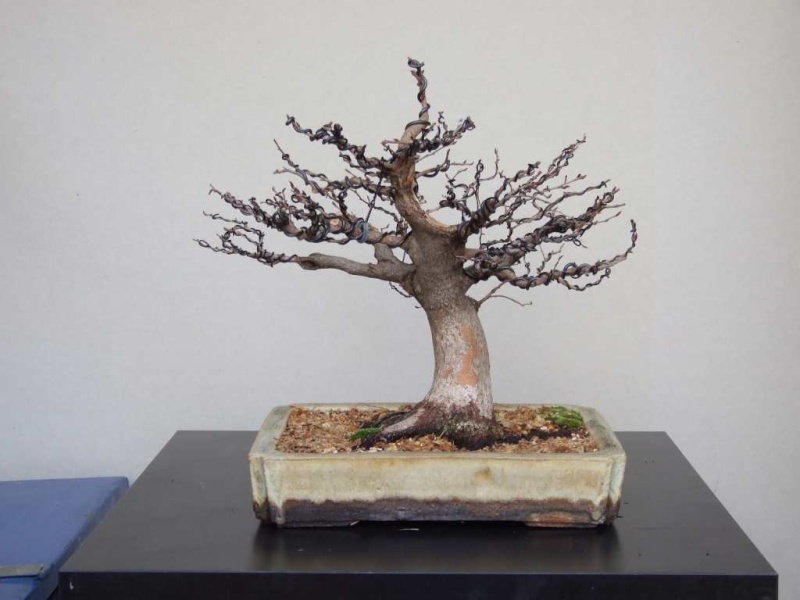 Very nice tree, and i like the pot. It resembles Korean Hornbeam more than American Hornbeam (usually darker in color and more muscular).
Last edited by AdamDunham on Fri Oct 19, 2012 5:06 am; edited 1 time in total

AdamDunham

Member





Agreed, it sure looks like Korean Hornbeam to me.

I'm also a big fan of Erin pots and have a crabapple in one now.
-Jay

drgonzo

Member





I think the amount of wire makes it look more messy than it really is. When you work a tree you tend to look past the wire, you don't even notice it, but in a photograph it's in your face! Although, maybe there are too many branches for the scale of the tree? But it's certainly heading in the right direction.
I think the bottom left branch is too straight for too long- for me it is visually disturbing. The movement it creates throws you to the outside of the branch, but the overall movement of the tree doesn't relate to this at all. Possibly bending the brach where the first fork is would help. Otherwise a fine tree. And I also agree about the wire.
Thanks for the thoughts,
The species of this tree has been an interesting topic for me in the past. I had not remembered the name after I got and my best guess was Korean Hornbeam. Others insisted it must be a hop hornbeam because it does not have the usual smooth bark but a fine palleted bark.
The nurseryman that this tree came from brought the seeds back from Japan some years ago. Only a few trees germinated, this being a cutting of one of those trees as all he now sells. I have talked to the nurseryman about this since and he is adamant that it is Carpinus carolina. On further research I found that Carpinus are prone to hybridisation. So one possibility that makes the most sense is that this is a hybridised carolina and cordata. The cordata having palleted bark and Autumn colour that seems to match. Another interesting point is that I have germinated some korean hornbeam seeds that I purchased from Patrick years ago (misho Bonsai in America I think) and they also have palleted bark. Not sure if that is just a juvenile thing for them but they are now 5 or so years old.
Austinh, I have given that branch some thought since I had the tree so yes I see what you say. Especially at the moment with that one little branch at the end. I have twisted that little branch at the end several times but the more I try the worse it makes the set branch look LOL. I had taken this tree to a Peter Adams workshop and I was surprised that he did not want this branch gone. Since then there was a tree I saw every day at work several years back, out of leaf in the cold morning frost. It had one very straight branch sticking out the side different than all the rest. I often thought of this bonsai when looking at that tree. But I am still unsure and would like that branch to bud back for other possible options.
I have the framed picture Peter drew of this bonsai at the workshop several years ago hanging up next to my Computer so it is interesting to look at that along side the picture on my computer. I will post that so you'se can also see.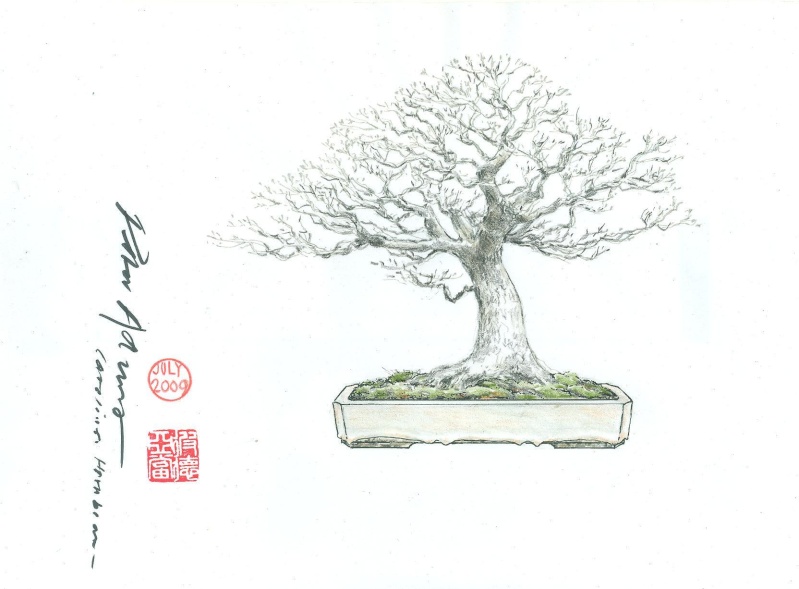 As mentioned I had some trouble with the apex dying back and it has taken several years to find a new path which looks a little different than Peter's drawing. In the years to come I think the opportunity will come to adjust the apex,leader, crown or whatever we might call it in this instance being a broom shape? But for now I think time in a bonsai pot with lots of scissor work is this trees best friend.
Hopefully I also get some nice Autumn colour in Winter which can be absolutely stunning on this tree. Fingers crossed

Thanks for sharing Peter's drowing. So inspiring...if you wanna follow the design you have a lot of work ahead. To accomplish would look great

yamasuri

Member





[quote="Brett Summers"]
This one from Erin pottery, Thanks Vic love it

You're welcome Brett, glad you like it and that it arrived safely !

Cheers
Vic

Gwyther

Member





yamasuri wrote:Thanks for sharing Peter's drowing. So inspiring...if you wanna follow the design you have a lot of work ahead. To accomplish would look great
I should have been there already, Peter's drawing was a three year plan. They can grow very fast here fingers crossed I can get that sought of ramification in the next couple of years.
Give time. You gonna get there

yamasuri

Member






---
Permissions in this forum:
You
cannot
reply to topics in this forum