This large group planting was put together by my two bonsai buddies from South Carolina, John Geanangel and Ken Duncan. They did this as a demonstration during one of the Carolina Bonsai Expo's, some years back, and now it is part of the bonsai collection at the NC Arboretum.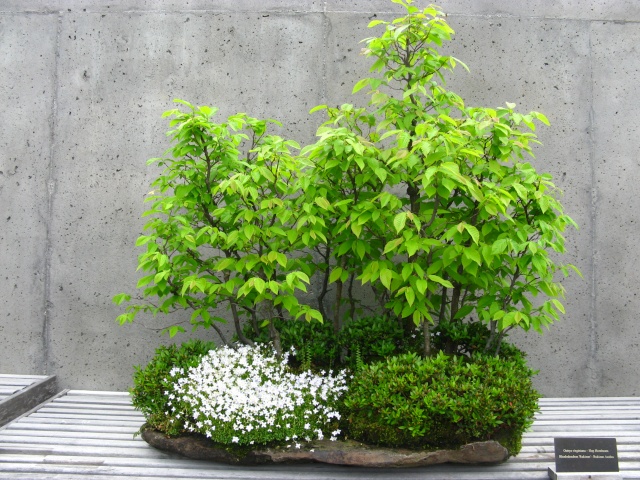 The trees are American Hop-hornbeam (Ostrya virginiana), which Ken and John collected. Hop-hornbeam is another of those plants that work great for bonsai but are seldom used because people are generally unaware of them.
I was recently hiking in the mountains north of Asheville and came across a whole grove of old Hop-hornbeam. It is typically an understory tree, so seeing them in an almost pure stand like this was unusual. They were growing at an altitude of about 5,000 feet, and some were as tall as 25 feet with a diameter of 10 or 12 inches. I think they must be quite old. Here's a picture: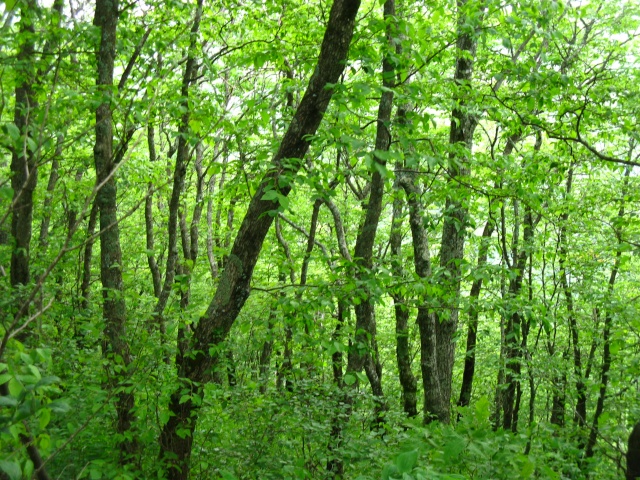 The flower blooming in the understory of Ken and John's group planting is Creeping Bluets (Hedyotis Michauxii). I've never seen Bluets used this way in any other bonsai landscape planting, but it's a great idea. Here's a closer look: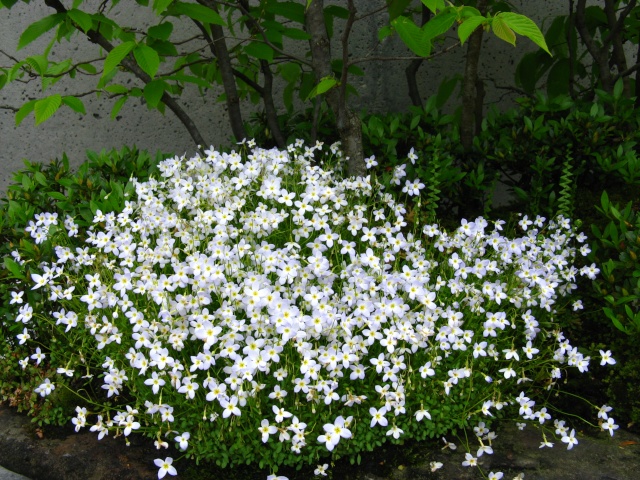 The other plant in the understory, the shrubbery, is a dwarf azalea called 'Rukizon'. I'll post another picture of this piece when the azaleas are in flower, which should be in another week or so.

AJ

Member





Very interesting. Thanks AJ for sharing.


Nik Rozman

Member





Hi AJ.

That's a pretty forest. Hop hornbeams really are great material and this really shows them off well.

Those bluets are beautiful. We have them here too, but they don't put on a show quite like that.

As for the azalea, it is 'chinzan'. 'Rukizon' isn't a real name. I'm not sure how the name 'rukizon' caught on in American, but no one had heard it in Japan. Actually, rukizon is usually misapplied to the variety 'kazan', or 'kakuba-chinzan', another tight growing and small flowering dwarf satsuki. 'Kazan' has a trianglular (which is where the "kakuba" part comes from), wide leaf with a reddish flower while 'chinzan' has a narrow leaf and a small, deep pink flower like 'osakazuki'.

I hope this is of some use.

Russell Coker
Mobile, Alabama

Russell Coker

Member





Thanks for posting an old friend, Arthur. I think that was the second expo when we created that planting...1997 maybe?? What Arthur neglected to mention is that the slab of Pennsylvania field stone this forest is planted on weighed 135lbs before planting. AJ might think we gave this planting to him because of the native material but the truth is neither one of us wanted to deal with the heavy rock

AJ...answered any emails recently???
Russell - Thanks for the information... The plant you describe as Kazan is what I know as Rukizon but the plants in this planting are certainly Chinzan.
Thanks,
John
Hi Arthur,
This planting looks very happy in Your care, it is good to see it and to be able to see the bluets in full bloom. John jokes about the weight of the rock being a factor in leaving with The Arboretum but I contend that it would not do as well here in either of our gardens.
My thanks to You and Virginia, Good job as usual.javascript:emoticonp('
')
Hope to see You soon .
Ken
I think I was there when Arthur and some of his staff wrestled this thing onto the display stand. It only reinforced to me why I do tiny trees.

It's a beautiful planting as are all of the multi-species plantings you guys do up there. We are SO lucky to have such a resource in our area.

I used hophornbeam for bonsai in Tallahassee. I had a small grove of them (much smaller trees than Arthur shows) in the woods on our farm. The Hophorbeam (Ostrea) grew in the upland portion of the forest, while the Hornbeam (Carpinus) grew down closer to the stream and swamp. I've yet to find any hophornbeam growing up here.
_________________
Jim Lewis - lewisjk@windstream.net - Western NC - People, when Columbus discovered this country, it was plumb full of nuts and berries. And I'm right here to tell you the berries are just about all gone. Uncle Dave Macon, old-time country musician

JimLewis

Member






AJ

Member





a thing of beauty


littlebobby

Member





I think this is such a lovely planting! After seeing it in the winter photo, it is nice to see it in bloom. I'm also glad to know the specifics for the azalea. I'm going to do my best to get that variety. Thank you for posting AJ.

Carolee

Member





What a difference a day makes. We were there on Sunday and only a couple of the azalea blooms were open.

Dean
Just lovely


Nik Rozman

Member






---
Permissions in this forum:
You
cannot
reply to topics in this forum