Ever since i acquired a mallsai at an expo i became obsessed with the art of bonsai. After hours and hours of research i decided to grab a nursery stock and work on one that way. I obtained an old gold juniper shrub from a local nursery on august 23rd (toronto, Ontario) and out of sheer excitement i decided to hack away 60% or more of the foliage realizing after the fact that it probably wasn't the best time to be hard pruning that much of the shrub as well as wiring it but whats done is done i guess.
One of my concerns is i didn't repot or do any work with the soil or roots since i read it wasn't the best time to be doing root work on it (wish i did the same for the foliage...). Now i had a major rainstorm in my area last week and it soaked the soil, (still nursery soil) and ever since then i haven't had to water it. Its been over a week and the soil is still damp and im beginning to worry that its damaging the trees health.
I have been noticing that some of the foliage is starting to look a little dull. Now they aren't brown and the limbs arent fragile and cracking, but i can just notice a change in the colour green and some have a very faint brown in 3 of the foliage tips. The branches are "springy" and the scratch test showed green on the upper branches and a redish tinge near the base of the tree but my concern is its declining and i want to try and help the tree sooner than later. My question is should i leave the soil and just keep letting it dry or change the soil into another mix before the tree goes into dormancy.
I've realized now the mistakes i made I'm just looking for some guidance or actions i should take to point me in the right direction for the tree to survive the winter months, and hopefully the next year.
Ive attached some pictures of the tree including when i first got it,
where the tree is at currently
what the foliage looks like close up
and what the soil looks like.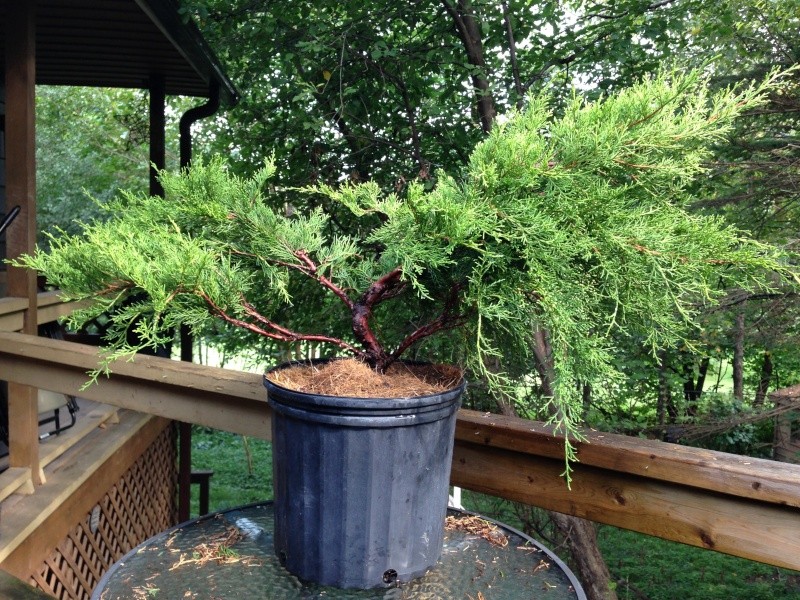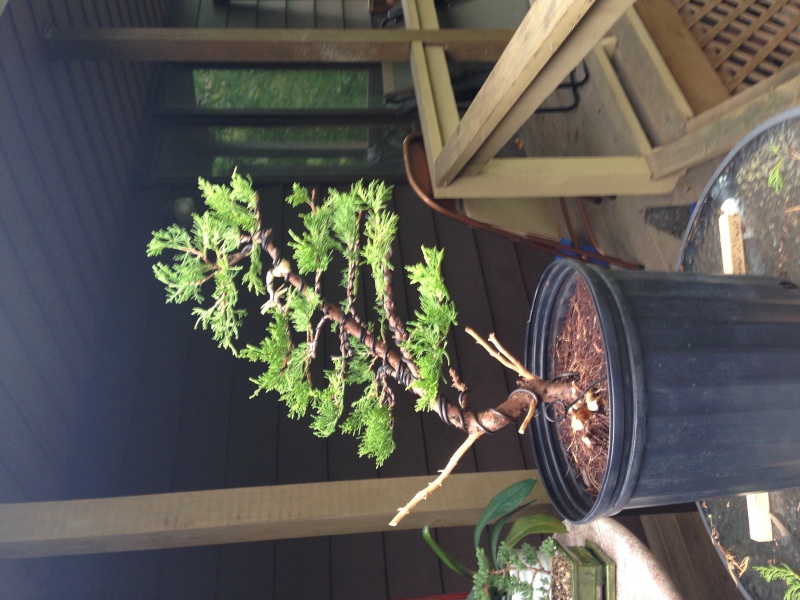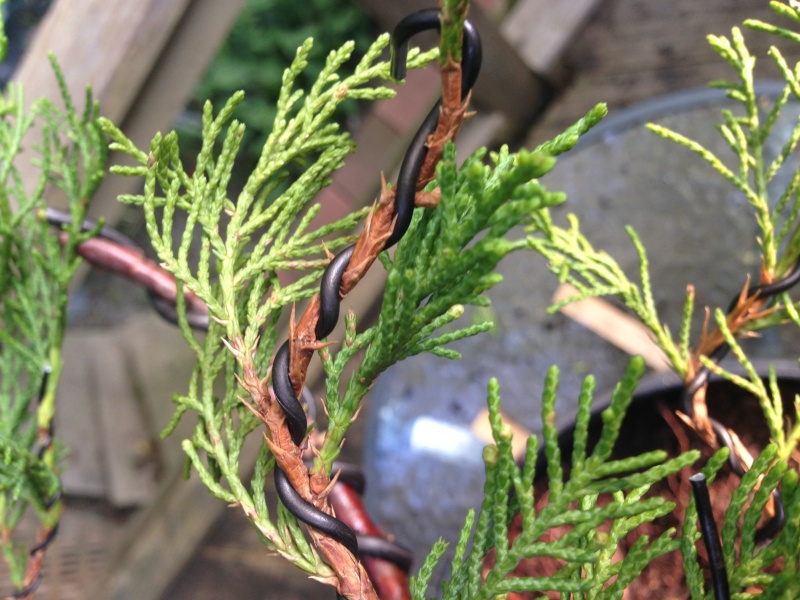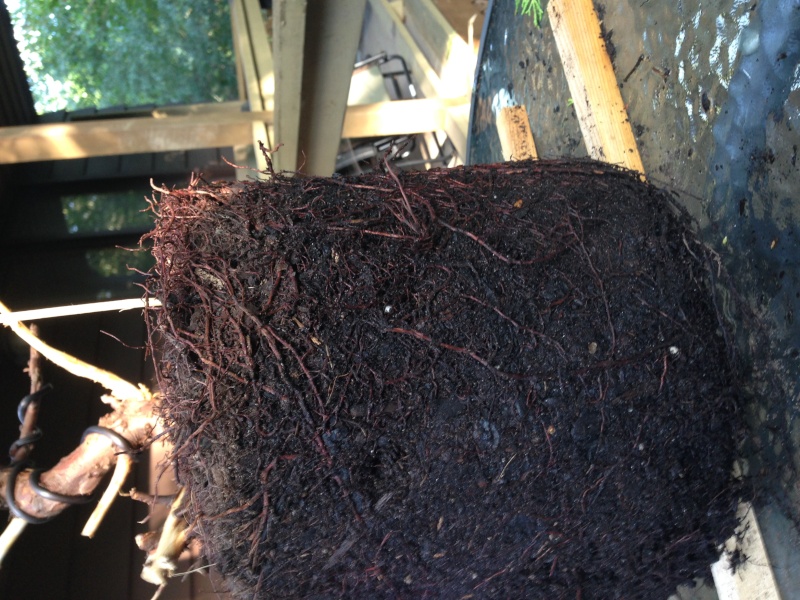 IMHO, this hobby will be a lot more entertaining if you exercise some simple logic. In this case, you had a healthy tree that you brought home from a nursery. At the nursery it was likely watered every day or two. It got watered naturally if it rained.

Now that you have removed most of the foliage and have wired the remaining stem, it seems to be declining or have declined.

The logical inference is that the decline is in response to all the pruning you did.

With more experience doing bonsai and/or simple gardening, you will see that 'damaging' a plant will inevitably lead to some degree of apparent decline as part of the plant's response to that damage. Be that as it may, this should be your lesson learned from this.

With that, another logical inference would be that also messing with the roots is probably the last thing we want to do (more damage!). But you correct to be concerned about water around the roots. As you should know, the foliage transpires - meaning it releases water vapor by evaporation. Transpiration creates the force that draws water from the roots, through the xylem (wood), up the tree. Removing foliage reduces the water demand, so the tree will not need as much water as it did before. So it won't need to be watered as much as it did before, but watering as before won't necessarily cause a problem. The basic need is that the soil be 'well drained', meaning the soil has lots of small air spaces so that the roots get the oxygen they need.

The appearance of the root 'ball' in your photo doesn't cause me any concern. It doesn't have any of the features of poor draining soil that I've learned to recognize, but there's nothing quite like having it in your hands to really know. Basically it shouldn't be 'slimy' or 'gooey' (like wet clay). It is good if it feels like a (wrung out) damp sponge - somewhat springy if you squeeze it.

If your soil is indeed well (enough) drained, I don't know that there anything more that you can do than patiently wait to see if it will recover.
Last edited by 0soyoung on Fri Sep 19, 2014 6:57 pm; edited 1 time in total

0soyoung

Member






rolex dragon

Member





The soil doesn't feel slimy at all it does feel like a damp sponge so that's good to hear. I was just overly concered being my first real bonsai project and being new to this I question everything that's happening with the plant. If it doesn't survive the winter than it's a learning experience for the next ones. Thank you for the informative replies
Hi Stilts, and welcome. I like your vision for the tree! I agree, your concern early is warranted and may well have saved the tree. My response is regarding less foliage, less water use. You could just water less often, testing the soil first until you get used to its new needs. But I can add one more thing you could do- get a slightly larger pot, add gravel to the bottom, place the plant in there then add gravel around the sides. This should help to a further degree in pulling excess moisture away from the roots. Post pictures here next summer!

David

Precarious

Member





Precarious wrote:But I can add one more thing you could do- get a slightly larger pot, add gravel to the bottom, place the plant in there then add gravel around the sides.  This should help to a further degree in pulling excess moisture away from the roots.  Post pictures here next summer!

I second the request to post pictures next summer.
And I cannot help but comment that gravel doesn't sop up water - in fact it is does much the opposite, holding relatively little water. What you advocate would divert applied water (whether from a hose or a cloud) away from the nursery soil. Much the same thing would be accomplished by simply knocking off the plastic pot and leaving the 'ball' of root-populated nursery soil to sit ('naked as a J-bird'). In the latter case, many people would be panic stricken that the cylinder of nursery soil will dry completely, which is exactly the risk with inhomogenous media. However, one will more likely pay attention with a naked root 'ball'. Hence, I think just knocking off the plastic pot is a better implementation of your suggestion.

0soyoung

Member





Thanks for all the information, it helped tremendously and set my mind at ease quite a bit. I'll just keep an eye on her and let it do its thing naturally. Ill be sure to post pics next summer

Not sopping up water, certainly. I was thinking of an area of ventilation rather than just a plastic wall. Maybe only a minor help, but a help none-the-less.

David

Precarious

Member





when i slip pot something like this to improve aeration/drainage, i put bonsai substrate in the bottom of the
slightly
larger new pot and then fill the sides with same, gently working some into the sides of the existing root ball... i then top it off with a little bit more and try to, again gently, work some of it into the surface...
main objective being to not disturb the roots too much while beginning its introduction to bonsai substrate and at the same time giving it that little bit of extra drainage/aeration until the time comes to do a proper re-potting
being a novice, i would like to hear opinions on this practice...
in regards to this tree, keep in mind that when you re-pot, do not remove more than 2/3rds (i believe) of its native soil as you want to retain some of its natural microrhizons (damn... i know for a fact that is spelled wrong

)
hope that helps
_________________

AAC Original Milwaukee Wi. Chapter - North America
aka beer city snake
link to ARBOR ARTS COLLECTIVE BLOG

kevin stoeveken

Member





If you surround a more-or-less undisturbed rootball planted in dense nursery soil with a fast draining media (like Turface, etc,) you need to water that very carefully. Otherwise, the water will flow through the the fast-draining stuff and barely get the nursery soil damp on the surface and edges.

It's best to soak the pot in a tub of water for 15-20 minutes to be certain that everything gets watered.
_________________
Jim Lewis - lewisjk@windstream.net - Western NC - People, when Columbus discovered this country, it was plumb full of nuts and berries. And I'm right here to tell you the berries are just about all gone. Uncle Dave Macon, old-time country musician

JimLewis

Member





whoops... yep, should have mentioned the bath... i prefer superthrive over mr. bubble after any sort of work being done on the tree...

i should also add that i tend to continue (gradually) working the bonsai medium into the existing soil as time goes on (until it can be repotted).
_________________

AAC Original Milwaukee Wi. Chapter - North America
aka beer city snake
link to ARBOR ARTS COLLECTIVE BLOG

kevin stoeveken

Member






---
Permissions in this forum:
You
cannot
reply to topics in this forum