Here is the progress of a Ficus Natalensis I started in 2005. The first picture was taken in August 2006 after my dogs got hold of the tree (I apologise for the quality of the picture) and the second picture taken today.
I am open to any suggestions. Do you think it should be moved to the other side of the pot?
Jaco.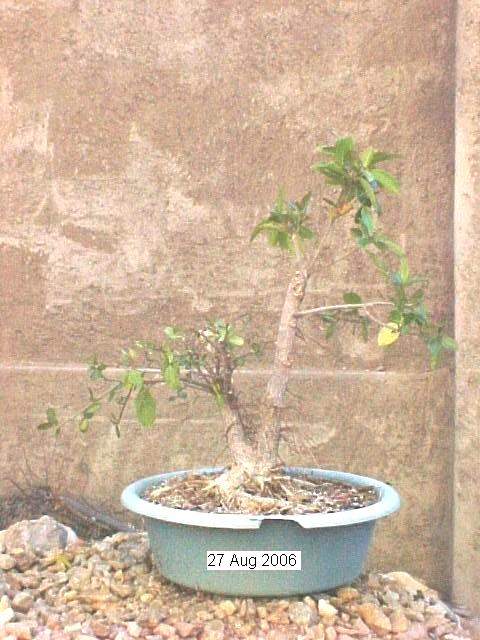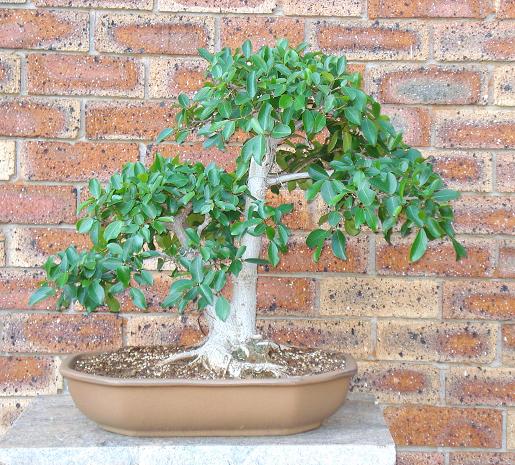 Jaco Kriek

Member





Ficus perfectly responds to cutting the roots.
Maybe you could immediately use the appropriate pot. This is a little too much. The first right branch is very flat, is an attempt to direct the wire.
Progress has been good.

regards Mario

edit:
... position tree, a few more left ...

Mario Stefano

Member





I was just about to suggest that, but you beat me to it Leonardo.
Ficus natalensis makes big leaves so a small tree is going to be difficult. It also makes a gazillion aerial roots. So I would suggest putting it in the ground or a much larger pot and growing a bigger banyan style tree which this species is ideally suited for. That style will disguise the rather straight and boring main trunk.

Rob Kempinski

Member





Thank you guys, I will consider all suggestions.

Jaco Kriek

Member





Hi Jaco
I'm with Rob on this one, the leaves will reduce only so much so shohin size bonsai are never all that convincing.
I would suggest that you look for a large tree in the wild and select an aerial root with good taper that has not yet made contact with the ground and take a cutting. This should ideally be done in mid summer, so any time from now until early Feb would be fine. Immerse the base in water overnight and then plant it in well-draining soil (Ground planting will really hurry things along).
I have taken cuttings of up to 30cm at the base and they all strike very successfully. Tough as nails.

Justin Hervey

Member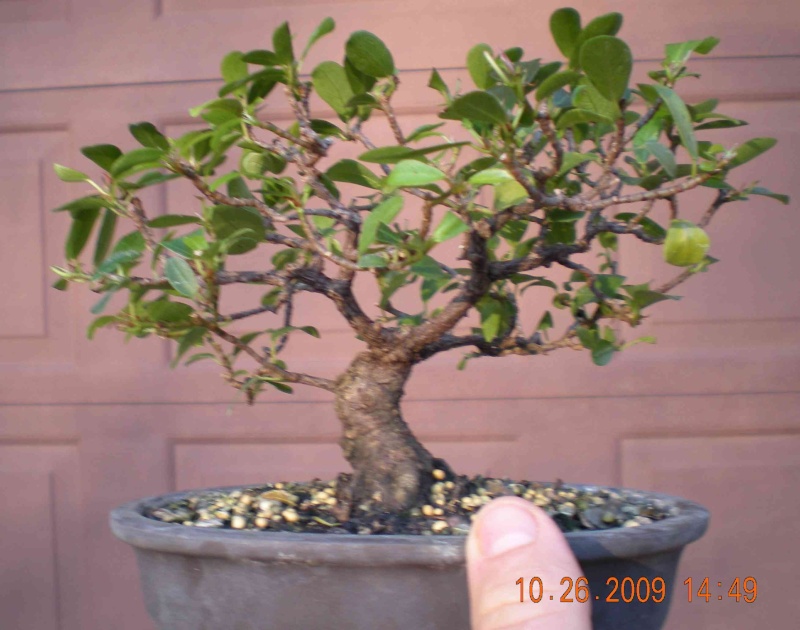 The image above is of one of my shohin ficus natalensis and my thumb. I think they make very good shohin bonsai but require regular leaf pruning. The largest leaves should be removed every week or so. As winter is approaching the foliage is a bit fuller than I prefer and the leaves are a bit large as I have not pruned as often as I should since bringing the tree inside. The tree is roughly 3 years old and was grown from a cutting in Western New York.
Hank Miller
My thumb hasn't changed much in the last three years

Hank Miller

Member






---
Permissions in this forum:
You
cannot
reply to topics in this forum