I have begun to work on some of my figs. This smaller ficus natalensis will have to re-potted in the spring. One of the reasons I like tropical bonsai is that they can be displayed in our home (in western New York) throughout the year. The small walnut stand is one of the stands that I make. Enjoy Hank
One of my larger ficus natalensis on an oak stand which I have made. The tree needs another year or so to improve the refinement and to reduce the size of the leaves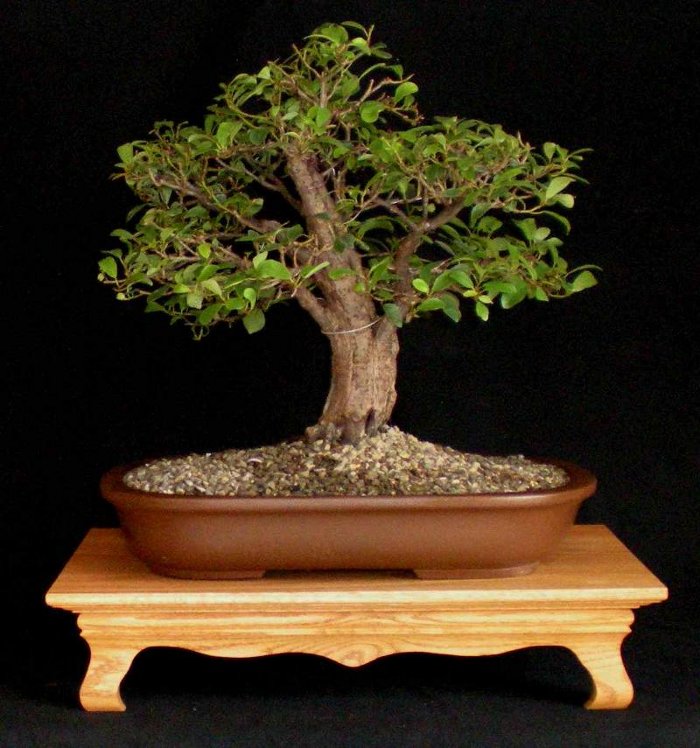 Last edited by Hank Miller on Tue Jan 11, 2011 11:27 pm; edited 1 time in total

Hank Miller

Member





Hank,,you have a very good looking tree here...i really like the trunk and how it taperes up like it does..a new type of ficus to me..it looks almost like a boxwood..nice tree and good work....take care john
Great tree Hank!! I've been to a demo of yours at Mennies as im in the buffalo bonsai club, Love your ficus's also.

Neil
Last edited by Neil Jaeger on Wed Jan 12, 2011 12:28 am; edited 1 time in total

Neil Jaeger

Member





Howzit Hank,
Nice job.
I like your walnut stand, what size is it?
A Hui Hou,
-Tim


Hawaiian77

Member






Jerry Meislik

Member





Last edited by Hank Miller on Tue Jan 11, 2011 11:39 pm; edited 1 time in total (Reason for editing : resize image)

Hank Miller

Member





Nice tree, but I think this stand is too small for this pot.

Xuan
The second tree is very nice also...your stands are professional and i know you have to spenda long time makeing them..like i said the ficus are new to me..do you grow them from seedlings????? take care john
The natalinsis is probably grown from a cutting. Very few figs are grown from seeds.
I have a much larger one in my greenhouse but it is suffering from the cold still and has lost all leaves.

Billy M. Rhodes

Member





Thanks to everyone for the comments.

Most figs are indeed propagated from cuttings.

Hank

Hank Miller

Member






---
Permissions in this forum:
You
cannot
reply to topics in this forum