I just bought a new bonsai (actually 2 of the same, that I repotted together), and was hoping someone could help me identify the type/species.
Here's a photo: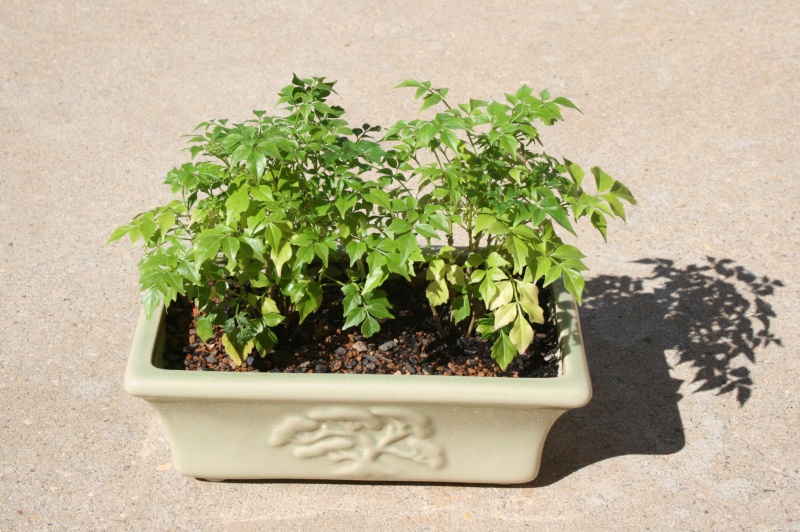 Thanks,
Marc

Marc L

Member





Looks like a type of ash. But, it could be a number of things. Its hard to tell from a picture. I use this link frequently to identify:
http://www.cnr.vt.edu/dendro/dendrology/syllabus/key/location.htm
Good luck.

Carolee

Member





Was it sold as bonsai? Is it purportedly an indoor or outdoor plant? I rather doubt that it is an ash, Fraxinus, especially if it was sold as bonsai material in the US. It might possibly be China doll, Radermachera sinica, which is occasionally sold for indoor bonsai, although I don't believe I've seen a successful one in these parts.
To dispel any doubt, take it over to the National Bonsai and Penjing Museum, and they can tell you what it is.
Iris

bonsaisr

Member





Thanks for both replies.
Yes, they were sold as bonsai material at a nursery. You can't see the scale of the plant, but they're ~5in tall. Aside from repotting and minimal pruning when I first got them, it's pretty much what they looked like when I got them.
I've kept them outdoors for the month, and they've done well. I've recently brought them indoors because of incessant rain and cold nights.
Thanks for the suggestion about the National Arboretum's Bonsai Exhibit. They're having a Fall bonsai display until end of Nov, which I've been meaning to check out.
I zoomed into the photo, in the off chance that it would help: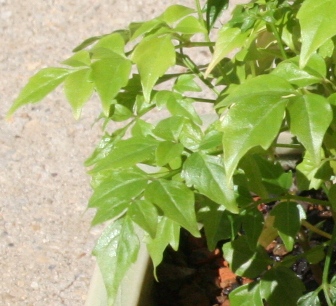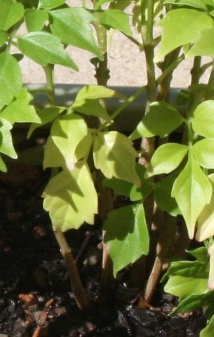 Marc

Marc L

Member





Marc L wrote:
I zoomed into the photo, in the off chance that it would help:
Marc
China doll.
My suggestion, keep it as a houseplant; get something more suitable for bonsai material. Try one of those tiger bark figs from Wal-Mart if you want to start inexpensive.
Iris

bonsaisr

Member





Radermachera sinica is an evergreen tree from the subtropical mountains of south China and Taiwan. It is often treated with a growth regulator, prior to being sold, as it can grow rapidly into a leggy plant. The large compound leaves and a tendency to drop them all if under or overwatered make it a bit of a fussy plant and as Iris says, not really good bonsai material.

_________________
"It is not the strongest of the species that survives, nor the most intelligent. It is the one that is the most adaptable to change." - Charles Darwin.

Kev Bailey

Admin





---
Permissions in this forum:
You
cannot
reply to topics in this forum