Hi all
  I'd like to share my newly acquired Premna microphylla root over rock. It's a Taiwanese import. Pics are of when I got it and after I pruned one branch that I felt was covering the stone too much and a repot. It came in a perlite/peat mix and in an oversized pot. I didn't prune any roots but simply bared them a bit and added some turface and grit for better drainage. The roots were healthy but only took up a fraction of the pot it was in, so it was easy to get into a smaller pot. Except for the weight of the stone made it a bit tricky to get it stable.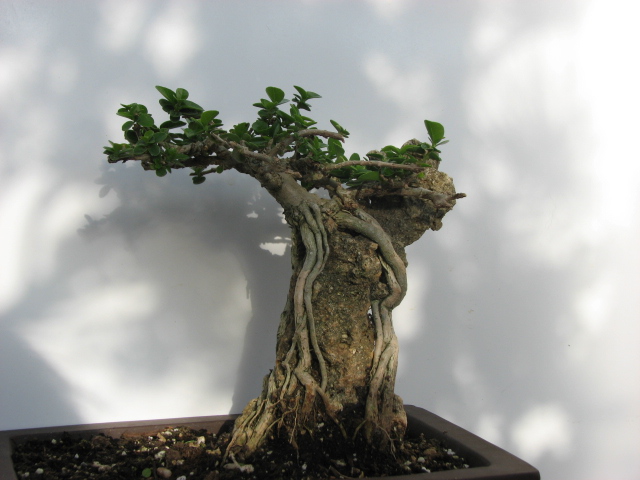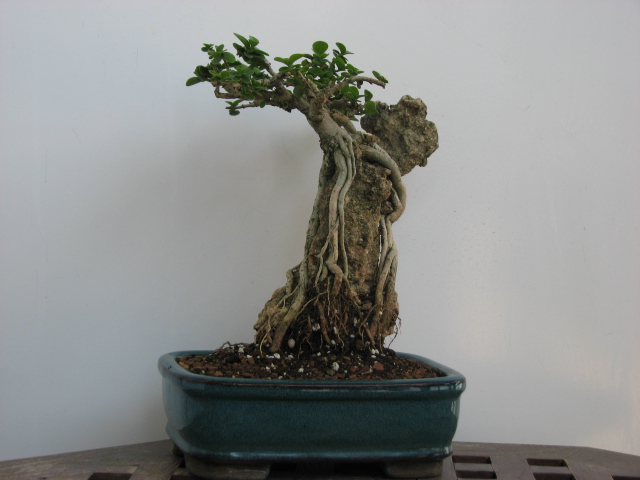 I'm really excited about this one because ever since I saw my first pics of real bonsai, I've wanted a root over rock. I can't take any pride in the development of this tree, but I love it anyway.
Thanks, Mike

MikeG

Member





Very cool piece of stock! I might try and get a premnA one day, they aren't common here in the us I don't think.
dont waste the branch, pop it in a pot and it will grow, they are real easy to propagate any prunings you get will take . regards john
Thanks for the tip John. Good to know. This branch was really tiny (the trees only 7 inches from rim of pot). And my small 17th story balcony is stuffed with material already. But I'll keep it in mind for the future. 
I don't think they're very common here either tmmason. First one the nursery I've frequented for the past few years has had.

MikeG

Member






---
Permissions in this forum:
You
cannot
reply to topics in this forum