Dedicated to Yvonne and Twisted Trees----- thank you.
Khaimraj
From a cutting, about 15 or so years old. This tree has a mind of it's own.
Anyhow I saw Yvonne's work back in 2010 and I was inspired to continue work on it.

So I thought how about a branch removal -

Then around January this year I used wires on it and yesterday I defoliated it.
Height - 12 " [ 30.5 cm ] width -17" [ 43 cm ] trunk around 3 " [ 7.5 cm ]
I have decided to leave the stump, as this tree does as it wishes and a root will probably form in that area and the trunk will simply thicken.
Next year I will lift and tend to the roots and change the soil mix to more inorganic.

The side of the tree -


Khaimraj Seepersad

Member





Hi Khaimraj
Your tree look to have a nice future....the same sice as my straighttrunked ficus.
I would place the branch difrent, as shown with the black line, as the placement now ( white line) does send the viewers eyes away from the tree.
The black line show more natural growth, and the branch will by it self shoot the lower shots you want.
Also would I place soil under the branch you removed, to kickstart the roots even faster.....a arealroot here will not be really nice, a dense group of roots fused, would in my imho be better.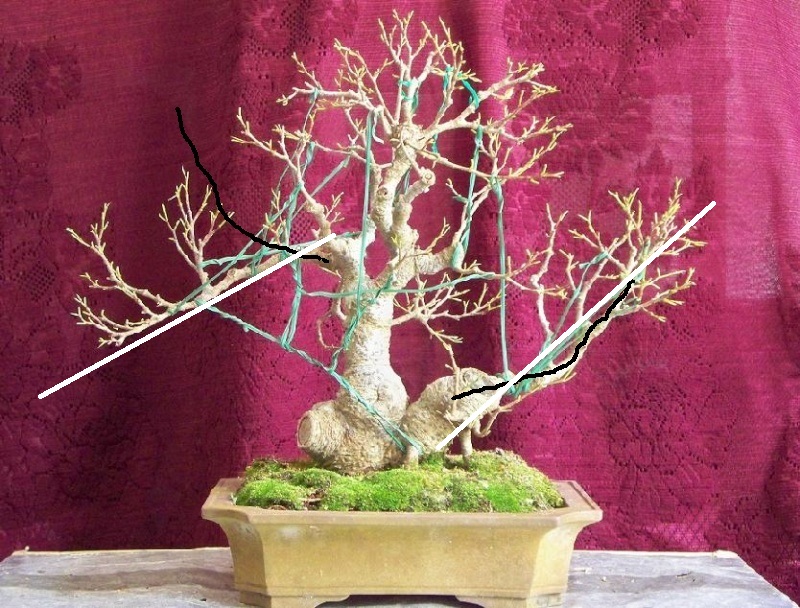 Many thanks for the greeting, kind regards Yvonne
Hello Yvonne,
firstly, thank you the time taken to look and add valuable suggestions.
I am adding in a design for the tree, what do you think?
[ 1 ] I wanted to create a ficus that did not depend on tons of roots and more of open domes, as we have them down here.
[ 2 ] I also wanted to feature negative spaces.
Will add some soil around the zone to root, when the wound has healed. Good Idea of yours, I didn't even think to do that.
Have removed a few branches and will remove a few more when the tree has restored it's foliage. I noticed that ficus seems to have a genetic limit, with regards to the number of branches it can have at a given size.
Years ago, I noted that the Chinese were featuring roots with some foliage, probably because the roots are decorative, and the branches of ficus get thicker very rapidly, ruining the design.
Trying not to end up having to do that.
Anyhow feel free to comment. and thanks again.
Khaimraj
Idea for the future. Note I have already cut the small branch off


Khaimraj Seepersad

Member





Hi Khaimraj

I like your drawing of the tree, ...I hope it will end up looking like that.
How long do you think it will take to reach this goal in your country?.

Kind regards Yvonne
Hello Yvonne,

I have no idea, but I will keep you informed as frequently as I can.
Thanks for looking.
Khaimraj

Khaimraj Seepersad

Member





Khaimraj I like the way you draw negative spaces and not the subject.
Did you study Art or Graphic design or Design?
Thats what they teach you in the first year.... Look at the negative spaces! Draw the negative space!
Strangely, they teach you this in the Army as well...to seek out the enemy, and see beyond the trees and bush. I never spotted anybody, let alone the enemy. Only saw potential bonsai and flowers.


Love and light

Andre Beaurain

Member





Andre,

first an apology, I still owe you an image of the local acacia. I will get around to that, just busy defoliating.

I was trained as a Fine Artist in the traditional ways. Which means, many hours under north light, drawing the model, walking back and forth from the easel, as well as how to prepare pigments or a surface to be painted on from scratch.'
Studied at Pennsylvania Academy of the Fine Arts and then at Studio Cecil-Graves [ now Studio Cecil and the Florence Academy ] in Florence,Italy. [ you can google the schools, they are on line ]

As the North Americans, label it, I am an Imaginative Multifigurative Oil painter.
So I use a great deal of what we painters call pattern, in designs.

The idea is that the eye sees masses long before it sees detailed information.

So I plan a bonsai as I plan a painting.
A long time ago, I found seeds and cuttings, better suited to how I like to do Bonsai.
I can either start with a drawn idea or draw an image to refine what I am working on.

The drawing controls the Bonsai, so I don't have to think about or keep remembering what I was doing, say a year or two or three ago.
It's long, apologies and I hope this helps.
Khaimraj

* I am afraid our army is about 200 guys, mostly messing around, and it is not an obligation.

Khaimraj Seepersad

Member






Khaimraj Seepersad

Member






---
Permissions in this forum:
You
cannot
reply to topics in this forum