Page 2 of 2 •
1, 2

Quote:"
I Hank warned me that you can't plant them closer together, because they grow too fast. Hank warned me about how the thorns grow, but I managed to snip most of the thorns.
Hank suggested A. galpinii is a little better for group planting than A. burkei."
Iris[/quote]
O'Really?
Acacia burkei group planting... From seed 2009. This is my smallest Acacia forest. burkei and galpinii respond exactly the same to bonsai training. So does Acacia sieberiana, and sieberiana var. woodii.(The Paper Bark and Flatcrown PaperBark, only the connoiseur will know the difference between Monkey thorn and the Paper Bark.
The most difficult acacia to grow as bonsai is the Fever Tree Acacia xanthophloea, with there bright yellow bark They will shed whole branches when pruned. They also stand in water during the summer!! some Fever trees grows in swamps. So overwatering Acacias in Summer is to me a bit of a Mith.
Acacias dont mind winter rain either as I live in a Winter Rainfall area they get soaked during the season, I never bring them under roof EVER. Israel also has Winter Rainfall!....can you believe it!
The most beautifull Acacia in Israel is the Flatcrown , Acacia tortillis, they have the peculiar habit of bearing different kind of thorns, sometimes hooked, sometimes straight and white, on some trees they carry both, talk about having split personalities! They dont make easy Bonsai. My Dad send me seed of the Most Beautifull tortillis in the Sinai desert....well the seeds were infested with bored. very sad.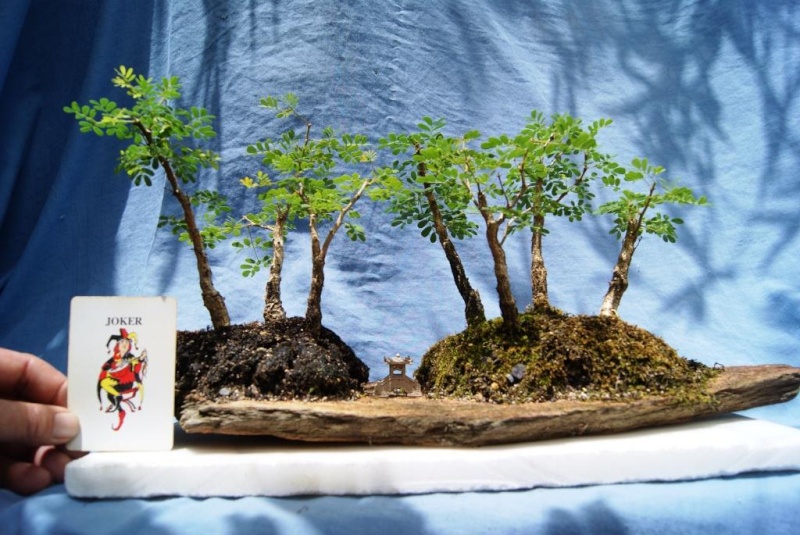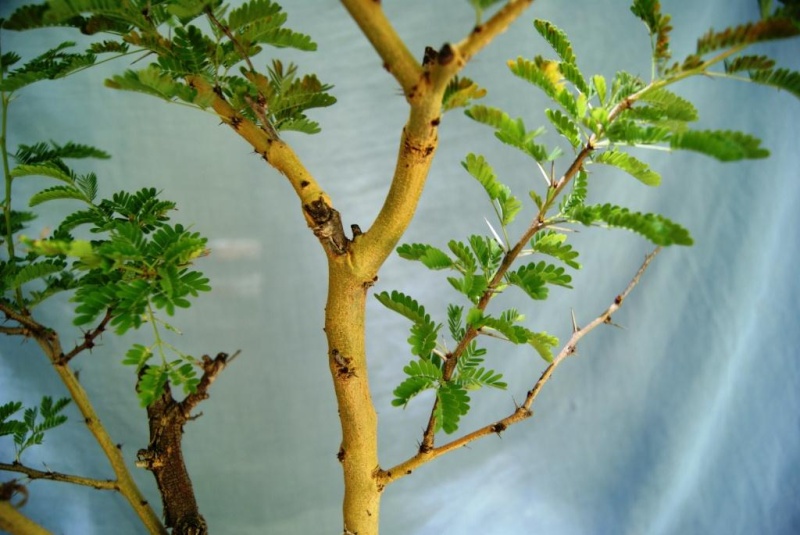 Acacias fold up their leaves during the midday sun aswell to conserve moisture. Mine close at 12o'clock till 3 and then go to sleep again as the sun sets. If you move them they will also close their leaves.
Iris why dont you try Tamarix aphylla, also from the Holy land, and very easy to grow all over the world!
Abraham planted a line of tamarisks near Be'er Sheva, (Genesis 21:33)
Also do not forget the other Holy fruit..... The fig and Grape!!!!
Pistacia atlantica is also from Israel. So is Ceratonia siliqua!!
About the name changing.....For the last 12 years I've been fighting it, and we lost to the hated Port jacksons! I dont think I will use the name Senegalia EVER!!!!!

Changing the name Acacia in the Nursery trade will be very very difficult as nobody in SA will know what the Hell you are talking about, while veryone knows an ACACIA.
Love and light
Andre

Andre Beaurain

Member





Andre Beaurain wrote:
The most difficult acacia to grow as bonsai is the Fever Tree Acacia xanthophloea, with there bright yellow bark They will shed whole branches when pruned. They also stand in water during the summer!! some Fever trees grows in swamps.

The reason for them being called fever tree is because of this: If you fall asleep underneath one of them, you wake up with a fever. As these trees gow along rivers and in swamps, often there is water around, water -> Mosquito -> Malaria !

leatherback

Member





...you are sbsolutely right...
but also called the Yellow Fever tree because of the colour of the bark...about the same colour you turn if you get Yellow fever (hepatitis),
The other thing is that the Sangomas use it to Treat fever by making an concoction with the bark.
Not a tree you will want to plant in landscaping in Kwazulu Natal, ....have done it in a driveway only to come back to ring- barked dead trees a couple months later!!! The National botanical gardens also have a problem as the staff eat the bark........ a lot of Fever going on down here!!

Now where is Iris.
Iris, Iris?

Andre Beaurain

Member





I am long familiar with the reluctance of nurserymen to accommodate taxonomic changes. I don't know when Amaryllis was changed to Hippeastrum, but in the trade it's still Amaryllis. And look at the zonal geraniums, which were changed to Pelargonium 150 years ago.
Here is a recent shot of my Monkey-thorn group. It is very easy to train in the flat-top style. I took the picture with a background from a calendar, with Kilimanjaro in the background.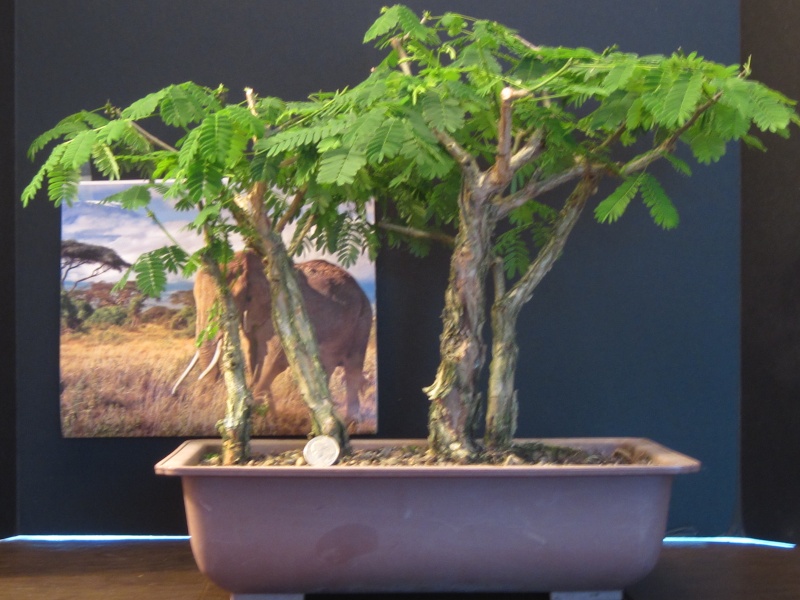 For further inspiration, here is a screen shot of my iMac wallpaper. To create a scene from Israel, I need a figurine of a gazelle or a hoopoe. For reasons I don't quite understand, the hoopoe is the national bird of Israel.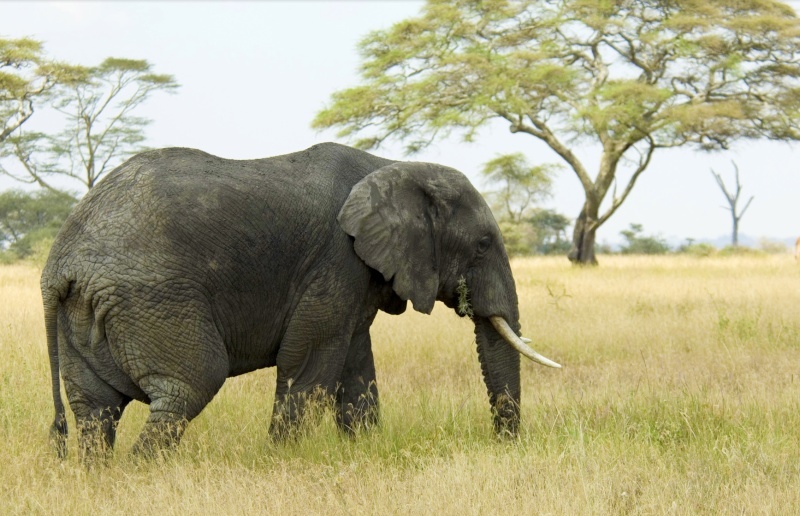 As far as the thorns are concerned, I have been clipping them off when I see them, being careful not to cut off the shoots I want. It seems to do no harm. When I get the group repotted in the spring, I may let them grow taller.
Iris
Last edited by bonsaisr on Sat Feb 02, 2013 3:30 am; edited 1 time in total (Reason for editing : Remove incorrect statement.)

bonsaisr

Member





Iris

You must have those Acacia under lights as my Black monkey thorn group looks like poo right now in front of my south window. Certainly not nice and green as yours seems to be. I'm waiting for the spring in order for it to resume its normal ebullient growth.

-Jay

drgonzo

Member





The acacias are just an inch or two under four fluorescent tubes. Unlike sweet acacia, they are not overly shade sensitive. If the light is not exactly what they want, they will droop just a little bit instead of closing all the way.
Next fall, I will give them a similar treatment to my pomegranate, a cool rest in the sun-porch until it threatens to go below freezing.
By the way, T12, the 48-inch 40 Watt bulbs, are to be discontinued next year, I was told. I stocked up on two boxes. If I live long enough, I may have to retool my plant room to LED.
Iris

bonsaisr

Member





Guess what?

My monkey-thorn is training itself to stay up later in the evening. I didn't know any of the mimosa group could do that. Now I will have to trim the darn thing even more often.
Iris

bonsaisr

Member





I am having a sweet acacia delivered this week from Weigert's but they do tell me it is a tropical tree so it would have to be outside in the summer. I have a garage with high lumen florescent lights, the low energy bulbs (100 watt) day-light & 2, 4' florescents in a fixture. My garage is kept temperate in temperature because of a gas hot water heater which exists in the garage. I kept most of my bonsais there last winter & they came through fine as are the ones I have there this year.
Hope this helps.
You should have a maximum-minimum thermometer and a humidity gauge in your garage. Otherwise you are flying by the seat of your pants.
I assume you plan to put all your tropicals outdoors for the summer.
Iris

bonsaisr

Member





Of course the tropicals go outside in the summer as do the other deciduous bonsais that stay in the garage in the winter along with other plants that aren't deciduous which are under high lumen lights! (The garage is only a temporary place for winter control, not a greenhouse.) The temp is checked occasionally which is tempered by the gas hot water heater. Otherwise the risk is freezing to the point of dying. A humidity gauge isn't needed since the temperature is usually in the 40s or 50s in the garage & drying is not an issue except for the non-deciduous trees which are watered as needed but not as much as in the summer when it is hotter. This worked perfectly last winter & it is working the same this winter. Sometimes going "by the book" doesn't apply in every situation. I've been growing plants for years & bonsais for about 5 years so I am quite familiar with the non-seat of the pants methods.
Page 2 of 2 •
1, 2

---
Permissions in this forum:
You
cannot
reply to topics in this forum