I dug this Honeysuckle in the Spring of 2012 and it's been left to grow since... I recently potted it into a shallower container and now I'm looking for some ideas on styling in the future. I love the amount of deadwood already present at the base (which was all under the soil surface), but otherwise I know I am going to want to eliminate the lack of taper in the two trunks and modify the long piece of deadwood sticking out to the right (it's beautiful, but long and straight currently).
This would be the likely front...
Deadwood...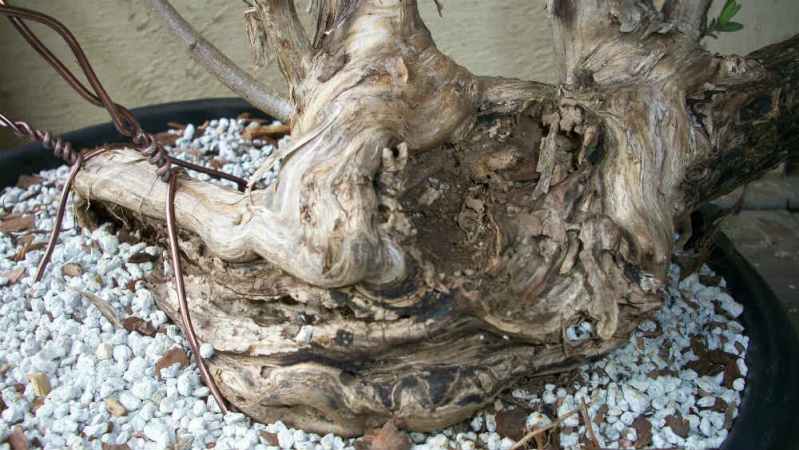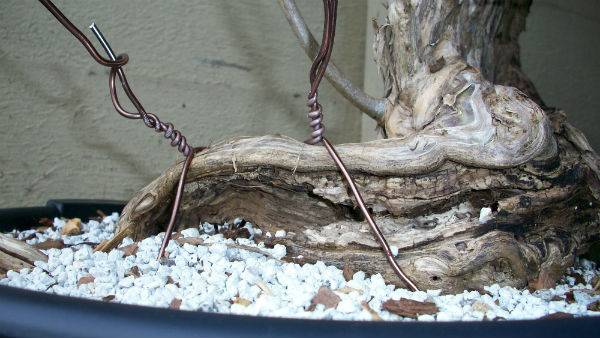 Any thoughts?

daudelus

Member





Hi daudelus
A Lucky find, congratulations...
I hove some of theese trees too, and it is my opinion it is hard to make something nice out of theese straight trunks.
The maintrunk is very nice, and  can make a fine sumo bonsai...I would cut the trunks back to only a few cm. depending on were the trunk can reshoot again....thereafter would I build up a new canopy with nice branching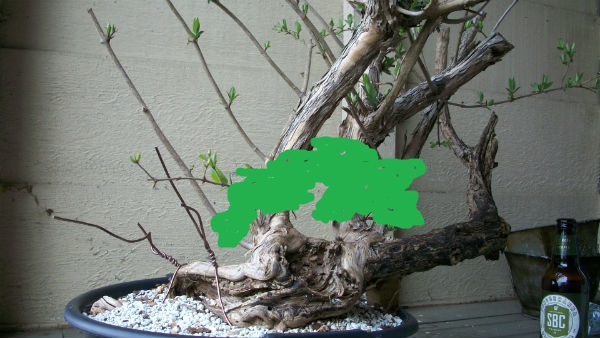 As you can see  am I not a paintartist, but it should pretty much show the idea.
Kind regards Yvonne
Thanks Yvonne! I think your idea would work well... Especially since honeysuckle produce growth practically anywhere you cut! If I go with your option, the deadwood section moving out to the right might need to be sacrificed altogether? I think, if left, would pull your eye away from the squat trunk...

daudelus

Member





Yes...the deadwood to the right in the Photo need to be taken out...the lonicera shoot happy, but you NEED to look for the eyes on the short trunks you want to keep, as they dont shoot from everywere..if the eyes is not placed nice on the trunks, can it be needed to use the shots comming direct from the bases instead, and that would take years out of the developement.

You could post two closeupphotos of the trunks, one from the front, and one from the back, and mark the eyes, let us see them before you cut.

kind regards Yvonne
I'm currently away from my home, but I can get additional images when I return... In order to see the eyes, would the flakey bark need to be removed? Also, my instinct tells me to let it recover without doing any more work, or would it be best to get it in the shape wanted and use the rest of this season for more purposeful growing? I know honeysuckles are fairly bulletproof, but I removed quite a bit of top growth and root when I repotted a couple weeks ago... The weather here seems to be staying moderate with near frost temps overnight... I've been moving it and others in and out of protection... The spring push of growth has been slow and steady.

daudelus

Member





It is not a problem with removal of a little of the flaky bark, it will soon be back again...I think you can feel/locate the eyes with you finger too.
I would cut it all the way back now to the desired length, as the tree not realy are in growth yet...lionicera era tough plants.

Kind regards Yvonne
Don't cut it back too far, or else you will get new shoots from the base and nothing else, and the trunks will die back close to the base. Do your best to encourage new shoots partway up the main trunks. Eventually you can cut the trunks back. Also, don't look for healing over wounds. It will eventually happen, but will take decades.

Craig Cowing

Member





I think going in stages is likely... Would you say that eventually none of the current trunk except about an inch would be used?

daudelus

Member





Hi daudelus
This is what I would want to keep...but before cutting the trunks back, would I make sure buds are to be found on the remaining parts of the trunks...show us a Photo were the buds are marked...if shots in undeseret Places, or non is to be found, it will shoot from the base, witch would be a setback....and maybe a another designoption would be better for the tree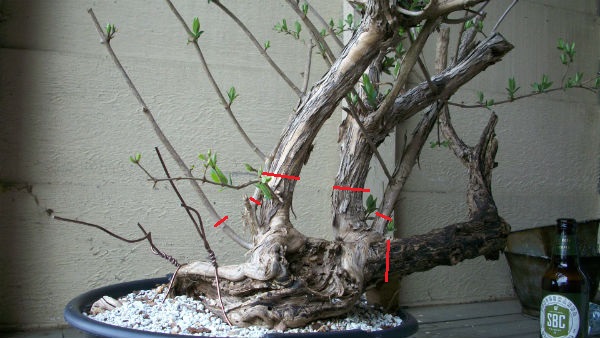 kind regards Yvonne
This looks like an interesting find. I have quite a few of these and they are pretty bulletproof. That being said I agree with what both Craig and Yvonne have said about not cutting below existing buds. One thing I have found is that they grow fastest with a very hard root pruning every spring and lot of water. Once you get to a point where you want to begin branch work and ramification repot only every other year. This will slow them down quite a bit and reduce the internode length.

I like Yvonne's idea but would maybe cut a bit higher on the left trunk.

Todd

DreadyKGB

Member





I plan to take a good look this weekend and I agree that staggering the height of the trunks would be best. Thanks for the input!

daudelus

Member






---
Permissions in this forum:
You
cannot
reply to topics in this forum