So, I bought a big bargain bin buxus today. It's in generally bad health, hense the bargian bin. But, it has a great trunk and just needs some tlc, I think. My question is: it has flower buds on the healthy branches, should I remove those to not further stress an already stressed tree, or leave them alone and just try to love the big guy back to health? Thanks in advance and thanks for a great forum/site.


What kind of boxwood, microphylla or sempervirens? Boxwoods bloom pretty early in the spring, are you sure you're looking at flower buds - or forming seed pods?

Russell Coker

Member





I'd bet they're fruits (seed pods), especially where you are, and most of the tree's energy probably has been expended, but it wouldn't hurt to remove them.
_________________
Jim Lewis - lewisjk@windstream.net - Western NC - People, when Columbus discovered this country, it was plumb full of nuts and berries. And I'm right here to tell you the berries are just about all gone. Uncle Dave Macon, old-time country musician

JimLewis

Member





Thanks for your replies, yeah, probably seed pods. It's a microphylla, I'll try to post some pics, even though I'm not great at it and all I have is an iphone... Thanks again.

Eli
Inspired by Russel's post, I guy wired the bargain bin box. It's shown good growth since removing all of the dead that was there when I got it and moving it into a bigger container. I'll continue to water, feed and lower the canopy. Notice on the trunk that some of the aged looking bark has sripped away, it's loose on other parts as well. Would you brush it away or let it peel naturally?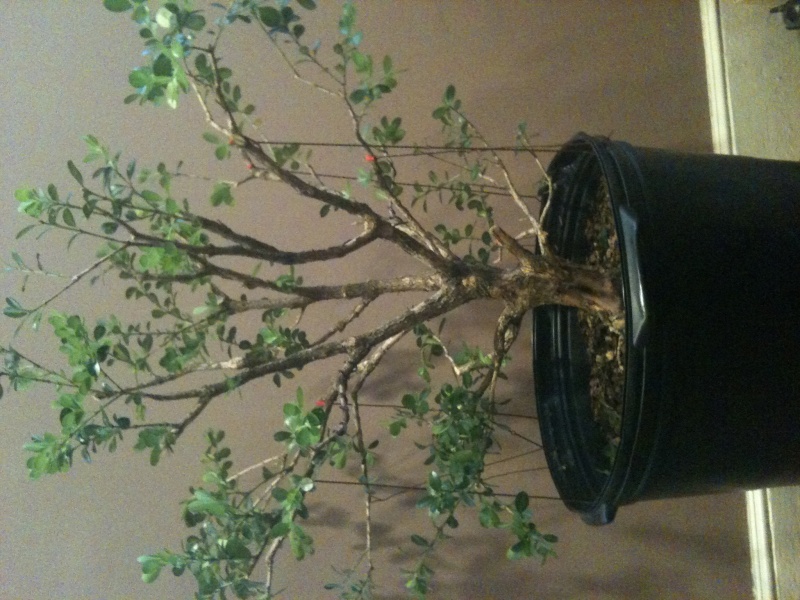 Last edited by hometeamrocker on Wed Jul 11, 2012 2:27 pm; edited 1 time in total
Geez... Sorry for bad tronzin'. Don't know how to use a photo site or remedy these sideways pics.

---
Permissions in this forum:
You
cannot
reply to topics in this forum