Here's a tree I dug from my Tallahassee pasture in late 2006. It went into a bonsai pot in late 2007 and into this pot, last fall. It stands 22 inches tall. I guess it lived for 15 years or more in my pasture, being "styled" every winter by hungry horses when the cold had killed all the pasture grass.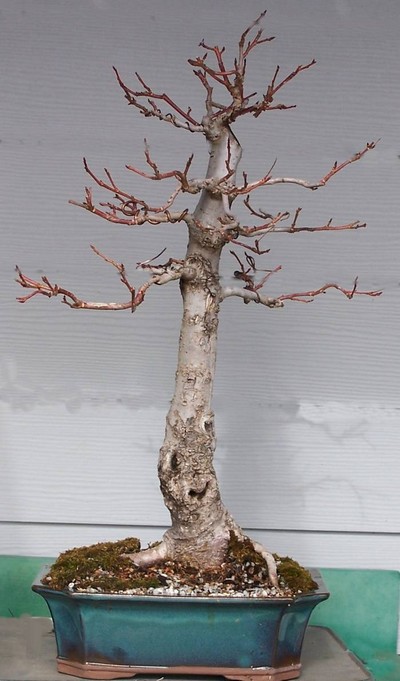 Here it is before moving to its newer pot.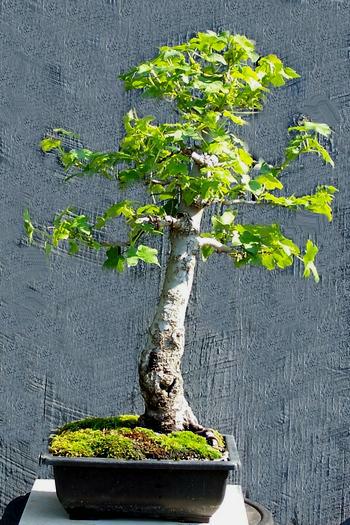 It is tough getting ramification on this coarse weed-like tree. I guess that's what I'll be working on for the next few years.
Last edited by JimLewis on Mon Jan 26, 2009 4:23 pm; edited 2 times in total

JimLewis

Member





Some trees just have awkward branching, and there is little that can be done about it. Acer ginnala is another one. However, they can nevertheless look very good when in full leaf.

Because the first picture is larger than I can view on screen, it may be difficult to judge, but it appears that the pot might not be wide enough for the height of the tree.

Reiner Goebel

Member





I resized it. (The picture, not the pot.)

JimLewis

Member





I agree with Reiner, I think the pot should be a bit wider. Have just received my Photoshop update but have not yet installed it !

John Quinn

Member





Thanks for resizing the picture, Jim. Not much you can do about resizing the pot for the time being.
And if you don't have a wider pot: what the heck, any pot in a storm!

Reiner Goebel

Member





The pot size doesn't really bother me that much, but I'm willing to bow to your experience. But. The only pot I have now that is the "right size" is a round mica drum pot and I don't think it is the "right shape." My supply of larger-than-shohin pots is very limited.

JimLewis

Member






Similar topics
---
Permissions in this forum:
You
cannot
reply to topics in this forum