+3
peterbrod
Neil Jaeger
stonener
7 posters

rediscovered upside down in my backyard yesterday, collected 2004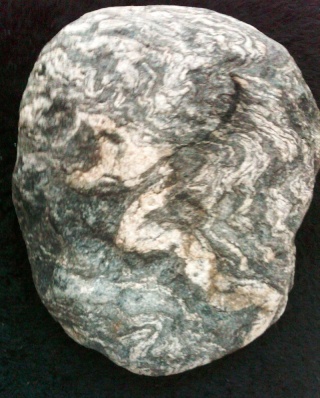 Last edited by Chris Cochrane on Sat Oct 01, 2011 2:10 pm; edited 1 time in total (Reason for editing : resized as requested by original poster Stonener)
Looks like a snake ready to strike!

Neil

Neil Jaeger

Member





Chinese dragon pattern stone:)

Heven

Member





I see Heven's dragon, too-- specifically, a dragon rising among clouds. In Daoist thought, mountains are considered the roots of clouds & rising dragons come from mountain caves when the mountain is enclosed in cloud cover. It was at one time (among Japanese literati painters) a favored view of Mt. Fuji to show dragons partially revealed through clouds surrounding the upper slopes the mountain.

Among suiseki, a more recognized image of Japan's most sacred mountain is "Cloud-covered Fuji." A stone owned by literatus painter Tomioka Tessai (with accompanying art by him) was among featured stones in the Sydney Moss auction catalog/textbook titled When Men & Mountains Meet. Notable suiseki collector Dave Sampson (who owns a figure stone & accompanying art by the important literati potter Aoki Mokubei) thinks "Cloud-covered Fuji" the most important Japanese suiseki found in a Western collection.


Chris Cochrane

Member





Thanks everyone!
your comments fill my heart and put a smile on my face.
Rock On!
Hello Stonener ,
Your answer is absolutely true and very excellently ... I learnned .
Thank you your viewing stone ( DRAGON . )
Thank You Hung-Tran for your kind words,
I will not soon forget, will you Please tell
What are the twelve signs of happiness?
or agonizingly(antonym of happiness) are?
Welcome Stonener ,
Salute you ,
I send to you a reply for " the twelve signs of ... "
_ Explain to you understand what i have felt in your stone is very hardly with me .But :
The White light Group on this stone gave me the feeling bright and happy . Whereas the dark group on this stone
got me feeling the opposite : sadness , pain ( opposites with fun , happiness ). _ on you ?
Thank you very much .
Sincerely ,
Hưng - Trần .

Hi Stonener,
A dragon in very restless clouds yes.
What about a dragon in a wild river, a river dragon?
My attention got caught by the mysterious dark moon crescent.
regards, Sunip
Dear Sunip,
Yes! river runs cross base of mountains,
both can been seen looking down, at bottom of stone.
Crescent moon is edge of dragons left wing, rising in flight,
right wing other side top edge, at it's backside...
Hey! Cris,
your right on as always, expert insight & information,
pushing onward through the fog...

---
Permissions in this forum:
You
cannot
reply to topics in this forum