+3
Russell Coker
rock
Chris Cochrane
7 posters

Eric Schrader is an amateur wood designer & craftsman.  Several years ago on IBC, he shared photos of several tables he designed & constructed for his own bonsai.  His carved Chinese-style bonsai table was extraordinary in construction (including blind complex-miter joints as in originals), subtle decorative carving and surprising balance.  
Another of Eric's stands recalls the astringent taste of fine American Craftsman furniture...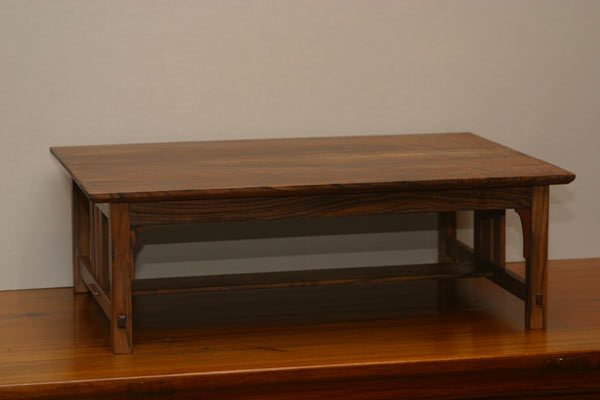 Details...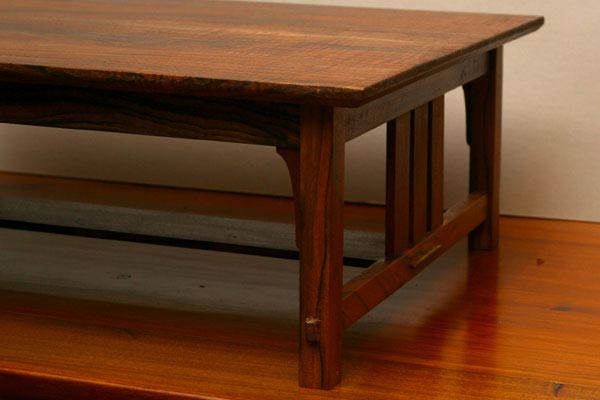 Last edited by Chris Cochrane on Sun Dec 08, 2013 9:33 pm; edited 3 times in total (Reason for editing : Changed title from 'Greene & Greene' to 'Stickley' after Eric's comment; Arts & Crafts (English furniture movement) changed to Craftsman (American furniture movement))

Chris Cochrane

Member





That's really interesting, Chris. Do you know the diminsions of this table? It looks a little shallow front to back for the length, but that's the way old stands and Chinese pots are.

I love the work of Green and Green, their homes, gardens and furniture seems to have much more of an overt Japanese influence than other Arts and Crafts designers. Interesting to see American Arts and Crafts influence put back into something as Asian as a small table/writing desk.

Beautiful!

Russell Coker

Member





That is great. I now have plans for a winter project or two. Might incorporate a cloud lift stretcher as well in some designs.
It's been a long while since I poked around IBC but Chris called me to ask about this stand so I thought I might just convey some details myself. I think I posted it back when IBC was at the old URL but everything in the archives must have been lost in the move.
Greene and Greene design is heavily influenced by Asian design and would make a good design for a table - but I think that this table is more closely modeled after a Stickley design - you can see so if you Google "Stickley Library Table" and see the resulting photos. The stand is 19.75 inches wide, 13.75 inches deep and 6.5 inches tall. The legs are 3/4" square with the front apron 1" in height. The graduation of sizing of the components is important to the look. The top is 3/8" thick but the bottom edge is beveled slightly to give it a lighter feeling - I believe that this detail is the only one I included that is not true to a Stickley design. The top cant really be made any thinner and retain proper strength so the beveled edge accomplished the feeling without compromising the strength of the table. All the joinery is genuine - you can see the through-tenons on the stretchers coming through the front of the legs with a beveled detail that is one of the hallmarks of Stickley. It is made from Claro Walnut, which grows only in Northern California - traditional Stickley pieces are made from white oak, fumed with ammonia to darken the color. I got the wood from my father who sourced it many years ago - I think he bought an entire fallen tree that was milled.
I made two replica Chinese-style stands one from pine and one from walnut, they are based on drawings from the book "Chinese Domestic Furniture in Photographs and Measured Drawings" by Gustav Ecke. I felt that actually constructing these stands would give me a much better understanding of the styles. The first was not a true replica since I attached the table top incorrectly. The second I believe is a good replica of a simple table, although I did use a piece of plywood for the center of the table top.
After making the two replicas I based a third stand on some Chinese and Japanese stands that I had seen but altered details to suit my whim - the vertical rungs are copper wire used for styling my trees and then removed, hammered to straighten them and then blackened with lime sulfur and coated with lacquer. Hard to see in a photo but subtly apparent on personal inspection is the slightly rounded nature of many of the pieces - the legs are like squares with sides bowing outward and the stretchers taper from wide near the legs to slightly narrower in the middle. I used walnut and instead of trying to remove small knots and imperfections I simply allowed them to be in strategic places to make it more obvious that the piece is made from real wood rather than plywood or veneer.
The most recent stand that I made was a couple years ago and is my own design, although based on some asian motif's. I carefully selected each piece of wood to have the grain flow match the flow of the shape of the piece. For the top I left a large not partially in the edge of the corner - again to highlight that the material is natural and had a life before becoming furniture.
Rather than pasting all the images into this post you can see them in my Flickr stream.
http://www.flickr.com/photos/28643050@N06/sets/72157626961421569/
Eric
Eric,
Amazing work. The traditional compound miter with the hidden mortise that you made truly displays your wood working skill. Very impressive, and very time consuming too.
Looks like you chopped the curved leg with chisels, I can see the reveal left for the bead, but how did you make the bead on the stretchers and the rest of the leg?
BTW loved seeing the Lie Nelisen block plane and the Stanley scraper on your work bench. I too use lots of hand tools when working wood.

Rob Kempinski

Member





Wow, nice stuff!!!
Stand making has always been an interest of mine. I am in awe of your workshop and tools and attention to detail!
Please post more here if you get the chance. I would like to learn more about complete displays and how the tree, pot, stand, and accent work well together.
KUDOS

Rob Addonizio

Member






Similar topics
---
Permissions in this forum:
You
cannot
reply to topics in this forum