Just finished Yesterday and the most complex scroll made to date...Details of the design process at
www.wallscroll.blogspot.com
I would love someone to be able to put a bonsai that would be able to dominate this piece. (The size of the scroll is about 4.5 feet wide and not quite 4 feet long.)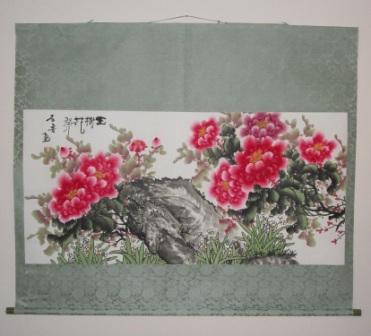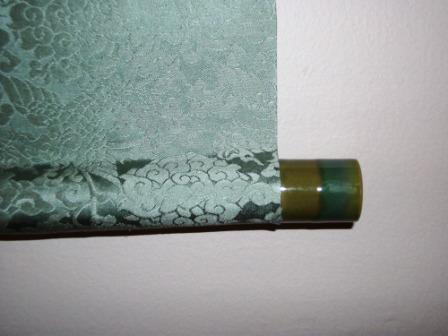 Kakejiku

Member





While it is very beautiful, I don't think many diehard bonsai people would want to display a bonsai with it.

Russell Coker

Member





It was a commissioned piece for a Professor of Asian Law at a New York University. It was designed and meant as a standalone/centerpiece scroll. What I was asking, and not very clearly, is if there is a tree out there that could be displayed and not take a subordinate position to the scroll....

Kakejiku

Member





In MY OPINION, no!

Please understand that what I said to you before was not intended as an insult, and neither is this...

Scrolls in bonsai displays are mostly vertical, quiet, passive and elegant. Your scroll is big, loud and very "in your face". Your scroll is a stand alone piece, and will not take a subordinate position to ANYTHING. You seem to be very good at what you do, I'm surprised that you'd ever consider displaying a scroll like this with a bonsai.

Russell Coker

Member





I agree with Russell, This is a very nice piece on its own. If a bonsai would be place with it, either the good bonsai or the very nice scroll will lost the individual beauty of the composition. Neither tree nor scroll should dominate one another but rather compliment each other.
regards,
jun
How about a large bougie, in bloom.

Billy M. Rhodes

Member





Yes it is a standalone scroll...While this piece of artwork has been in my hands I was looking through some large Dai Trees and had the feeling I would love to see Guy Guidry's Twister put with it to see if there was a way to create a harmonious display. Maybe I am just too out there though...and am not too familiar with the landscapes associated with this tree.
As for Russell's comment yes, spot vertical. In Gadou, which I study most of the scrolls are narrow, long (which I call Yatsugiri based upon the paper size). One shipped Friday for a bonsaiist in Pennsylvania is viewable at
www.wallscroll.blogspot.com.
www.wallscroll.blogspot.com
Go down about two posts and you can read about the design. Probably more in line with what fits in a traditional Japanese display.
BTW...the artwork is not mine....Just the kakejiku mounting...

Kakejiku

Member





Jonathan (I assume that's your name)...

So could you take a moment and explain "kakejiku"? That's the silk border and mounting around the artwork?

Also, I have an old scroll with great sentimental value (no idea of its real worth) that needs some repair work. Do you do that? If so, I'll post some pictures to see what you think. I have no idea who to contact so I figured I would start here in the "family".

Thanks in advance.

Russell
Last edited by Russell Coker on Mon Apr 18, 2011 4:29 pm; edited 1 time in total (Reason for editing : spelling)

Russell Coker

Member





Russell San:
Kakejiku is the word for a Hanging Scroll.
The silk comes in a variety of qualities and different names. The picture on this scroll was made with a Sancho Shoken. Or Pure silk with a certain thread count.
This scroll is a Fukuro Hyougu style scroll. Because it lacks an Ichimonji...It was too wide to try and get the Kinran Cloth along the borders of the Ten and Chi.
Most of the repairs I do are just simple remounts and not actually restoring a work. If you want the artwork restored I can get a quote from my Sensei. If it is possible to do a remount, then pricing depends on the size of the artwork and the style of scroll desired (i.e. Fukuro Hyougu, Maru Hyougu, Sandan Hyougu, Nidan Hyougu Rinpo Hyougu etc). E-mail me at
sales@customjapanesecalligraphy.com
and I will send you the scroll design workbook in PDF or you can download it from my site at
www.customjapanesecalligraphy.com
I have also just updated the silks available through my Sensei and I can send that to you in a zipped file.
I write too much technical vocabulary so we can go through it at a slower pace in e-mail conversations or via phone. Scroll styles are primarily discussed on my blog at
www.wallscroll.blogspot.com
Regards,
Jonathan Maples

Kakejiku

Member






Similar topics
---
Permissions in this forum:
You
cannot
reply to topics in this forum