Hello IBC Forum ,
Salute you ,
Please select ... placing this Stones , is the most follow you ...???
( I am prefer way place this stone at the first picture :
-1.
_2.
)
_ What' s your prefering ...???
Invites you to enjoy and share comments .
Many thanks .
Sincerely
Hung - Tran .
I prefer the second position.
it has more movement and brings to mind someone curled up on their side sleeping snoring with mouth open!
Hello MEG ,
The like of you and mine is different ,
Many thanks to your interesting comments ( Sleeping - Man ) .
I am prefer the Plateau surface ... at the First Picture .
Sincerely
Hung - Tran .
The second one, with a daiza. A beautiful montain stone.

mathias

Member





Meg's appreciation of the second stone is really surprising, uncommon and refreshing for a viewing stone. Since the "First Dream" of the lunar New Year is often considered as an omen of luck, the "prone sleeper" has possibilities as a viewing stone. The prone figure which appears partially curled does not look like the outstretched, reclining figure of Buddha (relating to the dying stage of Siddhartha), and perhaps would have modest resonance in appreciation as a Japanese-style figure-stone.

Additionally, I like the second stone as the owner sees it as a landscape view in a suiban. It looks more like an island stone than a mountain stone for several reasons. Most prominent as island features are:
1. vertically-oriented sides near the stone's base as though rising from a water feature &
2. a cove on its front side which looks particularly inviting to the eye as a rough, wave-cut coast.

The first stone with a flat top has a washed-out underside on both its middle-area & on the facing left-side, so I imagine a coastal rock or headland extending into a sea. Centering placement in the suiban would affect its reception of focus on the 'earth' (smaller coastal rock scene) or 'open space' (more vast headland scene). For a vast scene, the added figurine would be out-of-proportion. As a coastal rock, the figurine is acceptable, but it should arguably be placed nearer the end of the stone with an overhanging cliff; the overhanging cliff suggests a scenic empty space beyond it, even if not the vastness of an open space beyond an extensive headland scene.

While these are my impressions, it is nice to imagine others. Meg's impression is such a surprising one that it could have deep resonance for a viewer. Others are more related to the craft of disciplined viewing & can be seen differently by others.

Chris Cochrane

Member





Thanks Chris for a nice interpretation. I like more rock in position number two.
I think your stone can be displayed both ways. The mountain stone (2) is convincing. The plateau stone with the temple (1) is dramatic. Both are nice. Seems like you could use two daiza.
Salut, Todd

Todd Ellis

Member





dai suiban views are good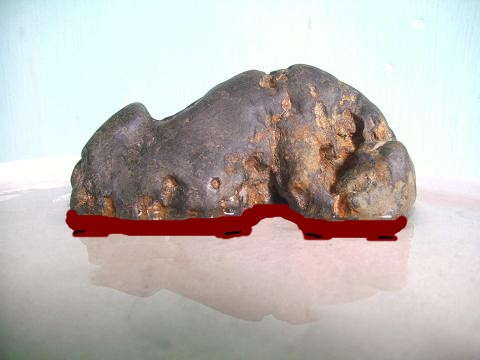 peterbrod

Member





Hello IBC Forum ,
Salute you ,
I am very happy that many of your encouragement .
Many thanks for the thorough presentation of Mr. Chris Cochrane , and Mr. Peterbrod .
Thanks for the comments and the sharing of Mr. Meg , Mr. Mathias , Mr. Milan Kulhavy , Mr. Todd Ellis .
I will do 2 DAIZA for this Stone .
Now , It' s my favorite .
Sincerely .
Hung - Tran .

---
Permissions in this forum:
You
cannot
reply to topics in this forum