Here's another tree that I posted last year but thought I'd give you some history and an update.
This tree was originally owned by my father-in-law and unlike the trees he brought from Bodiam Bonsai or Herons (both bonsai haunts of the late fashion designer Alexander McQueen I understand) this is a totally native Kent tree coming from his garden in Marden. When we first met he was still growing Bonsai but after moving away his interest waned and "bam" all his trees were gone, or had died, bar this one. I did think at many a stage that this tree could well be a goner as it seems to take forever to put on any growth even after re-potting it into a much larger pot.
Any-ho, come last year the tree had put on enough of a spurt to warrant posting it here. Flattered by the feedback I took Fiona's advice and took it up to the BSA Show at Willowbog for a look-see. Before the event I needed to find a new pot and at Noelanders I found what I thought would be perfect, a lovely little semi cascade made by Rene Lecocq. Whilst at the Show I got a bit of a side door invite to possibly show a composition in France in May along with Andy's stunning Burrs Juniper "Sleeping Dragon".
Whilst at Willowbog I got some fab feedback from punters and pros alike so I took the plunge to go for the French jaunt and got accepted. It was a wonderful feeling and it made it spookier as the tree was gunna meet it's "home maker" Rene! Andy kindly took some pictures of Rene and the composition as I had to miss out on this trip.
You may notice below that I had flipped the tree, making the back the front, but after a few stern words I re-introduced the original front for late season pruning. Don't ask m why I changed it in the first place but someone, somewhere, (in Wintertime!) convinced me that I was wrong!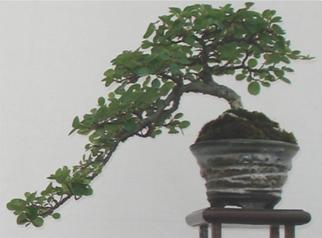 More progress to follow,
Ook, Ook,
Simon

bonsai monkey

Member





Nice tree, Simon! What species is it?
Oliver
Hi Oliver,
Thanks for you comment.
The tree is a Cotoneaster but it seems to be quite a slow growing type unlike any of the others I own. It also has more of an oval leaf,

Ook, Ook,
Simon

bonsai monkey

Member





Hi Simon. looks like you are giving Harley Rider a run for his money. Rene Lecocq sure makes great pots and they are VERY high fired too! tree looks well in it.


tony wrote:Hi Simon. looks like you are giving Harley Rider a run for his money.
Hi Tony, has Steve become a Cotonester addict as well??
Thanks for the comments on the tree/pot combo, I think it works really well as there are some pinks, greys and all sorts in the glaze. I'll have to try and take a close up,
LP&B,
Simon
Last edited by bonsai monkey on Thu Dec 23, 2010 8:43 am; edited 1 time in total

bonsai monkey

Member





Love the tree and pot combination and your display is excellent. Thanks for posting Simon.
will baddeley wrote:Love the tree and pot combination and your display is excellent. Thanks for posting Simon.
Thanks Will.
I really lucked in with the tree/pot combo but I like it alot. The display did look good last year but I'm hoping it will look even better next year when the Berberis matures a bit more. Bit tricky* to get the timing right as they both flower but it looks great with one or other flowering as they both have nice delicate blooms.
Thanks agin for everyones kind comments,
Ook, Ook,
Simon
*Not too sure if it breaks Bonsai display rules but what the hey - break the bounderies I say!

bonsai monkey

Member






---
Permissions in this forum:
You
cannot
reply to topics in this forum