Hi everyone!
Disclaimer: I'm a newbie *waves*. Hence the absolute lack of knowledge on how to proceed.
I got this water jasmine about a month ago. I've mostly just focused on keeping it alive while I read every book on bonsai I can find at the public libraries but now I'd kind of like to do something with it (or at least starting to figure out what I want to do with it!)
I know it's really difficult to make out the shape of the branches and such with all the leaves in the way -- which is part of my problem. Ideally I'd like to ask you all for advice on how to style it, but I'm not sure you can see enough of the tree for that
So, before I try and pick your brains about styling it, I'd like your advice about defoliating it, namely, whether I should.
Any and all advice would be incredibly welcome! And rewarded with virtual cupcakes.
Saira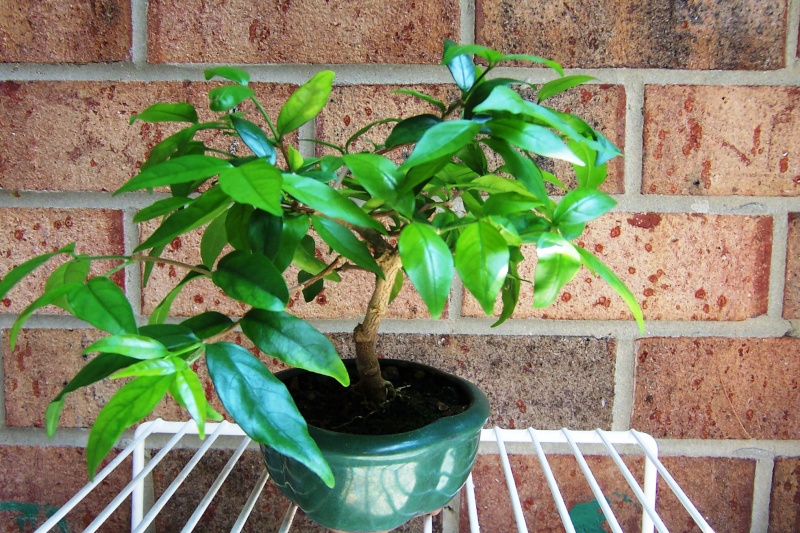 The broken record squawks.
Get it into a big shallow pot in coarse bonsai soil & let it grow over the summer. Then ask about styling.
Iris

bonsaisr

Member





DISCLAIMER*(i feel i should warn you i am also a newb) that's exactly what i was going to say iris. looks like you've got a pretty solid trunk. i like the out reaching branch, once that branch thickens up that is definately going to be one of the branches you should keep, i think.
1) a rotation of the plant picture would be nice so i could see that branch/trunk.
2) just want to know where the branch is coming from.
Hi again, and apologies for the delay in replying -- I wasn't well for a while and ended up spending quite a while catching up on stuff I missed in the meanwhile. I'll definitely plant it in a bigger pot. Is there a particular place you would recommend insofar as getting bonsai soil goes?
Meanwhile, here's a closer and hopefully slightly more decipherable couple of pictures of the jasmine:
Thanks for all the advice, and again, I'm sorry it's taken me so long to respond!
Saira
There are any number of bonsai nurseries in the Washington area. Inquire at the National Arboretum where to get bonsai soil.
Your upper branches look very crowded, but you should get an experienced bonsai person to show you which branches to cut off. The Arboretum will give you the name of the nearest bonsai club.
And no, do not defoliate. As a rule, other than Ficus, tropicals in the North are not defoliated.
Iris

bonsaisr

Member





Thanks, Iris! I have been a bit concerned about the crowding; I'll see if I can manage to get to a club (it's a bit difficult as I don't drive).


Similar topics
---
Permissions in this forum:
You
cannot
reply to topics in this forum