Most of you know the trident I added to my colection and the plans I had and some advice given to drasticly shorten it for a more dramatic effect projected front and 360 view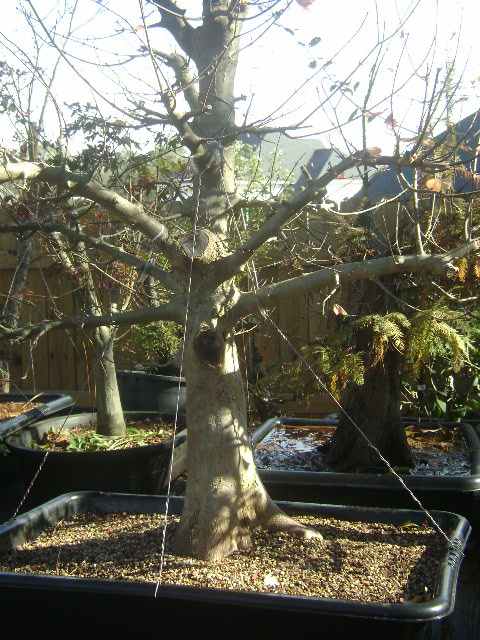 A good friend of mine was over this weekend and I was discussing with him the plans I had for this tree. He said it would be a shame to do that to this tree after all the work put in to developing the current branches (wtich I felt were a little too large for the final design)He said if that is what you see in this tree mabye I can intrest you in a little deal I have a tree that I think would fit the bill for what you are looking for with that design in mind come over to my place and see if it tickels your fancy and we will discuss further . So I went their today and this is what he presented me with .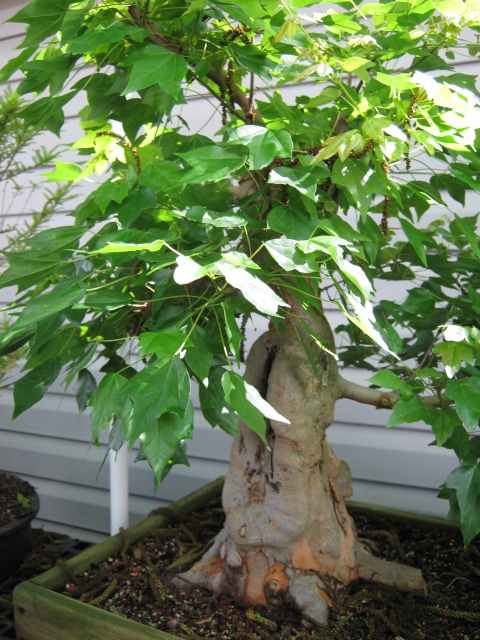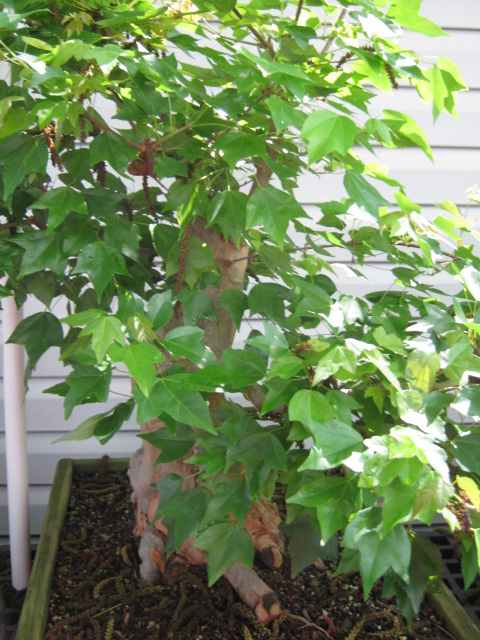 A Nice short fat good taper trident All the scars are completly healed over with the exception of the two uros in the projected front. Trunk diameter 8" nebari approx 12" Height approx 24". I am very attracted to the short fat powerful appearence if this tree however the back of the tree has no roots to speak of and the old wound that is 100% healed over is not the most attractive thing to look at.If I was to completly heal the uros over there would be a nasty bump as well.So This tree will need some work as well but it is a little further along in development .I am torn one part of me wants this tree so bad I can taste it the other wants to keep the tree I currently have for the smooth clean trunk . This one will have better taper and does have some decent movement that the current images are not showing and mine is just about ram rod straight. So give me some opinions please...
Seth, I like both trees. But, the second one with the healed and healing wounds has more character by far. I would drool to have a knarly old trunk like that. I tend to lean towards the Chinese styles and the "more character the better". But, to each their own..." as they say. Does your friend want to trade with you? If this helps, it looks like you have some other straight trunked trees in your collection already.
Regards, Todd
Last edited by Todd Ellis on Wed May 19, 2010 3:14 am; edited 1 time in total

Todd Ellis

Member





It's hard to say for sure given the leaf coverage of the second one, but I think I like your original tree the best. I think it has potential to be a better specimen in the long term.

Tom

Tom

Member





The second one has some primary branching already established but the top and one of the main branches at the top will need to be removed there is already a sucessful thread graft where the top branch is to be removed and I have a lot of options for new apexes. I see a great tree in both and they both have gobs of potential .

Tom, yes he is willing to trade me even up tree for tree .He has someone that wants my tree and this one is on consignment for the same price as he will be getting for my tree.
Seth,that will be a hard desionto make.looks like his tree has fewer branches and they look smaller. your tree i would work with them execpt the apex witch you know. i think i would keep the one you have work on the branching it will be a good tree. wish i had one like it.good luck to you.. john

Similar topics
---
Permissions in this forum:
You
cannot
reply to topics in this forum