Acquired this two years ago. It was considerably stressed and rootbound in it's original pot. The immediate treatment was to place the tree in a slightly wider and deeper pot with free-draining soil to encourage new roots. Today, I removed much of the original soil, which looked like sand and leaf mold. The soil will be all free-draining at the next repotting.

peter keane

Member






peter keane

Member





Like the tree, not the pot (combination).
Maybe one day a shallow oval pot if possible.(with a little bit moss)
Bud with spruces you have to take small steps every year.
The tree itself is simple bud nice with a good nebari and bark.

Greetings
Cees.

Cees

Member





Nice clump. Great bark. I would like to see it after a good wiring/styling.

It looks like in one of the photos of the base, there is a really great nebari hidden & waiting to be cleaned up and exposed. In your next repotting, is it possible to expose the surface roots much more? Understanding this is a training pot, it would look excellent in something much more shallow one day down the road.

What kind of spruce is this?

Thanks for sharing a nice tree.
Neil
Very nice! like it alot! Just acquired 20 Colo.Blues to plant similar projects. Thanks for the inspiration.

RKatzin

Member






Walter Pall

Member





Thanks for the compliments on the clump. This is a colorado blue spruce. There are two more trunks in the back that are not readily seen in these images. As for the nebari, I'm afraid that this is all there is to it for now. There are some smaller roots under the soil on the right that will fatten up in a few years' time. I imagine a much shallower pot or slab in its future, once all the original soil is removed. There's about a third more in volume to clean out. Here's a shot of the back.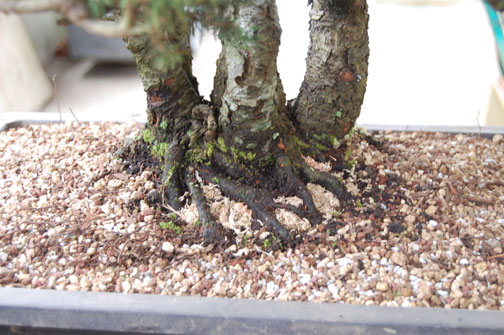 peter keane

Member






---
Permissions in this forum:
You
cannot
reply to topics in this forum