I have decided to stop the clear atrocity against my smallest and most vulnerable trees and decided to improve their biotope a little.
First, there is a sun shield to start with.   The  idea was to make it like a curtain so it can be used only during the top hours.   So there are some kind of spacers on the support beams that were supposed to keep the curtain in desidered position.  No good.  With the first gust of wind I had to collect the shield from the neighbor's garden.  So now it is tied to the beams with a piece of wire.  It can be still repositioned but with a little bit more effort.  
It is just first few days in operation to see how it works in real life and to make additional adjustments if neccessary.  btw the curtain has 60% penetrability. By now it seems OK.
Second - I plan to add something like a humidity trays on the top of a section of the bench.  Nothing too elaborate. Just piece of wood to make the basin, epdm membrane and lava. Will see how that helps...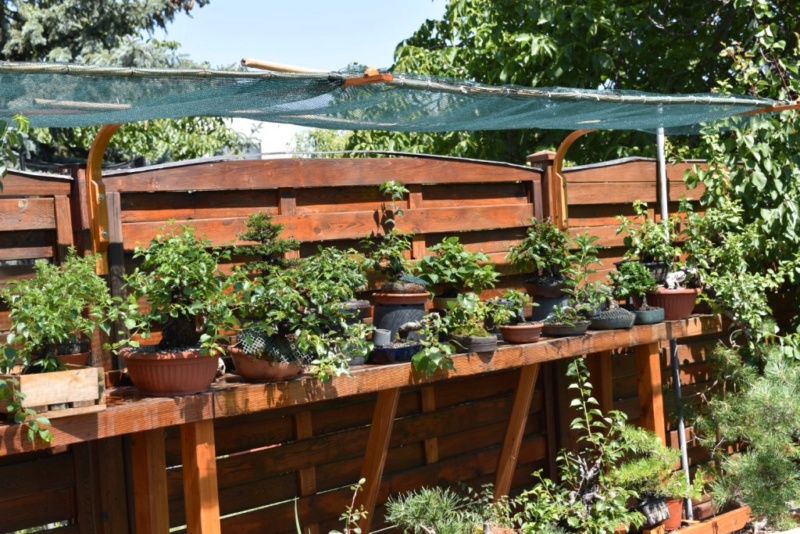 Vlad

Member





Welcome to South Carolina!
(Actually, Zone 8a in my local area)

_________________
"Eschew obfuscation"

John Quinn

Member





I am sitting in near enough 30C at the moment and last summer was ridiculously warm from May 11th right through to the end of September.

Ah well. It's Scotland; it'll no doubt default to factory settings soon.
_________________
"Espouse elucidation"
_____________________________________
my website

fiona

Member





Your problem is air temperature.
Try a moving breeze.
Or the Arabic idea of wind passing through small vents as seen
on the old time windows.

My problem was sunlight.
Our dose was last week in November to March - lows of 64 to 68 deg.F
by 6 p.m. until 8 a.m and a high of 90 deg.F for up to 30 minutes.
Killed Sub-Tropicals in full sun.

If it happens again, everyone goes to the shaded north side of the house.

As of June we are back down to high of 80's for 30 minutes and a low
of 75 deg.F
Never experienced more that 93 deg.F on the island.
And that was for about 30 minutes ----- we are breezy and cloudy.
Laters
Khaimraj

* mica pots are apparently porous and can protect roots.
Works on the Gmelina [ Sub-Tropical ]
Locals have no sunlight probems.

Now at 35 found Locals going for 50.

Khaimraj Seepersad

Member





Thank you, Khaimraj for your suggestions. Yeahh, we have forgotten or even rejected many useful advices our forefathers shared and transferred to their offsprings for many generations. Now we have to pay the price for it... But that for another forum I guess
As I live in place with predominant continental type of weather the problem is not only the air temperature ( at least this is my believe ) but it is a combination of air temperature, low humidity, wind and direct sunlight. I do believe that the sun shield and humidity trays will help me to provide a reasonable biotope for my smallest trees.
Your information about mica pot is interesting. I have measured temps on the surface on some of my pots in the peak hours. +/- 120°F. I remember Yvonne Graubek used to have a piece of a board in front of some containers to avoid direct hits. Well, I hope she still have that
Maybe the potters should try to find some more suitable material to improve the insulation?

Vlad

Member





Vlad,

Is it possible to take your trees off the benches, onto the ground and into a shaded area?

Best
Not really, augustine. Too many trees everyhere. Each year I plan to downsize a bit but in reality there are more and more trees...

Vlad

Member





Hello Vlad:

From my perspective Yvonne's solution is most productive. For most plants in pots, as long as there is plenty of moisture in the soil, the air temperature is not the critical factor but the root temperature. Shading the pot and soil is often the best solution to very hot weather. As long as you are planting in porous containers (i.e. non-glazed and not plastic) you will get the cooling impact of evaporation through the pot to cool the roots while the pots are shaded. On hot days here I will often use small pieces of cardboard that I have soaked with water. They give shade and humidity, and are easy to discard when the heat wave has past. But preeminently, you must keep the moisture up in your small pots on hot days. This may mean multiple applications of water on hot days.

I hope this is helpful and best of luck with the heat!
David B.
Thank you very much David. This pot shading really make a difference. Great insight.

The temps have dropped back quite significantly in last week. Now we are in the range of 75-80°F. Most of my trees is back in the growth mode.

Vlad

Member






Similar topics
---
Permissions in this forum:
You
cannot
reply to topics in this forum